In this post you'll find four Shopify Facebook store examples to inspire your social shop!
If you run an eCommerce store, you may have already come to realize that social media visitors do not have the same high intent to purchase as search engine visitors.
We'll Set Up Your Facebook Store for $49 USD
That is, the engagement and conversion rate among Facebook users is likely to be much lower than those you find on Google Search.
Here are some statistics. The average engagement rate for Facebook posts is just 0.17% while the Click-through rate (CTR) is just about 0.90%. In comparison, the top three results on a Google search page have a CTR of nearly 30%.
But these statistics can be misleading. For one, the high CTR spots on Google are extremely limited. In comparison, Facebook is an endless pit since users do not really stop browsing after viewing the first few posts on their timeline. This is apparent when you compare the cost-per-click on these two platforms.
More importantly however, the conversion rate on your Facebook posts depend to a great extent on two factors – the industry you belong to, and the kind of ads you run. The fitness industry, for instance, sees a conversion rate of over 14.29% on their Facebook ads while the technology industry conversion rate hovers just around 2.31%. Similarly, news feed ads have a much higher CTR than sidebar ads.
---
Shopify Facebook Shop
One of the more recent additions to the business owners' arsenal is the Facebook Shop. This feature allows eCommerce owners to let users shop directly from their Facebook Page. But here is the hitch – as an eCommerce owner, you may not want to rely completely on the Facebook platform for business. There is always a distant possibility for Facebook to suspend your page or shop because they violate their guidelines in some way.
But Facebook as a medium for business can be quite lucrative. One of the best alternate ways to get started is to host your own eCommerce store on the web and promote them with your Facebook Page. For instance, you could launch your website hosted on a platform like Shopify and promote your products through Facebook.
---
Integrating Your Shopify Store With Facebook
Connecting your Shopify store with Facebook is pretty easy. Once you have launched your Shopify store, quickly navigate to their in-house Facebook app to install the software. Quick note – you will need to provide your Facebook Page URL in the setup process. So if you haven't set up a Page already, make sure you get it done before configuring the app.
A big advantage of using a Shopify Facebook Store over their native application is that this makes product management easy. Adding products or changing price on your Shopify dashboard automatically changes these details on your Facebook store as well. You do not have to manually change pricing and product descriptions over Facebook.
---
Shopify Facebook Store Examples
The Shopify Facebook store is a great way to promote your products. Here are a few examples of Shopify Facebook stores.
Todd Snyder
Men's luxury fashion retailer Todd Snyder runs a Facebook store through their Shopify app. The Facebook page shows a little glimpse of the products available.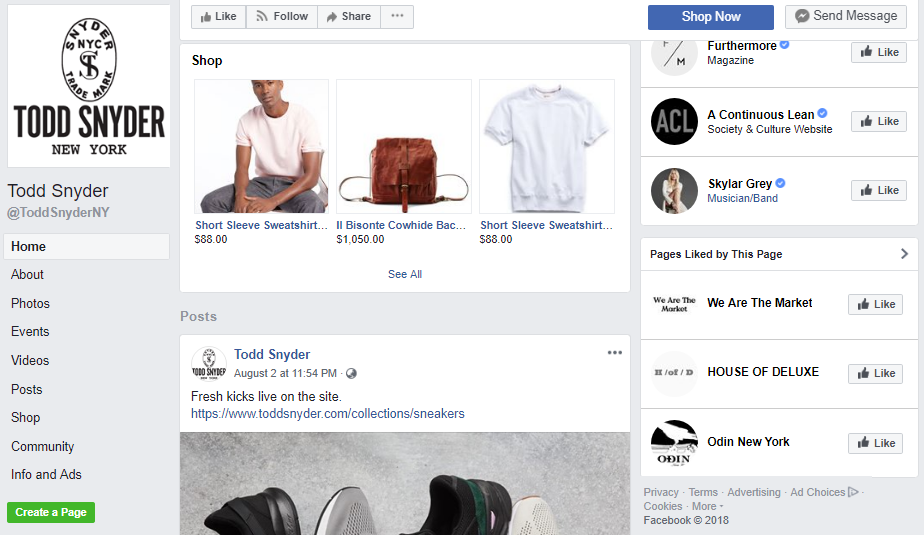 The navigational experience of the widget is much better when viewed on a mobile, which, is potentially where a lot of Facebook users come from.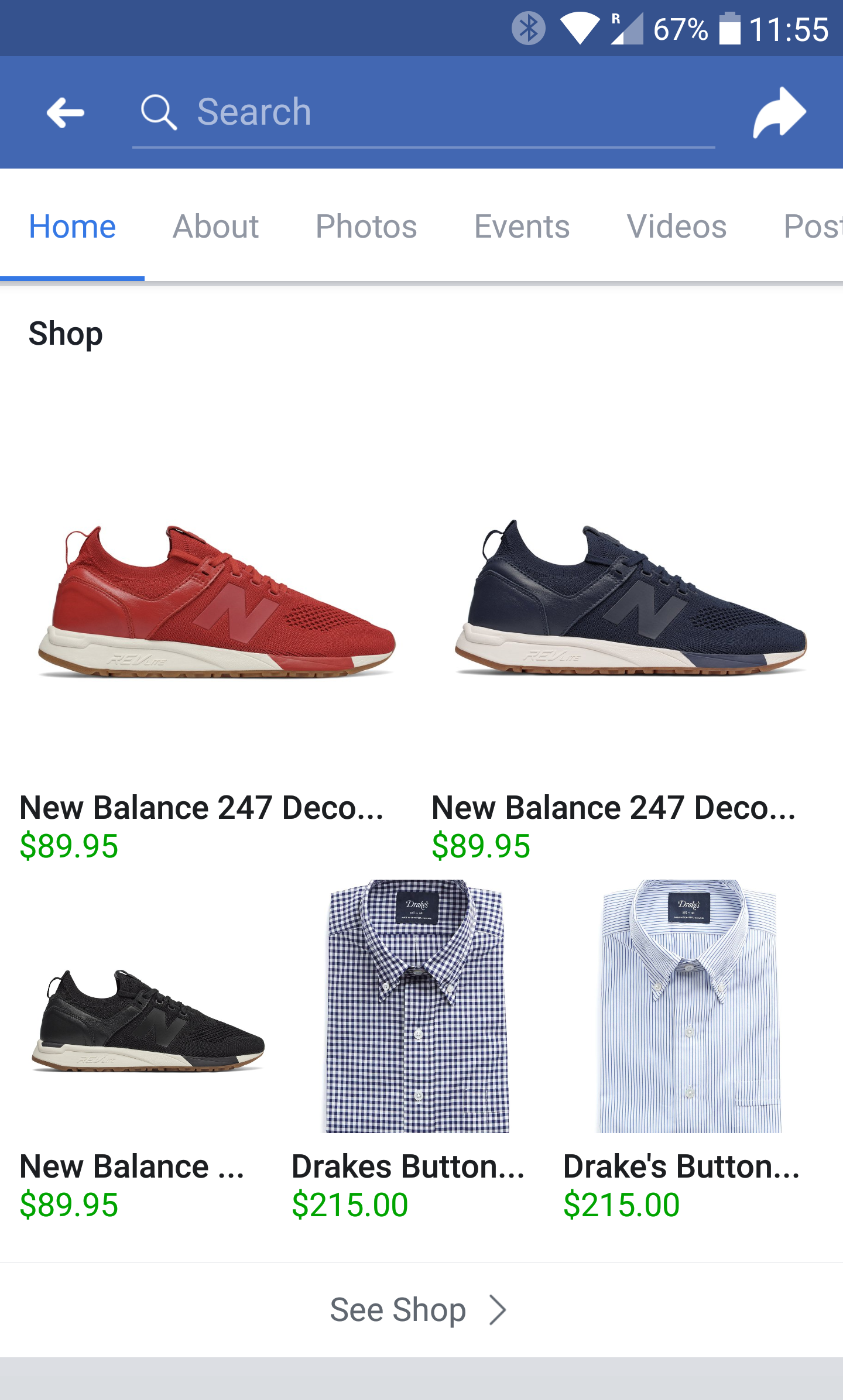 As you can notice, there is very little clutter on the app compared to the desktop and this could help your eCommerce store a great deal if you have a high chunk of customers coming from mobile.
GotPetSupplies
As the name suggests, GotPetSupplies is an online retailer of pet supplies. They retail everything from dog food to collars, chews and other products. This website is powered by Shopify and their Facebook Shop has been neatly organized into various collections. A collection is an assortment of products that belong to one product category. So in this instance, you have collections for dog treats, chews and Eheim aquariums.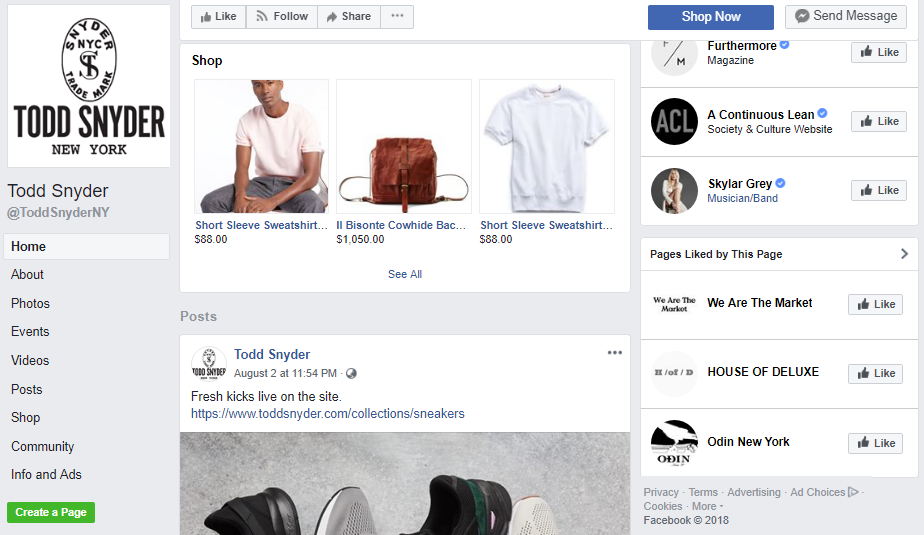 DropCatch
DropCatch is a seller of magnetic bottle openers and other beverage hardware. Because their products are so diversified, it does not make sense to use Collections like we saw earlier. For instance, their store has two kinds of bottle openers, one pump dispenser, a mason jar shot glass, coasters, and so on. Although the company does have organized their products into collections like 'Best Sellers' and 'Customers also bought', their Shopify Facebook Store works because of the carousel style navigational interface on Facebook.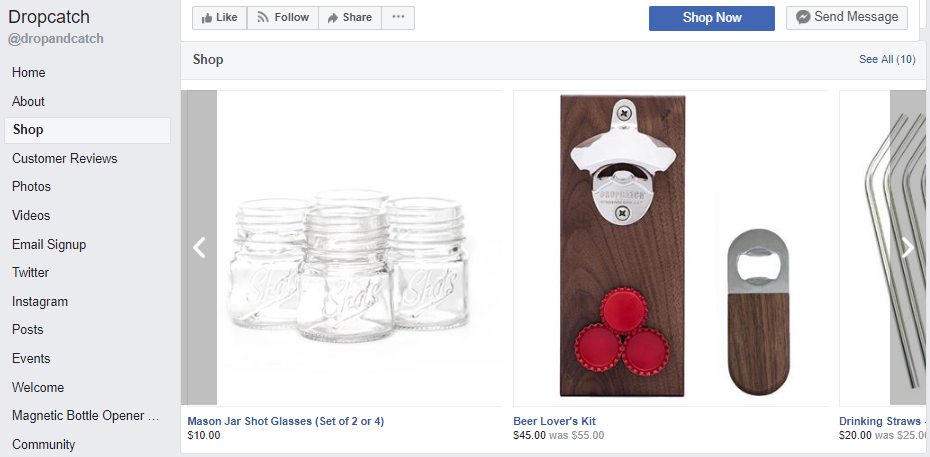 Todd Snyder
Here is Todd Snyder once again. Their Facebook store gives us another reason to see why Collections are so powerful. Facebook lets users advertise entire collections in one ad. This 'Made in L.A' collection showcases a bunch of apparels designed in their L.A factory. Users clicking on the 'Shop Now' button are taken to the respective Collection page on their Shopify Facebook store. Buyers can further click on specific products and check out directly from the retailer's website.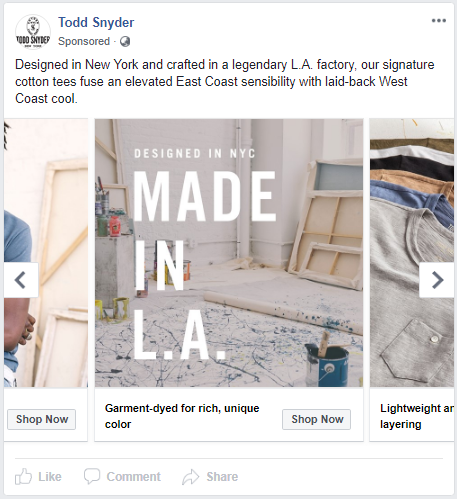 ---
Shopify Facebook Store Examples
Shopify's Facebook Store could be highly profitable to your business if done right. It is worth remembering that only a very small percentage of your followers read your posts directly from your Facebook Page. A vast majority of followers engage with your posts directly from their timeline. So although a Facebook Shop can help your readers engage with your store from within the social media platform, your strategy will only pay off when you promote your store from your Facebook posts.
It is highly recommended that you align your Shopify Facebook store strategy with your advertising campaigns. This creates a better engagement experience for your followers and ensures higher reach for your products without your followers having to click and move away from their social networking experience.
---
Author: Anand Srinivasan is the founder of Hubbion, a suite of free business apps and resources. Here's a comprehensive comparison of the major business live chat tools in the market.