Todd Snyder
Men's luxury fashion retailer Todd Snyder runs a Facebook store through their Shopify app. The Facebook page shows a little glimpse of the products available.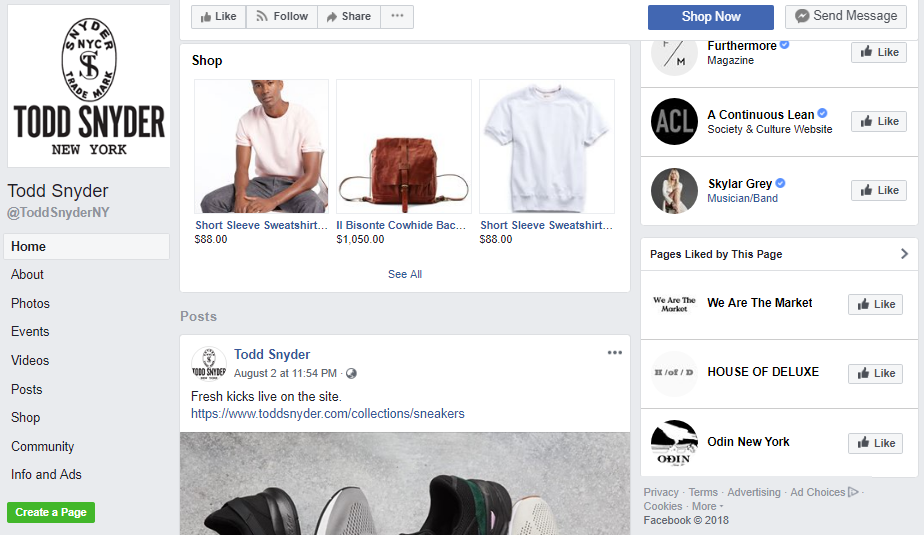 The navigational experience of the widget is much better when viewed on a mobile, which, is potentially where a lot of Facebook users come from.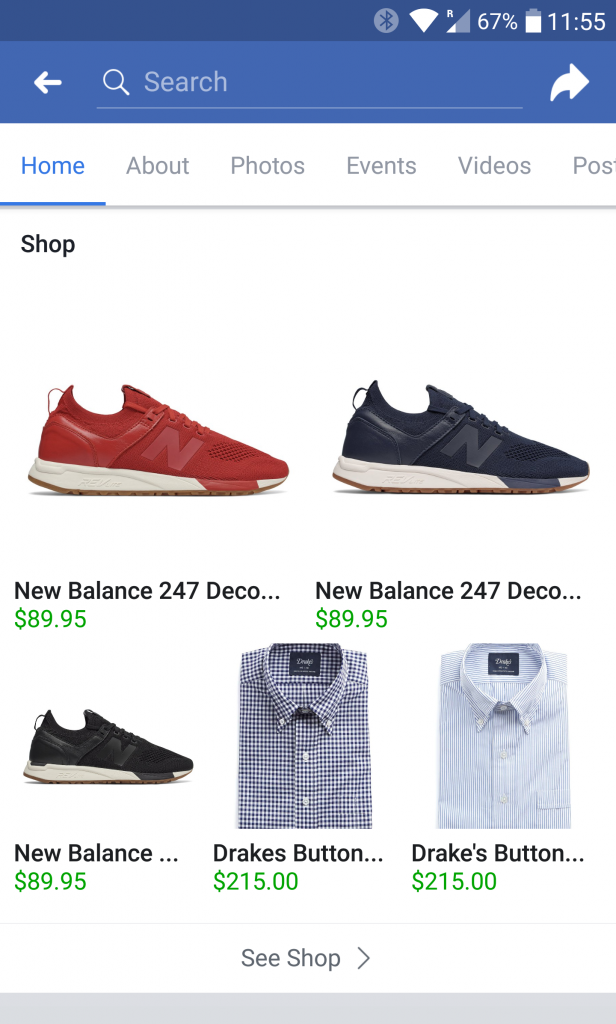 As you can notice, there is very little clutter on the app compared to the desktop and this could help your eCommerce store a great deal if you have a high chunk of customers coming from mobile.
GotPetSupplies
As the name suggests, GotPetSupplies is an online retailer of pet supplies. They retail everything from dog food to collars, chews and other products. This website is powered by Shopify and their Facebook Shop has been neatly organized into various collections. A collection is an assortment of products that belong to one product category. So in this instance, you have collections for dog treats, chews and Eheim aquariums.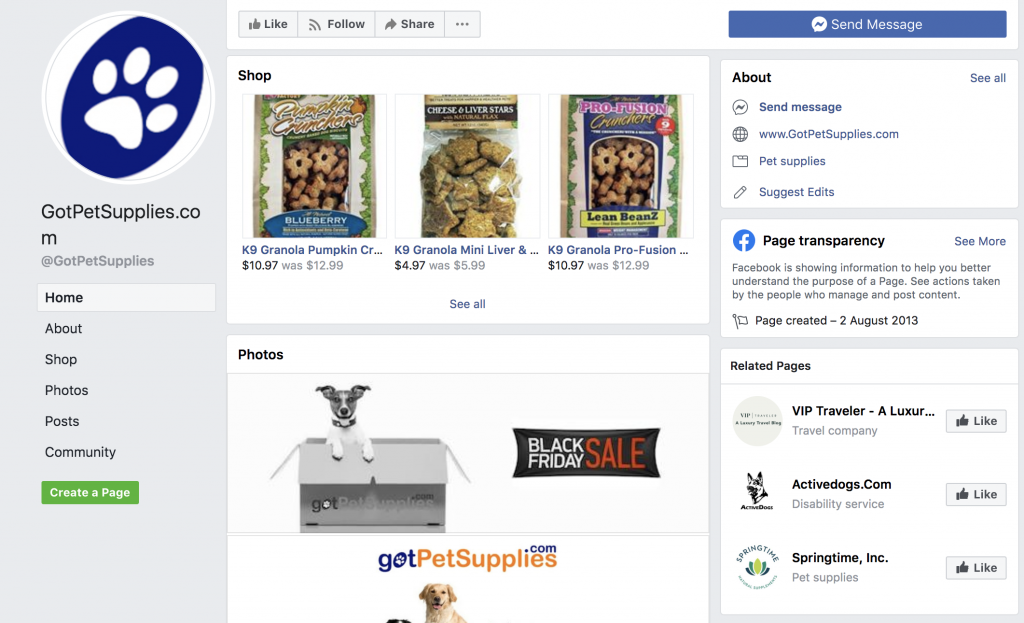 DropCatch
DropCatch is a seller of magnetic bottle openers and other beverage hardware. Because their products are so diversified, it does not make sense to use Collections like we saw earlier. For instance, their store has two kinds of bottle openers, one pump dispenser, a mason jar shot glass, coasters, and so on. Although the company does have organized their products into collections like 'Best Sellers' and 'Customers also bought', their Shopify Facebook Store works because of the carousel style navigational interface on Facebook.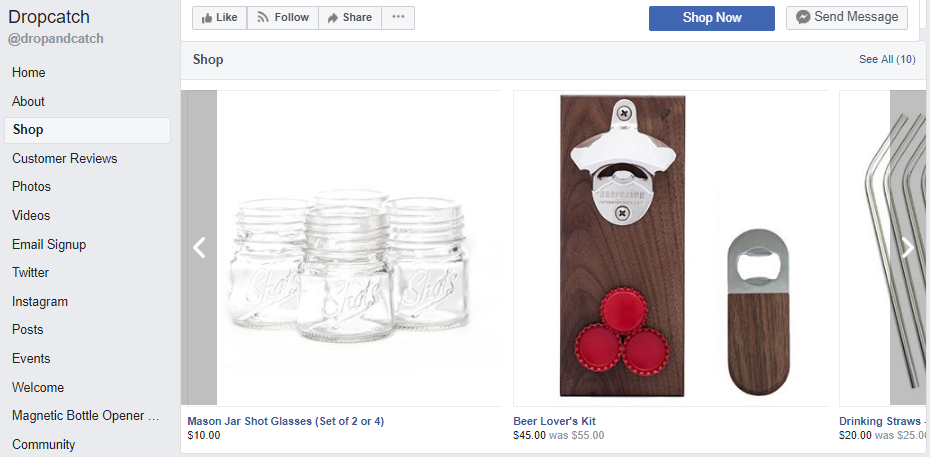 Todd Snyder
Here is Todd Snyder once again. Their Facebook store gives us another reason to see why Collections are so powerful. Facebook lets users advertise entire collections in one ad. This 'Made in L.A' collection showcases a bunch of apparels designed in their L.A factory. Users clicking on the 'Shop Now' button are taken to the respective Collection page on their Shopify Facebook store. Buyers can further click on specific products and check out directly from the retailer's website.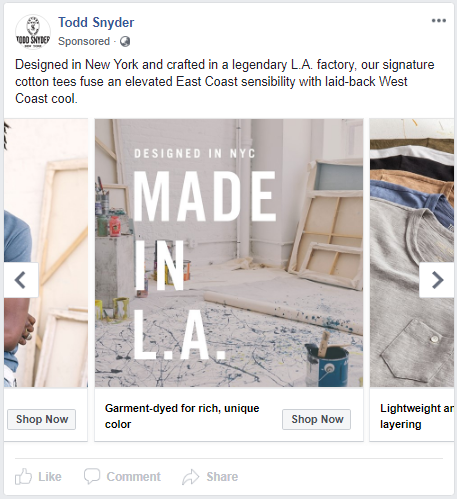 Shopify's Facebook Store could be highly profitable to your business if done right. It is worth remembering that only a very small percentage of your followers read your posts directly from your Facebook Page. A vast majority of followers engage with your posts directly from their timeline. So although a Facebook Shop can help your readers engage with your store from within the social media platform, your strategy will only pay off when you promote your store from your Facebook posts.
It is highly recommended that you align your Shopify Facebook store strategy with your advertising campaigns. This creates a better engagement experience for your followers and ensures higher reach for your products without your followers having to click and move away from their social networking experience.
---
Author: Anand Srinivasan is the founder of Hubbion, a suite of free business apps and resources. Here's a comprehensive comparison of the major business live chat tools in the market.