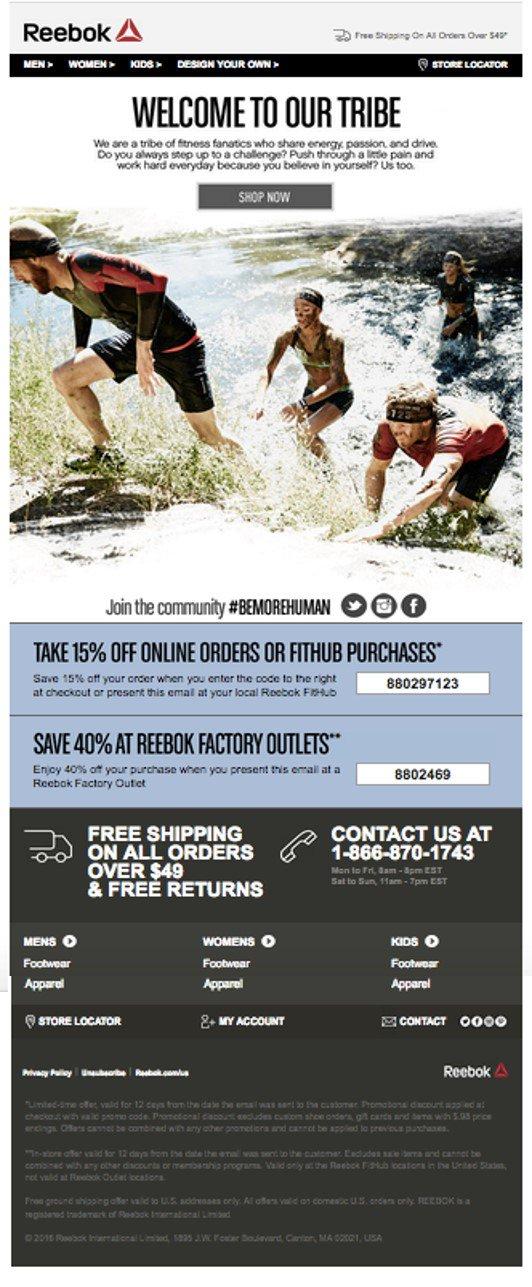 Case in point, a full set of goalie equipment for ice hockey (leg pads, goalie skates, blocker, etc.) can cost someone well over $1,000.
The marketers at Reebok know this, too, and that is why one of the first things you see in their welcome message is the opportunity take advantages of huge discounts. Three separate times in this email, you see the discounts of this company written down prominently in letters that contrast with the background, letting the consumer know that he has an opportunity to save money on new sneakers, jerseys, socks, or anything else he needs for the sport he plays.
If you sell expensive products, such as athletic equipment, in your e-commerce welcome emails to new clients, you should always display important information, such as discounts and promotions so that they are highly visible.
Another thing that Reebok did in this email is they included a 'store locator' function in the welcome email so that the new customer can quickly find one of their outlets and get whatever athletic equipment he needs.
If you are running a brick-and-mortar business, be sure to include a link to Google Maps so that the customer can easily find and drive to your location.