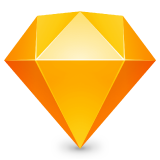 Designed in Sketch
We create your website designs in Sketch. Widely considered the leading design tool in 2023. We create designs for desktop, tablet and mobile devices. So you can see and understand the user experience across devices types and screen sizes before we commence development work. We include all the ecommerce best practices needed to ensure high conversion rates.
Design feedback with Invision
For design feedback and iteration we use Invision. Invision is the leading tool for design commenting and collaboration. No messy emails or time-consuming annotations, just click and collaborate.
Save 20% of development fees with Zeplin
When handing over design files to our development team we use Zeplin. This saves around 20% in development time and costs which are handed over to you in our pricing. Zeplin allows the developer access to machine written CSS for all design elements. Meaning a lot of time efficiency when writing your CSS.
Robust browser & device testing
We take responsive design seriously and test your code base in all the modern browsers across common device types. We use BrowserStack for robust remote browser testing and device emulation.
Fast page load times as standard
Because we know page load times are really important. Fast loading themes come as standard. If you use a lot of apps or are a Shopify plus store, you can also sign up to our Shopify speed optimization service. For those looking for perfection in page load times.
SEO Ready
Our themes development process includes coding up all the meta tags as needed for on-page SEO best practices. We can also include rich snippets for reviews and other metadata as needed.
Internal & External Quality Assurance Process
We have a 4 step quality assurance process for all Shopify themes. Two internal rounds of quality assurance for bug fixes and preparation for handover. Then two rounds of external quality assurance with you to ensure you're ready to use and happy to launch. We use Trello kanbans for development bug ticketing.