15 Best Shopify Marketing Channels For Growth
I thought long and hard about the perfect intro.
If you're reading this, you most likely fall under a category.
The first is an eCommerce store owner who has used some marketing strategies on this list. They may have worked for you – hence you're looking to diversify with other channels, or they didn't so you want to switch. Lovely. 
The second is someone who has vague ideas of each channel and needs to read a piece that explains (not in too much detail) what the best marketing channels for eCommerce brands are. Your brand is either new or about to launch. Be welcome.
I made sure to include examples, and thoughts from individuals who have walked the walk so you know how each channel works. And for the second person, I ensured examples were relevant to help you understand what these channels do.
---
The 15 Best Marketing Channels for eCommerce Brands
SEO

Social Media Marketing

SMS Marketing

Email marketing

Video Marketing

Influencer Marketing

Affiliate Marketing

Content Marketing

Direct-mail Marketing

Paid Ads

Search Engine Marketing

Partnership Marketing

PR

Events Marketing

Referral Marketing 
---
1. SEO
SEO (Search engine optimization) refers to the process of optimizing a website, and its pages to show up on the search engine results page (SERPs) whenever someone runs a quick search. The more optimized your eCommerce website is, the higher you'll rank, and get more visitors to your site.
eCommerce brands need SEO because they operate online, and a good number of their customers search for products or services they offer online.
Amazon, for example, ranks at the top spot for the phrase "nail care products" – as of the time of writing this.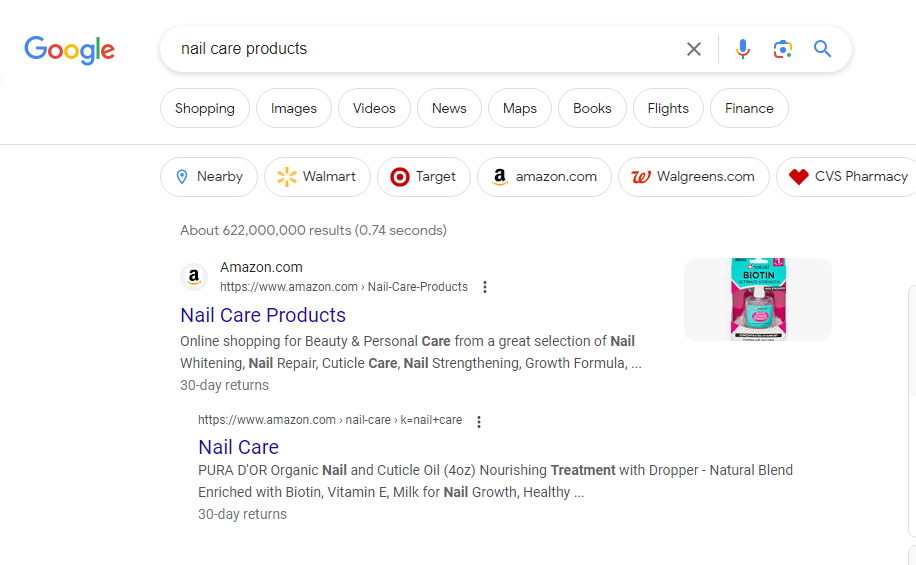 Relevant KPIs you should track include;
Pages per visit

Click through rate

Time on site
A quick Google Search for haircare products shows that Sephora sits pretty on the number one spot (as of the time of writing). In this case, Sephora has optimized its hair products page to rank first on Google's SERP for the "haircare products" query.
---
2. Social Media Marketing
This channel involves posting content on social platforms like Facebook, Instagram, Tiktok, or even Twitter. Posting content on social media is a form of organic marketing since you don't pay for views.
Fashion Nova – an online fashion retailer has successfully utilized social media, particularly Instagram, to engage with their audience and build a massive following.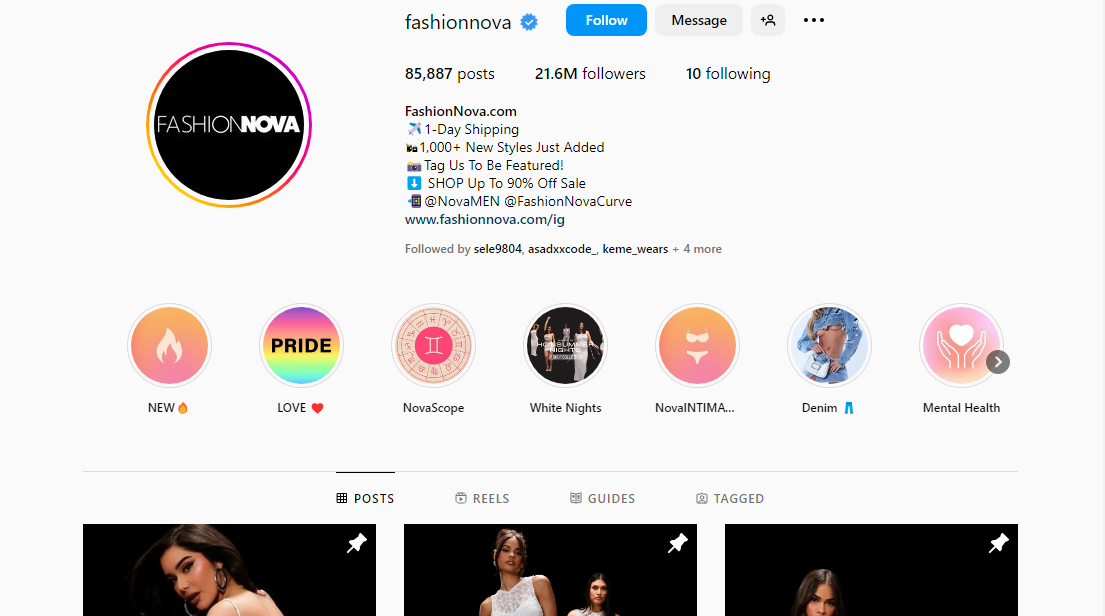 Social media marketing helps you build communities that will buy your products. A social presence also allows you to partner with influencers. Guna Kakulapati, co-founder & CEO of CureSkin agrees with this.
"Our best-performing marketing channel is our Instagram account. Our UGC reels, especially, receive high engagement and are moderately successful at generating new leads to our website through our account. 
Our recent partnership with Madalsa Sharma saw significant follower growth and leads, on top of some of the highest-performing content in terms of engagement we have shared. Between the new leads her endorsement brought in and the leads from our existing followers, that campaign taught us the impact influencer marketing, particularly, can have on conversions and lead growth."
Candy FunHouse, a Candy brand, has seen tremendous success on Tik Tok. "The first time we went viral as a company was through a fan's user-generated content doing a review on our company. We had a surge of visitors to the website and didn't know where it was coming from." (Jamal Hejazi – via Shopify)
Candy Funhouse has themed its product around pop culture phenomenons and local baseball teams – fostering a sense of community.

"Listening to our audience has been the key to growing our social media accounts. We participate in active social listening from our audience and create content that we, as candy lovers, would enjoy watching ourselves."
---
3. SMS Marketing
eCommerce brands can send direct text messages to new or repeat customers. This channel is often used to inform customers about sales or update them with shipment details.
SMS marketing is very effective for eCommerce brands because of its direct and personal nature. 
"One key thing to keep in mind when it comes to SMS marketing is you need to have an active connection with your customers. If you go AWOL for weeks, or months without texting them – they will simply forget about you. So even if you have 10 people in your list, make sure you have an active conversation with them, have automation running in the background, send campaigns every once in a while, don't just wait to accumulate a larger audience." Mark Chapon (Via SMSBump)
Nursing Queen's 20 random SMS generated 30X ROI. The stylish nursing clothes maker had subscribers clamoring to place their lottery orders with the message.
Relevant KPIs to track include:
Unsubscribe rate

Reply rate

Interaction rate
Umbra, a modern home decor and hardware store makes use of a virtual contact file (VCF) to allow customers to save their contact details.
To avoid being marked as spam or blacklisted – only reach out to your audience once in a while, and ensure you say something important.
---
4. Email Marketing
Email marketing simply refers to sending emails to new or existing customers. You may send them once in a while to alert customers about a promotion or sale, or to convert prospects who indicated interest in your products at some point.
The Sill – a popular online houseplant retailer – uses a stylish combination of SMS and email marketing. Visitors can subscribe to their newsletter and SMS messages at the same time.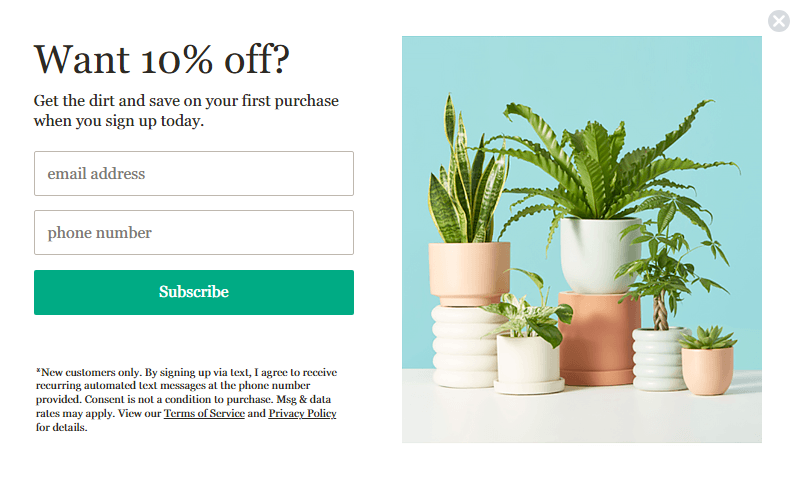 With its focused nature and robust segmentation options, email marketing is an effective channel to nurture customer relationships and drive upsells. Through newsletters, you can share informative content with your audience to gain more credibility and keep subscribers engaged – even when they aren't actively making purchases.
Yak Grills – the maker of a modern hibachi-style grill – takes it a step higher. Visitors can subscribe to the email list only or choose to include their phone number when prompted.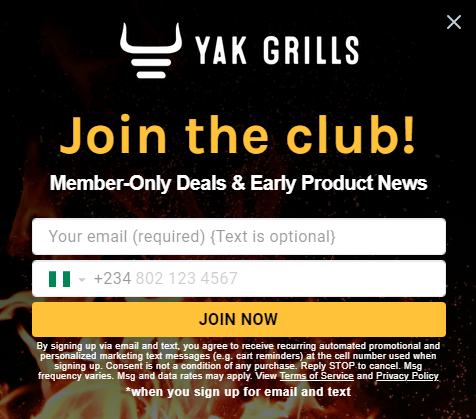 The eCommerce industry has the highest ROI on email marketing at $45 per $1 spent when compared with the general average of $36.These numbers aren't surprising if you take into account the fact that the number of customers who prefer email as their most preferred channel for marketing.
---
5. Video Marketing
Videos are on fire right now (Not literally though).
Video marketing means using videos to sell products or services online. It involves creating, sharing, and promoting videos that showcase your products, their features and also benefits to potential customers.
Busy Baby Mat, an eCommerce brand that creates innovative products for infants uses Videowise, a shoppable video platform for video marketing. They use shoppable videos to demonstrate their products in action.
This channel is becoming increasingly popular in the eCommerce industry due to its effectiveness in engaging and influencing customers. It remains a visually appealing way for communicating brand messages and trust with potential buyers.
Glossier – known for its minimalist approach to beauty and skincare – has a YouTube channel featuring product demonstrations, skincare routines, and interviews with influencers.
Videos showing satisfied customers sharing their experiences (both positive and negative) can significantly influence decisions with 93% of customers saying videos are helpful when purchasing.
---
6. Influencer Marketing
ColourPop cosmetics recently teamed up with TikTok Influencer, Jasmine Chiswell, for its old Hollywood glamor-inspired collection.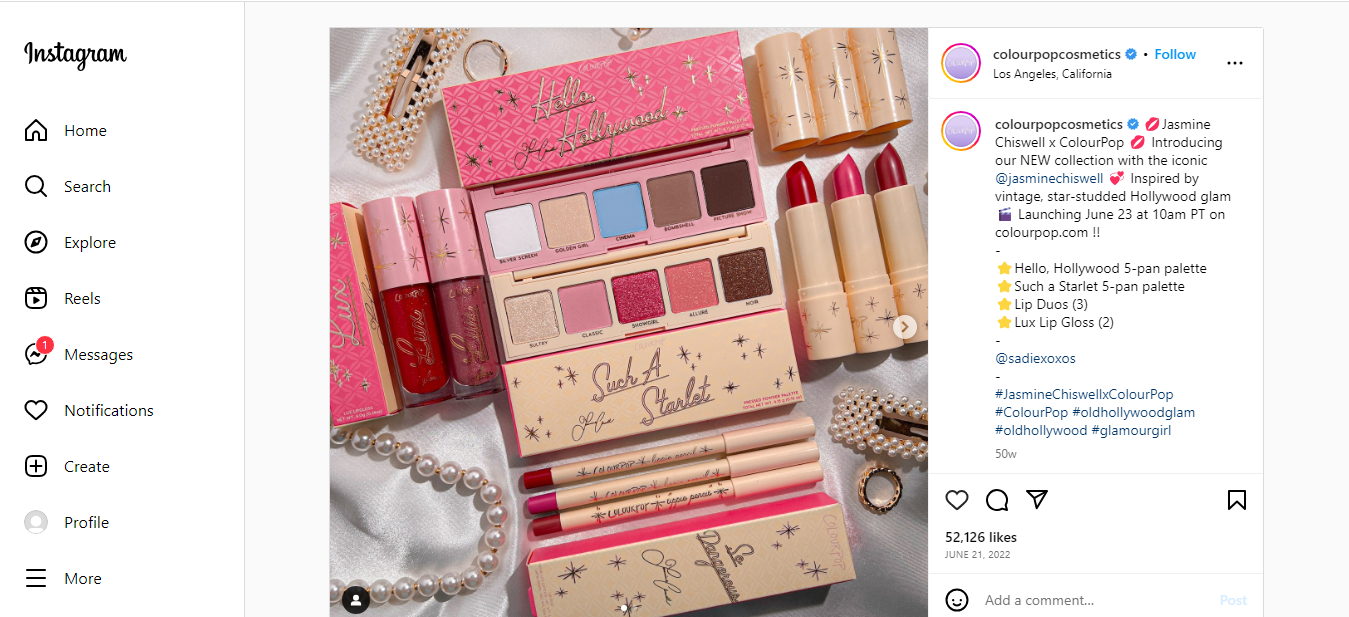 Influencer marketing means collaborating or leveraging well-known individuals to promote and sell products online. "You can find popular influencers on platforms like Twitter and Instagram and provide free products, gifts, or compensation for their honest opinions of your brand and product."
Since influencers have built a certain degree of trust and credibility with their followers, recommendations, and endorsements made by them significantly influence purchase decisions.
There's also the case of targeted reach, where influencers may have a targeted niche or demographic that fits your potential customers.
"One of the most effective marketing channels for our eCommerce brand, Inyouths, was utilizing targeted influencer marketing campaigns on social media platforms, particularly Instagram and Pinterest. 
By collaborating with influencers in the interior design niche who had a substantial following, we were able to showcase our high-end custom LED mirrors to a curated audience genuinely interested in our products. This strategy led to a 37% increase in sales over a three-month period." – Kevin Wang, Co-Owner of Inyouths.
---
7. Affiliate Marketing
This is similar to influencer marketing, but a bit different because whoever's recommending the products in question must not be an influencer. 
Lulu's – an online retailer of women's clothing – has a program that allows affiliates to earn commissions and get personalized one-to-one affiliate support.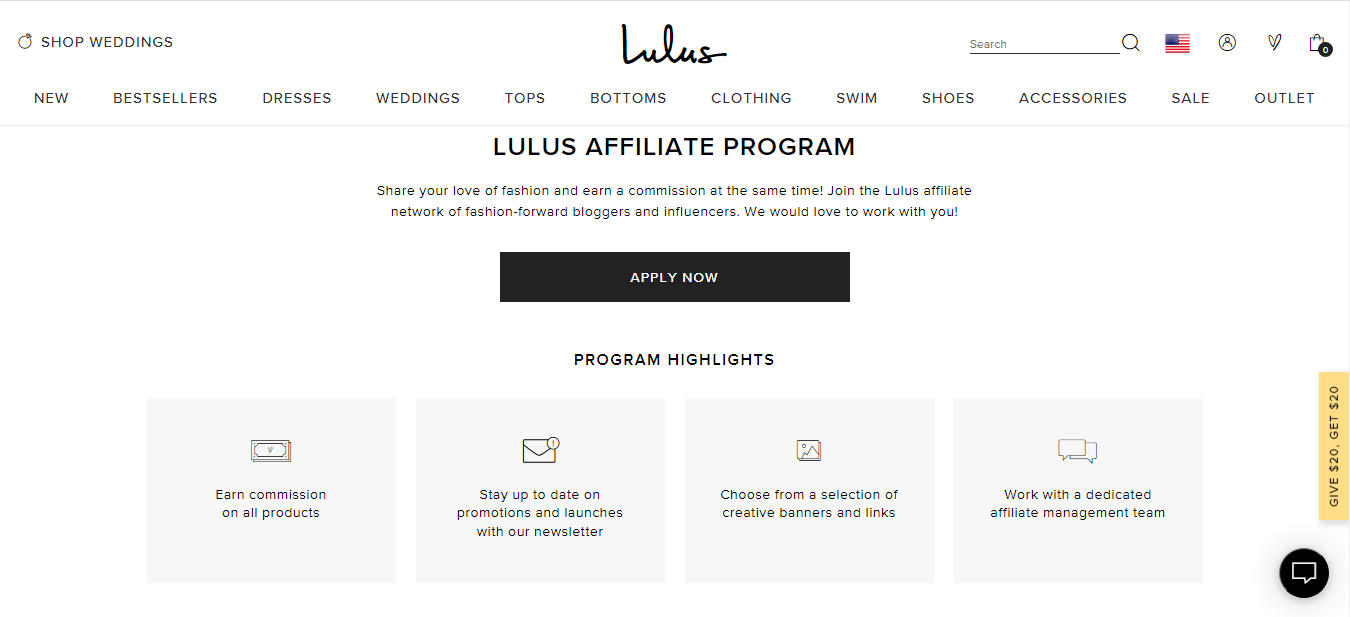 Affiliate marketing allows you to leverage the marketing efforts of affiliates for more. You can recruit individuals that align with your niche and target audience, such as:
"Choose affiliates who align with your brand philosophy and have an engaged audience that matches your target market to get the most out of your affiliate marketing efforts. Also, providing affiliates with the necessary promotional materials, tracking tools, and support will help them effectively spread the word about your products and drive more conversions." – Alena Korotkevich, Senior digital marketing manager at Tapfiliate.
Pura Vida Bracelets – a jewelry brand specializing in handmade bracelets and accessories – enables affiliates to earn commissions on all sales and gain access to its exclusive monthly newsletter through its affiliate program.
---
8. Content Marketing
Content marketing for eCommerce means creating and distributing valuable content to attract and retain customers. The ultimate goal with this channel – as with other channels – is driving sales and building brand loyalty.
REI, an outdoor retail brand that focuses on gear and apparel, has a robust content marketing strategy that includes a technology blog, expert advice articles, and outdoor guides. Their content helps to inspire their target audience, and REI remains the go-to resource for outdoor enthusiasts.
This channel is crucial because it helps establish a connection with your target audience. You also get to increase brand awareness and visibility, while establishing yourself as a thought leader in the industry.
Glossybox – a beauty subscription box service – uses content marketing to educate and entertain its audience. The blog/magazine shares beauty tips, product reviews, and tutorials, keeping subscribers engaged and informed about the latest beauty trends.
By publishing content consistently, you gain exposure to a broader audience – through organic reach and social platforms.
---
9. Direct-mail Marketing
Physical email. (Kind of).
This marketing channel involves sending physical items such as letters, postcards, catalogs, or brochures to potential or existing customers. You can use these targeted mailings to generate more interest in your products.
Besides, it's one of the best Human to Human (H2H) forms of marketing out there.
Wayfair effectively uses a direct mail postcard in this campaign for home office items to capitalize on the work-from-home trend.
Wayfair also extends an additional 10% off discount for first-time purchases to help acquire new customers.
To approach this channel successfully, here are suggested steps:
Identify and segment your audience based on purchase history, demographics, or other relevant criteria.

Personalize the offers, content, and messaging based on your segmented audience.

Create physical marketing collateral such as letters, postcards, catalogs, or brochures.

Include a clear call to action to prompt recipients to take specific actions such as visiting your website or subscribing to a newsletter.

Integrate with other online channels to better the customer's journey. You can include QR codes to direct visitors to a specific landing page.
Chewy – an eCommerce brand specializing in pet supplies – utilizes direct mail marketing to send greeting cards to new customers, and condolence bouquets when owners lose their pets.
Direct mail marketing offers a tangible approach to reaching your target customers – and subsequently driving sales. It complements your digital marketing efforts by providing a memorable touchpoint during the customer's journey.
---
10. Paid Ads
This refers to the practice of using paid advertising platforms to promote your products and drive traffic to your eCommerce store.
LARQ – a brand that offers self-cleaning water bottles using UV-C LED technology – utilizes paid ads on Facebook to raise awareness about their innovative product.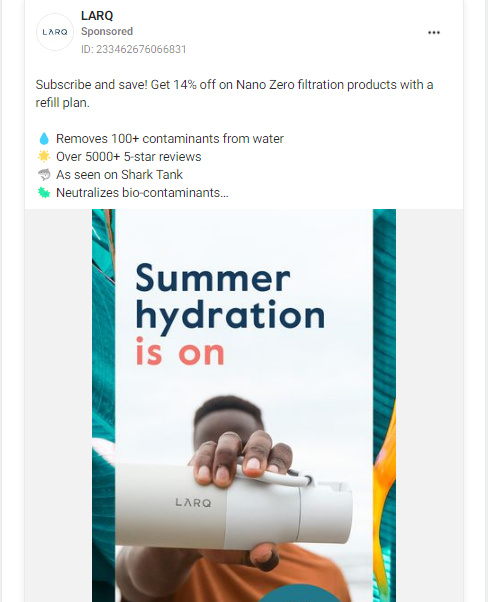 Paying to show advertisements on social platforms like Facebook can grow your business by bringing visitors who may eventually buy from you – to your website.
PatPat – a global brand that sells clothing for kids, babies, toddlers, and families – runs ads on Instagram.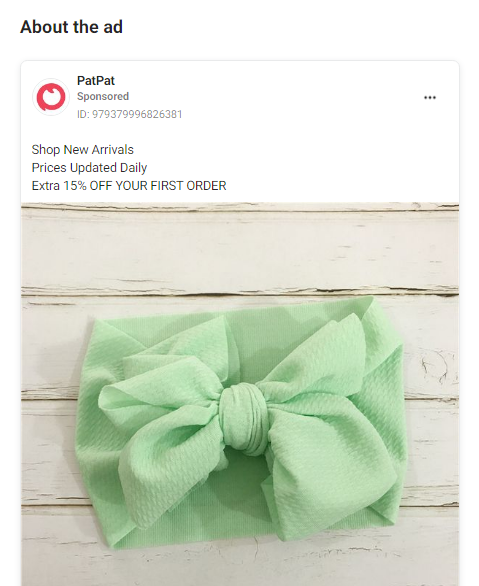 Utilize common ad platforms like Google Ads, Facebook Ads, and Instagram Ads to display your ads. They'll allow you to target specific audiences to ensure you are reaching people who are most likely to buy from you.
---
11. Search Engine Marketing
This channel's quite similar to paid ads but differs a bit.
Search engine marketing refers to the use of paid advertising on search engines like Google, Bing, and Yahoo to promote your products and drive traffic to your eCommerce store.
Konga and Famokids have bought paid ad space for the term "playmats for kids". (Results may differ since I'm searching from Nigeria).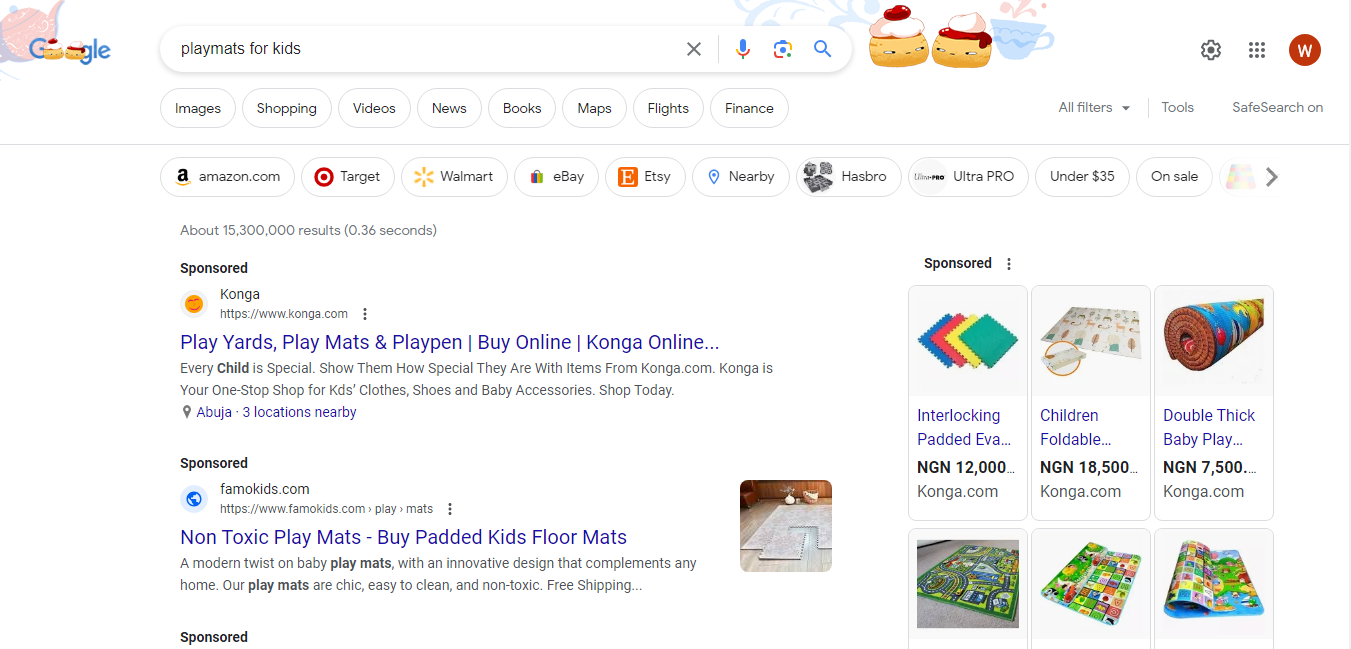 You'll have to bid on relevant keywords to display ads in the search engine results pages (SERPs). Paid search campaigns are based on keyword targeting. This means you'll need to research and target relevant keywords potential customers are likely to use when searching for products. You'll then bid on the keywords and whenever a user searches for those terms, your ads are triggered and displayed in search results.
Walmart and eBay have purchased ad space on Bing for the term "Dog grooming products".
If an advertiser's bid is successful on a particular keyword, then their ad will appear as the result of those search queries.
---
12. Partnership Marketing
Partnership marketing entails collaborating with other eCommerce businesses, or individuals, to mutually promote your products. You'll use each other's audiences and resources to expand your reach and generate revenue.
LeBron James and Nike have collaborated on a wide range of products, including the signature LeBron James shoe line.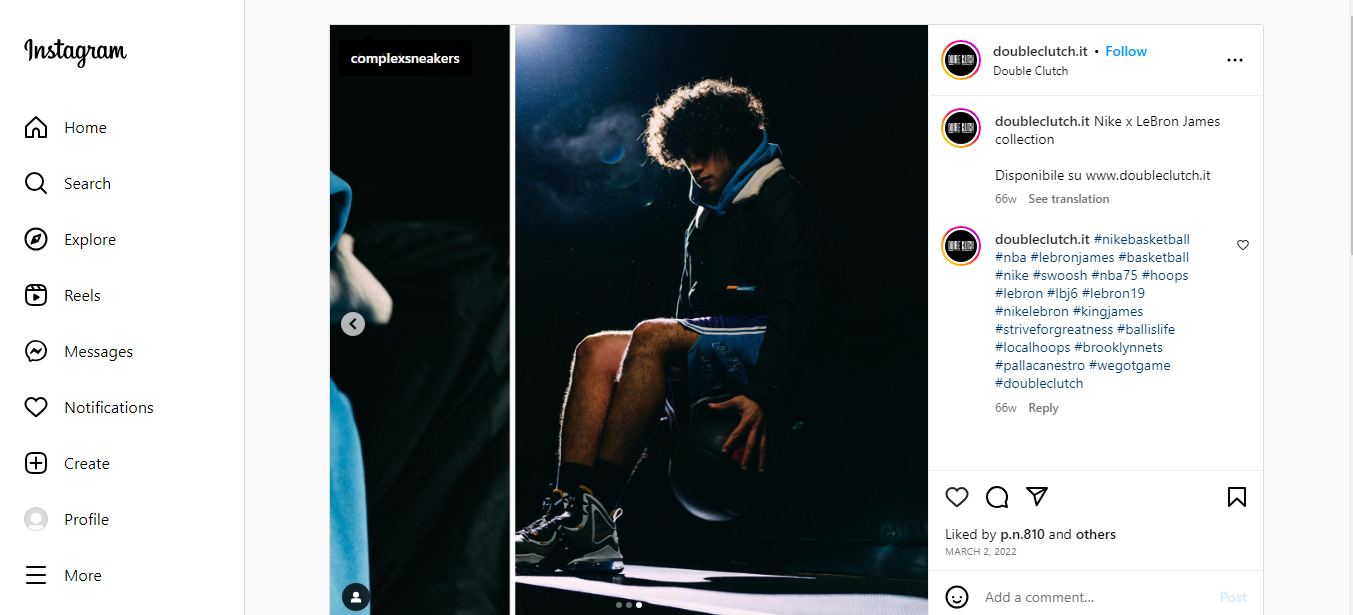 Ideally, you'd not partner with your competitors, but rather with brands that have complementary products or target similar customers.
Rothys – a sustainable footwear and accessories business collaborated with FEED (a social business whose mission is to create good products that help feed children around the world) to launch a collection. The limited collection raised $65,850 to support solutions to end childhood hunger.
You can also partner with other businesses by mentioning them in newsletters, guest blogging, or social media shoutouts.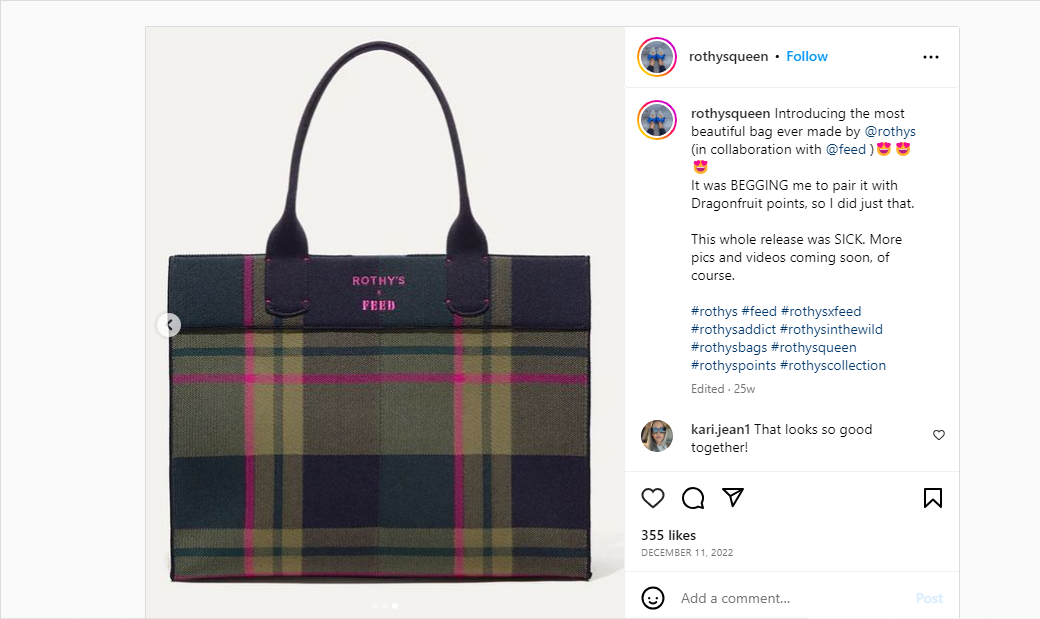 Partnership marketing allows you to combine your expertise and the established audience of your partners to generate outcomes that are mutually beneficial like higher brand exposure, more customer acquisition, and increased revenue growth.
---
13. PR
Public relations involves connecting with relevant industry publications, journalists, and media outlets to cover your brand or product. The benefit of using this channel is effectively positioning yourself in the market, and separating your brand from competitors.
Nisolo – a footwear and accessories brand – was featured in GQ Magazine.
Establishing relationships with the media may mean frequent product mentions in relevant publications, hence increasing your brand's visibility and driving traffic to your eCommerce store.
Polywood is another example of a brand that uses PR marketing. They mainly create outdoor pieces made out of recycled plastic.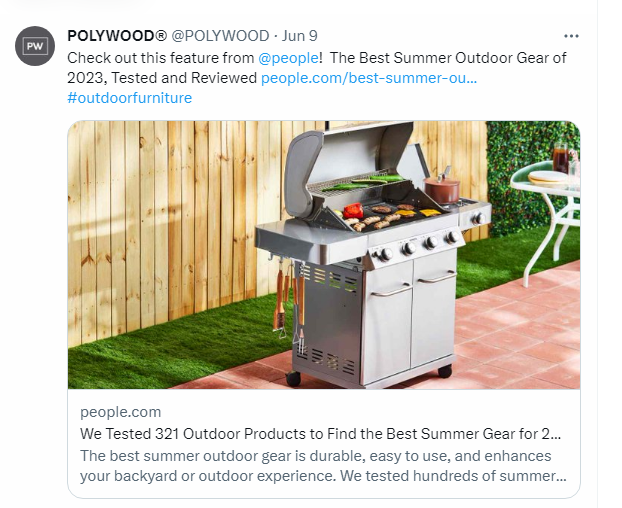 Effective PR also plays a crucial role in managing crises or negative publicity that may arise (hopefully not) for your business. Working with PR professionals would ensure online conversations are monitored, and negative media coverages are promptly responded to. 
You can generate effective media coverage and manage your brand's reputation – with the right PR strategies – while positioning yourself as a thought leader, and expert in the industry.
---
14. Events Marketing
Events can help you know if people want your products – particularly at the early stages. It helps your business grow as you can get real-life feedback, and understand your target audience in person.
Nisolo – a Nashville-based shoe brand – hosted an in-store event where customers were able to shop 30% off on products, enjoy music, and participate in a raffle draw.
You'll need to organize, sponsor, or participate in events to:
Product launches generate excitement, get media coverage and create a sense of urgency for customers to explore and purchase.
The Sill – an online plant retailer – hosts workshops and virtual events focused on plant care, styling, and plant-related topics.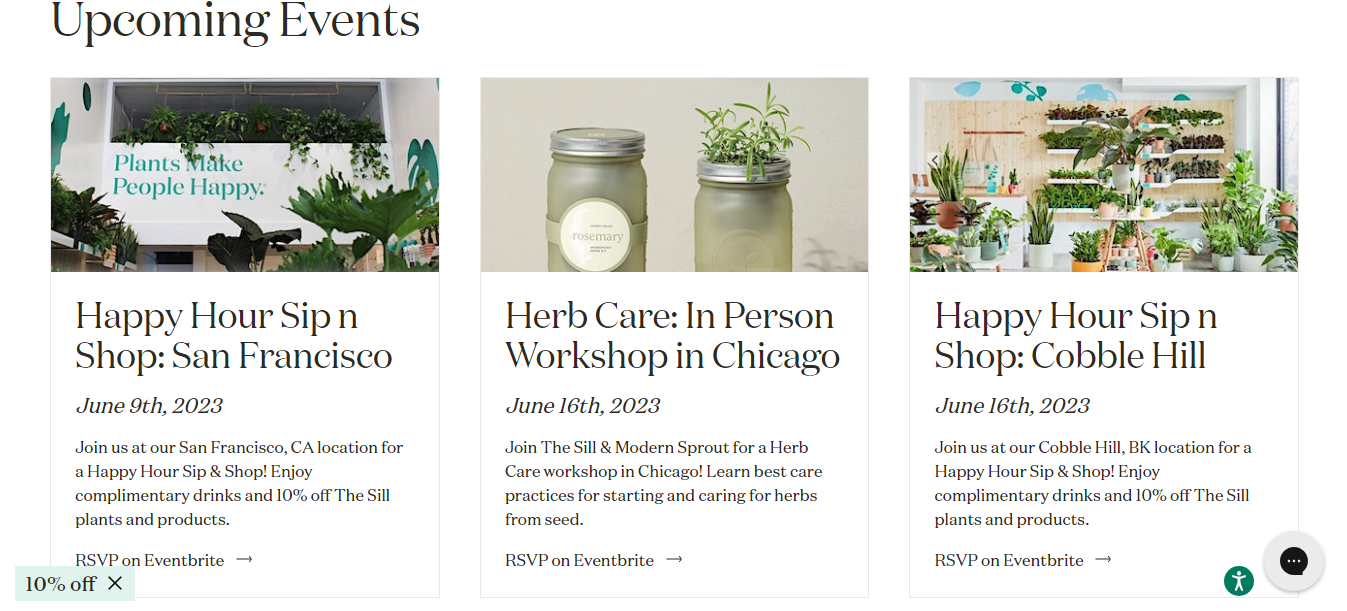 You can show appreciation to existing customers through:
Exclusive sales

VIP experiences

Special rewards
---
15. Referral Marketing
Referrals are amongst the best ways to sell products. Customers buy from brands they know, like, and trust. Referral marketing covers all these steps as recommendations made by close acquaintances are highly effective.
Frank and Oak – a clothing brand that focuses on sustainable and stylish apparel for men and women – have a referral program where customers earn credits for referring friends to shop on their website.
You can create referral programs to reward customers who refer others to your store. Some rewards you can give are:
Discounts

Store credits

Exclusive offers

Freebies
This channel relies on satisfied customers to become advocates for your brand. So to get those reviews coming in, you'll need to have an excellent product, exceptional customer service, and a positive shopping experience.
To facilitate the process, incorporate options on your website for customers to share their referral links or codes.
MeUndies – an underwear and loungewear brand – has a referral program encouraging customers to refer friends to receive credits for their next purchase.
Referral marketing remains a cost-effective customer acquisition channel because it leverages existing customers to acquire new customers.
---
Wrapping Up
In this report by Klaviyo, email marketing is the top marketing channel for eCommerce brands, with social media, paid social media advertising, SEO, and content marketing coming in 2, 3, 4, and 5th respectively.
Ensure you carry out proper research on your target audience to better understand them. Ask how they found you and look for patterns and similarities.
But, start with at least two of the 5 marketing channels above and grow from there.
I hope you found this post useful!