Choose the section below that fits your status: you're either a first-time Google Tag Manager user or you've already set up an account.
First-Time Users
If this is the first time you're using GTM, it'll show your snippet as soon as you create your first Web container. Here's how to get there:
Head over to the Google Tag Manager website.
Sign in with your Google Analytics account information – the username and password will be the same for GTM logins.
You'll be taken to a "Add a New Account" page. Fill out this information with a nickname for the website and then adding in your site URL. When it asks about a Container, choose the "Web" option. Check out the images below for a little help.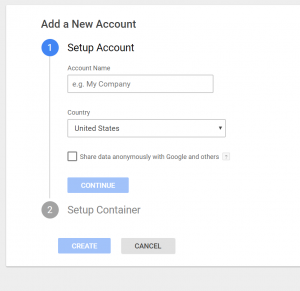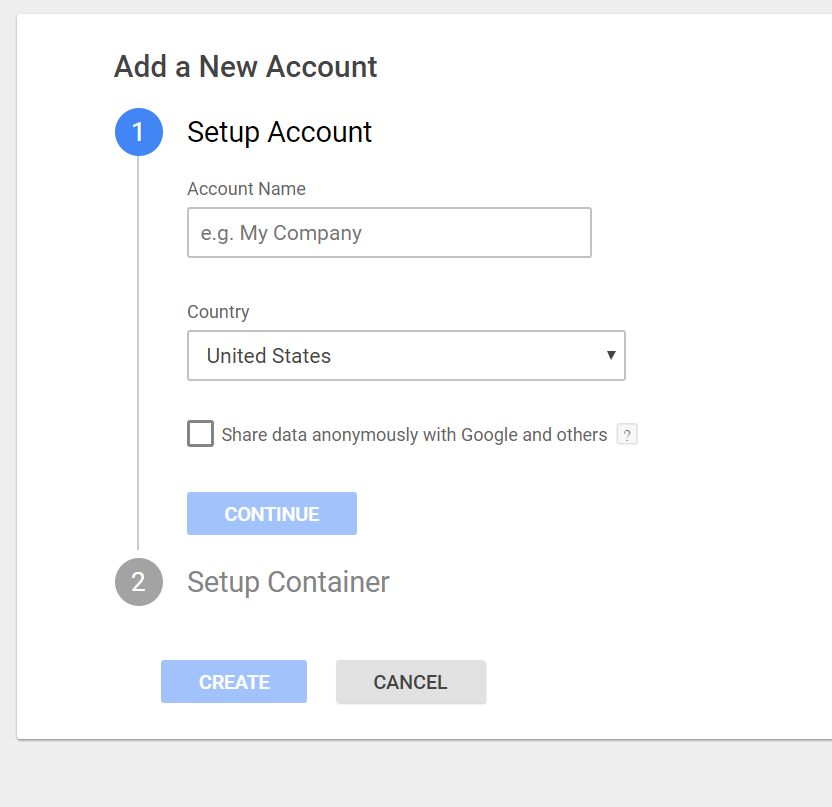 Add in the name of your company, select your country, and then choose if you want to share data or not.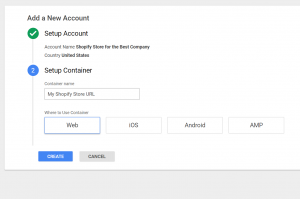 Use your site URL for the container name and then select the Web option.
After you hit create, you'll get to see your snippets. It should look similar to the image below.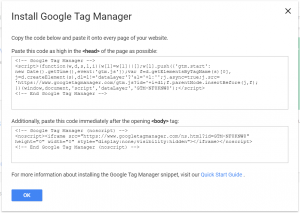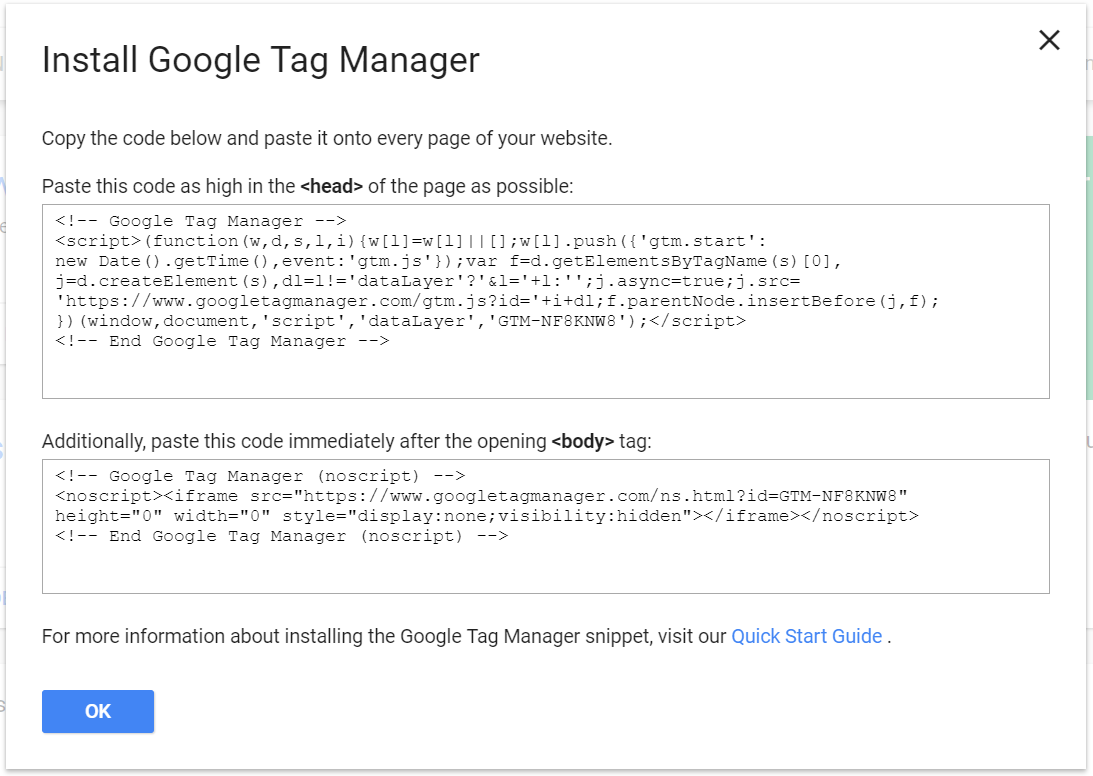 Your snippet will look something like this.
Now, hit the pause button on your online activity! You've got your snippets, and now it's time to jump to our "Shopify Admin Steps" subhead below.
Already a GTM Rock Star
If you've already used Google Tag Manager, then you won't get directed instantly to your snippet. However, it's just a click away. Look at the right-hand part of your screen and click on "Install Google Tag Manager."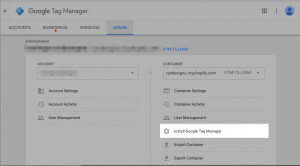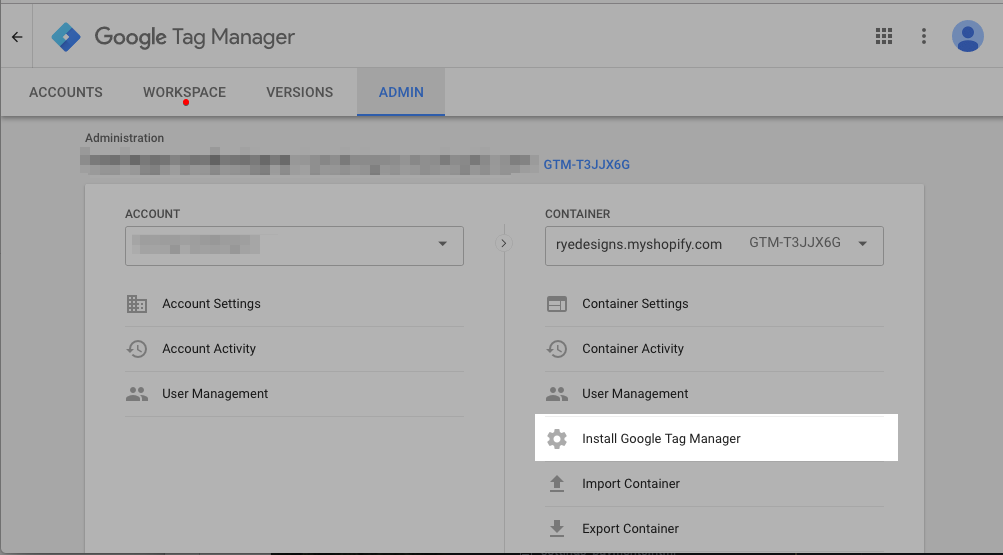 Image courtesy of Shopify's superstar Help team.
That button will take you directly to your snippet so that you're ready for the next step.
Shopify Admin Steps
In a new tab or a new browser window, head over to Shopify and log in with your admin credentials. Follow these steps to add both bits of code.
Click "Online store" and then click "Themes."
Click "Edit Code" in the Theme drop-down menu.
Go to the Google Tag Manager tab/window and copy the <head> snippet (Google Tag Manager puts this at the top).
Open the theme.liquid file.
Paste the code snippet in the <head> of that file. Typically, it works best if you paste this as high up in the existing code as possible.
Now, open your checkout.liquid file and paste the same <head> snippet as high as you can in the <head> section of the checkout.liquid code.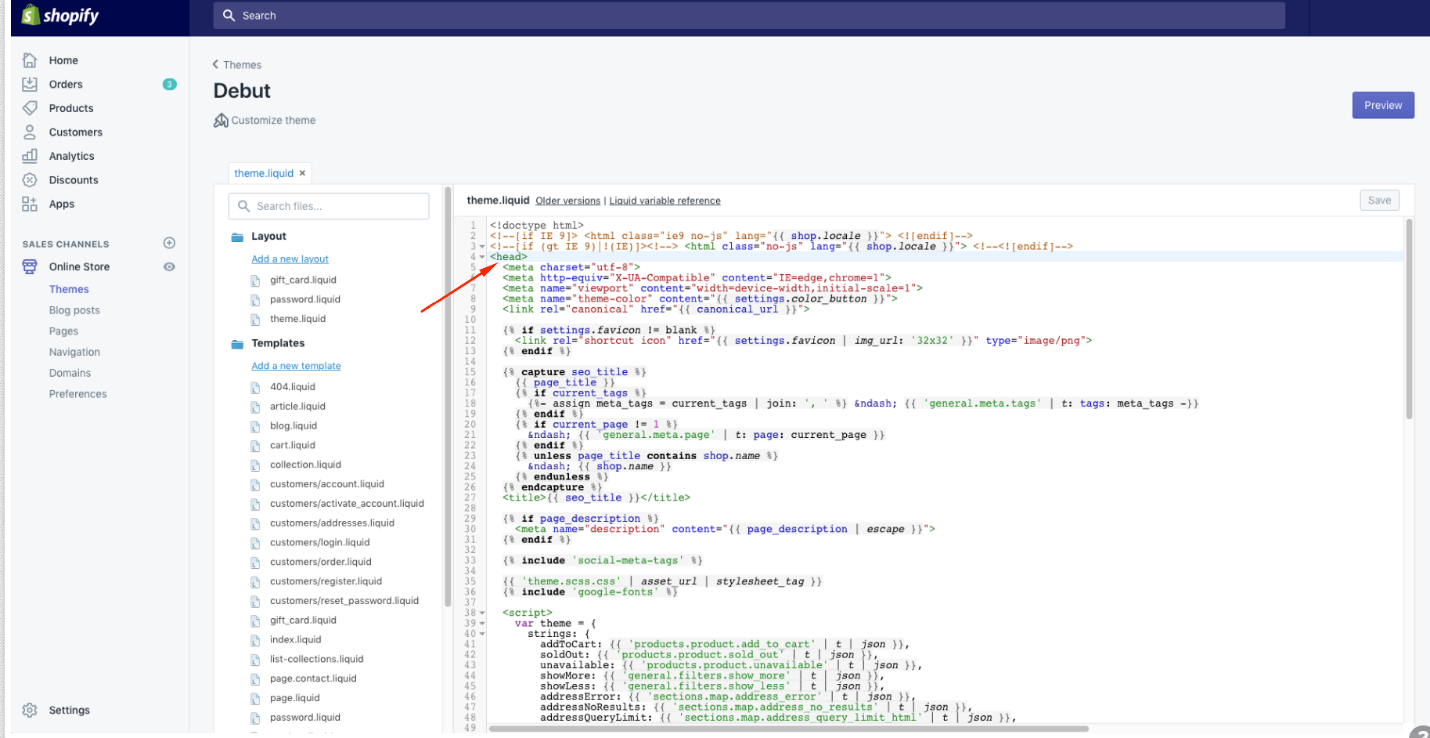 Here's what this page looks like when we first navigate to it in our test store.
Take a breath; you're doing great. Next, we'll be doing something very similar, just with the <body> snippet.
So, head back to your GTM tab/window and copy the <body> snippet at the bottom.
Go back to your Shopify admin tab and again option the theme.liquid page.
Paste this <body> snippet in the body of the theme.liquid page, again as high as possible.
Now, open the checkout.liquid page.
Paste this <body> snippet in the body of the checkout.liquid page and keep following that "high as possible" mantra.
Click "Save." (It's okay, sometimes we click to save an extra time or two just to be sure too.)
Congratulations, you made it through the tricky part. Now, head on over to the Google Tag Manager page and finish any additional steps you need or add in any other tags or elements you'd like. The Google page will walk you through all of this.
There's one important note that comes directly from Shopify. When you are prompted to add tags, there are three tags you should not add:
Facebook Pixel
Classic Google Analytics for Google Analytics
Universal Analytics for Google Analytics
Fire up the Preview Mode option in Google Tag Manager, and you'll be able to make sure that GTM installed properly. If you want direct control on the computer you're using, there are also some browser extensions available, including one named the Google Tag Assistant.
And, now you're ready to rock. You know the benefits of adding Google Task Manager and now the process for doing it too. Good luck and happy sales.
---
Author: Jake Rheude
Jake Rheude is the Director of Marketing at Red Stag Fulfillment, an ecommerce fulfillment warehouse that was born out of ecommerce. He has years of experience in ecommerce and business development. In his free time, Jake enjoys reading about business and sharing his own experience with others.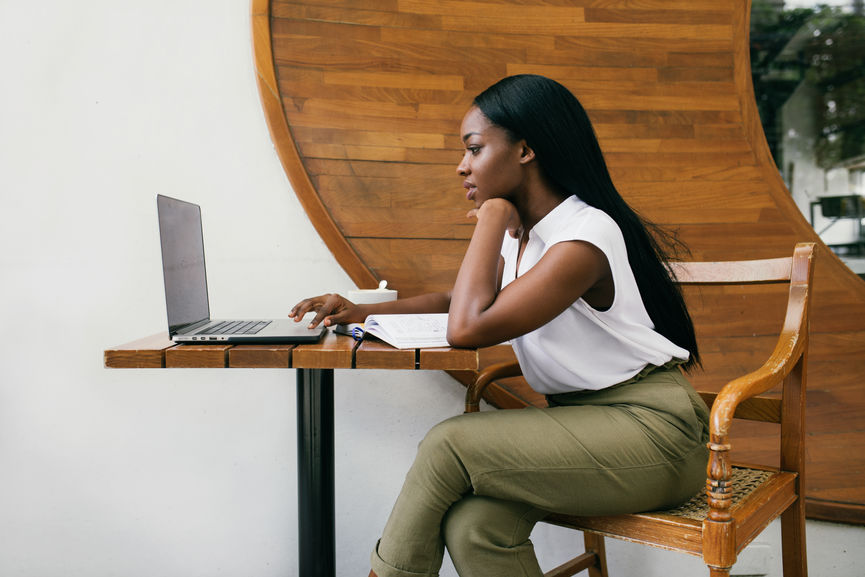 done-for-you service
Set up your Shopify Google tag manager integration
Tested with Google tag assistant and works for any Shopify store plan. Shopify GTM datalayer set up, google tag manager shopify purchase event, up to 5 scripts added as standard and enhanced e-commerce tracking.