If you've got a Shopify store that's struggling to be seen, one of the best ways to grow it is via Facebook ads. In this article, we outline why and how you can build a Facebook sales funnel, so that you don't lose all your money on a weak ad campaign.
At first, the idea of using Facebook as a platform from which to raise awareness of an eCommerce store might sound like a waste of your time. As the infographic from Mashable shows below, there are eight top reasons why men and women use Facebook. And shopping online isn't one of them.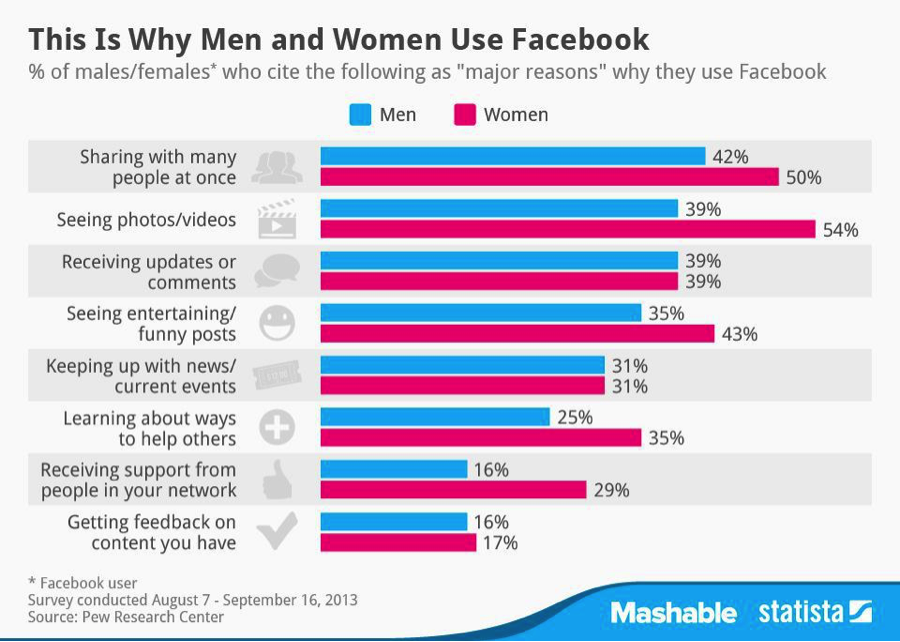 However, as a business owner you will already know that it takes an enterprising entrepreneur to highlight a problem your customer has, before they know they have it.
In other words, just because a customer isn't logging onto Facebook with the direct purpose of buying something today, it doesn't mean they won't respond positively to your ad if you've got something they want. And, yes, Facebook ads do work – as long as you're targeting the right people and in the right way, that is.
In this article, we'll show you how to do just that through a sales funnel.
Moreover, your competitors know they work, which is why spending on Facebook ads in 2017 will dwarf spending on all other social media platforms.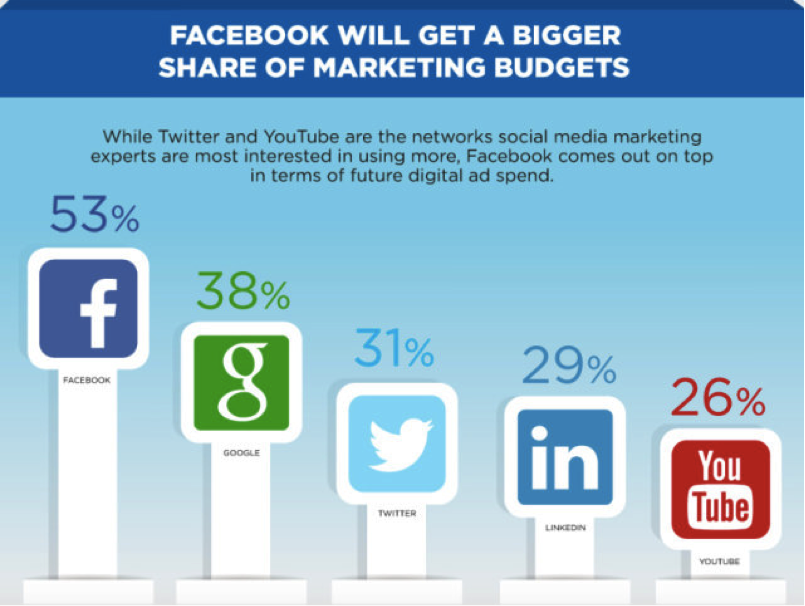 And because the social media giant is home to around 1,860,000,000 active monthly users as of the end of 2016, the scope for monumental reach is huge.
So let's take a look at how you can grow your Shopify store using Facebook ads.
Variety of Options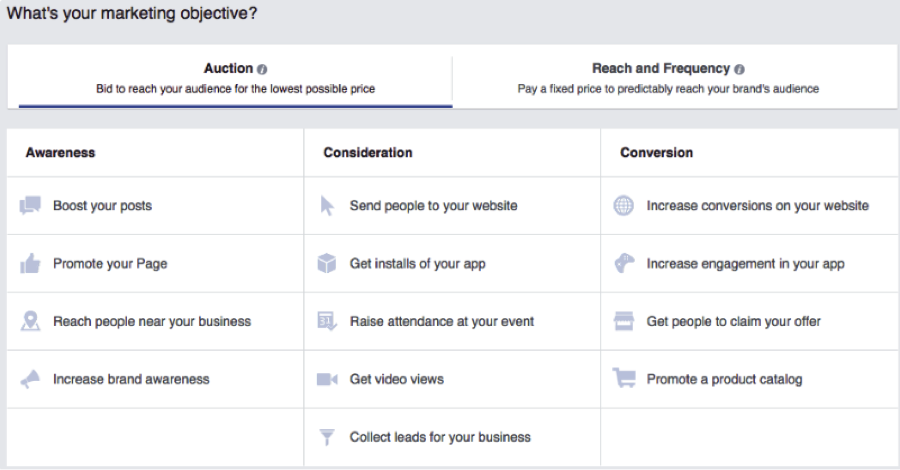 The great thing about Facebook advertising is the variety of options that are available to online the eCommerce store owner.
Whether you want to send traffic to your Facebook page, make an immediate conversion, build brand awareness or increase engagement, there is something of great value waiting to be utilized on Facebook.
This is why the social media platform attracts so much attention from online marketers.
For you and your Shopify store, though, you need to know exactly what goal you want to accomplish, as advertising with Facebook comes at a cost.
Build A Sales Funnel
If you're totally new to the world of Facebook ads (or if you're a pro even using dark posts), you'll need to get to grips with sales funnels as soon as possible, as Facebook essentially has its own powerful one.
If you don't, you could end up overspending with seeing any ROI.
In a nutshell, a sales funnel is the buying process that you'll be leading your customers through. It has a number of steps, which vary according to the type of funnel (they range from simple to intricate).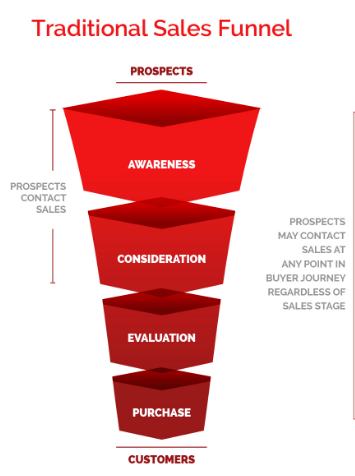 Here are some possible steps for a Facebook sales funnel:
•   Awareness – A prospect has seen your Facebook ad, and is now aware of your product.
•   Interest – A prospect becomes interested. At this point, they'll click on your ad and visit your website. Here, the way your Shopify landing page looks is super important. It needs to convert. You don't want your ad to reel a customer in, only for an ugly web design to turn them off. Don't worry, though, if you aren't sure about what type of landing page you should use. Shopify have both paid and free ready built themes for you to choose from. Top tip: don't try to reinvent the wheel.
•   Evaluation – A prospect weighs up the pros and cons of buying from you, including what you've got that your competitors haven't.
•   Decision – The prospect has made their decision – they're either going to buy from you or not.
•   Purchase – The prospect buys from you.
•   Repurchase – The prospect returns to your Shopify eCommerce store to see what else you have in store for them.
To build a sales funnel, you need to first of all work out what tactics and tools you will use throughout your sales process. Such as …
Work Out Your Budget
How much you spend on your ad, and how complex your sales funnel is, will depend on what kind of niche you're in. If you're involved in the fashion market, you need to make sure you focus on your particular niche within fashion as much as possible. Otherwise, you might spend all of your budget on something that doesn't get the results.
Look at it like this: Facebook ads are like an auction. The more people that are targeting the same audience as you means the price of the ads will be higher. It figures, then, that you should focus on your niche.
If you're operating on a budget, it's a good idea to use cost per thousand impressions (CPM's). You can bid as little as just one dollar per day for each ad. If you go for clicks and conversions instead, the minimum spend is five dollars per day for each ad.
If you've got products that are lower than $40, a direct sale ad can work. Coupons work here, too. For these, you only need simple sales funnels. If your products are more expensive, a more details funnel will be required.
To make sure you know how much you're spending, you'll need to keep track of your cumulative costs each step of the way. Otherwise, you might not get the ROI you wanted.
Create Content
It's important to have epic content ready. It needs to be relevant to what you are promoting, be of high quality and engaging.
The type of content you choose will depend on what product your Shopify store is selling. You can choose from:
Blog posts
Webinar
Infographic
Video
eBook
Slideshow
Since you will have different people at different levels of the buying process – you will need more than one piece of content. The content will also need to be placed on your website incase you want to retarget leads.
Promote Content to the Correct Audience
If you already have existing fans on Facebook, the next step would be to promote your content to these people. They are your "warm audience" since they have expressed some level of interest.
Throughout this process it is important that you pay attention to what content is leading to the most purchases, as this will tell you what you need to know about engagement levels.
If your current fans are responding well, then the new people you target through Facebook ads should respond positively to the same content.
Retarget Customers
When you first come up with a Facebook ad campaign, your targeted demographic might look a little something like this: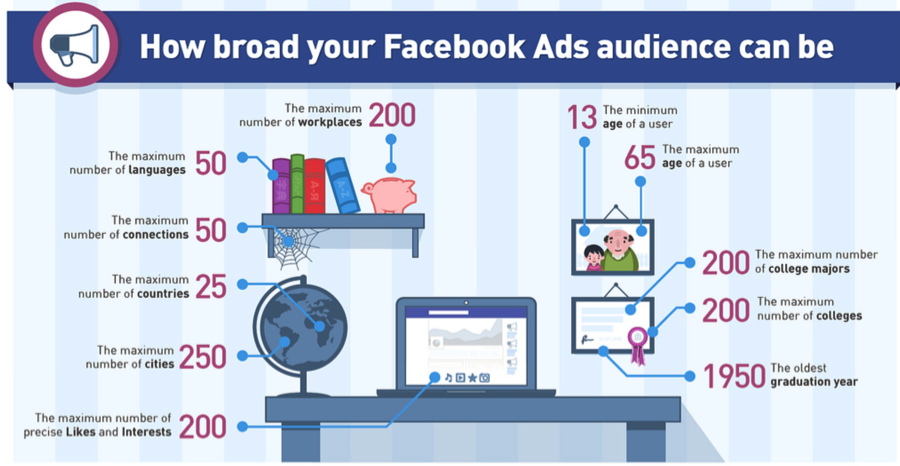 That's fine. Because the thing with Facebook is that their users must be exposed to your content and brand time and time again, before they are convinced to make a purchase
The goal is always to get users potential leads further down the funnel.
Now comes the tricky part: Retaining that customer
As Forbes points out, finding new customers is important for growth – but retaining existing ones is what really accelerates profits. There are numerous ways to hold onto existing customers, but with Facebook ads you have to be a little bit more savvy. In other words, you need to use a system called Custom Audiences so that your demographic becomes much narrower.
Custom Audiences gives you the chance to target old customers and old prospects. How? You need to provide Facebook with an accurate list of customer emails, and install on your website a tracking pixel. This is otherwise known as retargeting, and it's super important for eCommerce growth.
But this is not all. Once you've done this bit, something really cool happens. Facebook creates what is known as a Lookalike audience.
As its name probably suggests, a Lookalike audience is made up of customers whose behavioural patterns on Facebook are eerily similar to your old customers and prospects.
It's so similar that they might want to buy from you, too. All you then need to do is run a new ad campaign that targets them. You'll need to go to the audience section of Facebook ads to do this. This is a really easy, almost alchemical way of growing your Shopify store using Facebook ads.
Remember, this is a brief outline and there is a lot more information for you to be aware of before beginning to advertise your store via Facebook ads.
If you need any help along the way, seek out a Facebook ads management service that helps Shopify store owners grow their business. Good luck growing your eCommerce store!
Bio: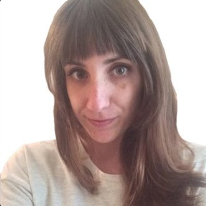 Michelle Deery is a team member of Heroic Search in Tulsa. She specializes in writing about digital marketing and likes to share the tips and tricks she has learned along the way.