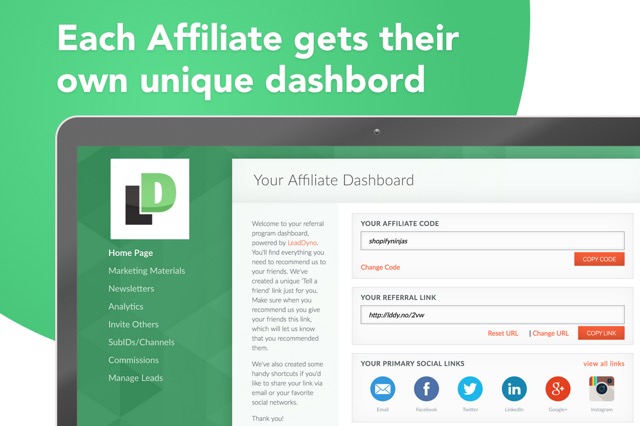 Developer: LeadDyno
Rating: 4.7
Like most other apps, this one is free only in the 30-day trial period. It allows you to test its various features to find out how it blends with your affiliate marketing goals. The basic package costs $29 per month and upon the activation of other features, you pay more to access and utilize it. Ecom Elites rates this at one of the top plugins online.
Below are some of the things you may achieve with this app:
Individualized affiliate dashboard
Links for sharing contents to the social media platforms
Real-time tracking of your commissions
Usable while on the go and negates the need for a web access
Accommodates multiple payment options like Coinbase, Dwolla, and PayPal
Free membership on the LeadDyno's affiliate marketing network
Makes it possible for you to recruit, learn and communicate with other members of your community
Seven-day a week support in a US-based business time zone
Generally speaking, the app provides four main packages for you to choose from. Regardless of the package you choose, you will receive payment on a monthly basis. Listed below are the package, price-per-package and the number of users it can support on a monthly basis.
Starter – $29 / 1,000
Biz Builder – $49 / 3,000
Accelerator – $79 / 7,500
Rainmaker – $149 / 25,000
Additionally, a one-on-one live chat exists but is only accessible by the subscribers to the Accelerator Package.
---