With 25% of the world's population now shopping online, the global online ecommerce industry is big.   
Looking further to 2021, that international ecommerce industry is expected to make up a huge 17.5% of retail sales worldwide. 
Shoppers are increasingly looking to purchase goods from outside their home country, with 57% of shoppers having made a purchase overseas in the last half of 2018. In fact, the cross-border ecommerce industry will be worth a staggering €881 billion ($994 billion USD) by 2020.
Which is exactly why it's an exciting time for all ecommerce entrepreneurs looking to increase their share in the international ecommerce market. 
---
Selling internationally on Shopify
Aside from of course investing in various infrastructures and technologies to help you adapt and sell to overseas buyers, it's also incredibly important to ease the buying process for your new international customers. 
And to do this, you'll need to offer your website in more than one language, so any potential buyer in your new markets can understand what they're purchasing.  
According to the study 'can't read, won't buy' – 55% of people prefer to purchase in their own language and 60% of people rarely or never buy on English-only websites. The language of your website cannot be underestimated. 
Turning your Shopify store multilingual might sound like a daunting task and you might be tempted to look into creating several different websites, but it's actually much simpler than that. There are a number Shopify language apps which you can integrate with your store that will display your translations without the need for multiple sites. 
Managing several different sites is incredibly time consuming in terms of website management, not to mention costly – it's simply not a viable solution. Imagine making a change to a couple of products on your original site, then adjusting that across all of your multilingual sites…  
Which is why using a language app to do the hard work for you makes much more sense. 
---
What to look for in a Shopify language app
There are a number of features to look for when choosing which Shopify language app is best for your business. 
Naturally, you'll want to choose a language app that can scale with your business and that can translate the whole of your Shopify store – from products, checkout and invoices. 
Other important aspects include: 
Automatic translation

– this provides a first fast layer of translation which you can then edit manually to fine-tune 

Number of languages available

– make sure your language is supported and think about any languages you might want in the future 

Ease of use

– an intuitive and easy to use language app that doesn't require the need for developers means you'll keep costs down 

Customization

– the ability to edit features such as your language switcher to fit the design of your Shopify store 

SEO

– a language app that follows multilingual SEO best practices boosts your chances of being found in your new markets 
With this in mind, let's take a look at two leading Shopify translation apps, Weglot and Langify, that make displaying and translating different languages and currencies simpler. 
---
Weglot
The Weglot Shopify language app offers a seamless way to translate your Shopify store in just 5 minutes. Once installed, you simply need to select the languages you want to translate your Shopify store into and Weglot will instantly detect all your site content, and translate and display it, without the need for code, or any duplicate pages. Meaning you're ready to start selling internationally instantly. 
The translation process also extends to checkout and email translations – including seamless invoicing integration to send documents in any language when integrated with a plugin such as Sufio.
Once you've chosen which languages you want to translate your store into (more than 100+ available), Weglot provides you with a first layer of automatic translation to help you save a lot of time. You can customize and manually edit all your Shopify automatically translated content through your Weglot dashboard and order professional translations, without leaving the interface. 
Everything on your Shopify store is automatically detected and translated, this also includes any content created using third party apps you've installed through the Shopify App Store. 
Weglot has made managing your translations an even simpler process with the use of an innovative 'in context editor'. This means that as well as being able to manage and edit translations in the Weglot dashboard, you can also see them within the context of your site through a live preview. Here you can edit them exactly where you see them on your site: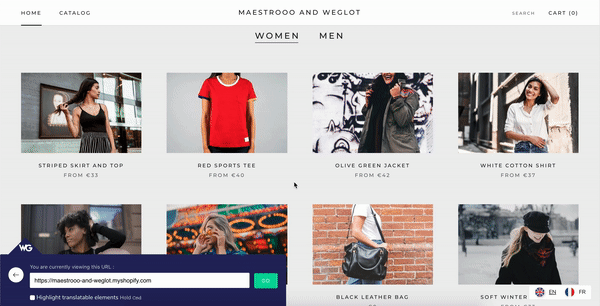 The Weglot Shopify language app also follows SEO best practices.  Automatically you'll have:
Translated metadata – with the option to edit and add keywords for your new markets

Dedicated URLs – visible only to search engine bots, so you're searchable in your new markets

Hreflang tags – to redirect your customer by browser language and to show Google  that the same page exists in different languages
Once Weglot is installed on your Shopify store you'll also get a customizable language switcher automatically added to your site. You can then edit the design and where it appears on your site without the use of any code. 
Pricing: Starting from €9.90 month for 1 language and 10,000 words. Free version available for 1 language and 2,000 words. Free 10 day trial available. 
---
Langify

Langify is a Shopify language app built for displaying your translated store content. It doesn't handle the translation side of things. For that you'll need to provide the translations yourself. 
This might make the setup process a little more time-consuming as you'll need to factor in extra costs and the time it takes to send your website content back and forth for manual translation. 
However, notable features of this language app include automatic language detection, so customers can be automatically redirected by their preferred language, translated metadata and a new domain for each language. 
A drawback with Langify is that the whole checkout process cannot be fully translated. The product name and customer payment info will remain in the original site language, including any notifications.
Pricing: No free version available, pricing starts from $17.50 a month. 
The best way to discover which Shopify language app is best for your store is to test and see for yourself! Both solutions offer free trials.