The translation process also extends to checkout and email translations – including seamless invoicing integration to send documents in any language when integrated with a plugin such as Sufio.
Once you've chosen which languages you want to translate your store into (more than 100+ available), Weglot provides you with a first layer of automatic translation to help you save a lot of time. You can customize and manually edit all your Shopify automatically translated content through your Weglot dashboard and order professional translations, without leaving the interface.
Everything on your Shopify store is automatically detected and translated, this also includes any content created using third party apps you've installed through the Shopify App Store.
Weglot has made managing your translations an even simpler process with the use of an innovative 'in context editor'. This means that as well as being able to manage and edit translations in the Weglot dashboard, you can also see them within the context of your site through a live preview. Here you can edit them exactly where you see them on your site: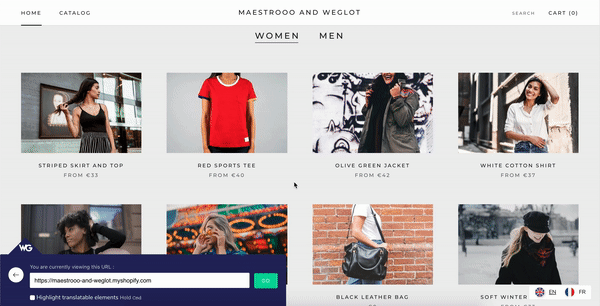 The Weglot Shopify language app also follows SEO best practices.  Automatically you'll have:
Translated metadata – with the option to edit and add keywords for your new markets
Dedicated URLs – visible only to search engine bots, so you're searchable in your new markets
Hreflang tags – to redirect your customer by browser language and to show Google  that the same page exists in different languages
Once Weglot is installed on your Shopify store you'll also get a customizable language switcher automatically added to your site. You can then edit the design and where it appears on your site without the use of any code.
Pricing: Starting from €9.90 month for 1 language and 10,000 words. Free version available for 1 language and 2,000 words. Free 10 day trial available.