Did you notice the shift? You are less likely to believe the Hollywood star endorsing a brand, and more inclined to go with what your favorite YouTuber says. Why so? Because we trust people who are more like us. And people buy when there is trust. A recent research found that on an average, influencer marketing campaigns earn $6.85 for every dollar of paid media.
In the advertising and marketing world, the power has shifted to social media influencers who are young, relatable and accessible. Influencers have become more powerful that star celebrities because they are more human, more 'a part of us'. That is why more and more brands are shifting towards influencer marketing to make themselves more relatable, accessible and tech-savvy like their consumers, so they can drive more of an emotional connect, the kind that leads to loyal relationships.
The biggest USP of influencer marketing campaigns is that they rely on the unique style and creativity of the influencers, while incorporating the brand's message a lot more organically and naturally, making it feel less like an advert. Influencers create content that their audience will love, and present the brand as a real part of their life, driving their fans and audience to trust the brand and engage with it.
If that sounds like a [plan to you, here are some examples of influencer marketing that went on to become huge hits among niche audiences and brought in more organic engagement and ROI than paid media ever could.
---
1. Mercedes Benz and Loki
As a luxury brand, Mercedes Benz has always maintained an air of exclusivity. When they chose Loki, the wolfdog as their influencer, Mercedes sent out a vibe of intense desirability. Loki who is an Instagram star with close to a million followers, features in a VR ad campaign along with his owner Kelly Lund, as they take a white Mercedes Benz through the majestic Colorado Mountains. The picturesque landscape alternating between lush evergreen trees, snow-laden mountains and rustic old cabins, along with the totally adorable Loki set the pace for the perfect adventure holiday.
The video can be viewed in a 2D format on Instagram, as well as a 360-degree version that lets viewers live the experience on a VR device.
The campaign was a huge success and appealed to a young and dynamic audience that loves adventure, luxury and wolfdogs in equal parts. While the biggest attraction of the campaign was indeed Loki, Mercedes managed to blend perfect storytelling with gripping visual imagery to draw viewers in and become an internet sensation. The previews Loki shared to build excitement around the video too did a great job at making the campaign a success. In case you missed it, here's the video.
https://www.youtube.com/watch?v=vVNylwQRUQM#action=share
---
2. Walmart's "Fight Hunger. Spark Change" Campaign
Retail Giant Walmart has had quite a few remarkable influencer marketing campaigns under its belt. One of their most notable campaigns was the Fight Hunger Spark Change campaign that aims to end hunger, and raise money for Feeding America. The campaign entails that for every purchase made at Walmart, the monetary equivalent of one meal will be donated to local food banks across the country.  In addition to being a noble charitable cause, the campaign undoubtedly won plenty of praise (and consequently business) for Walmart.
In order to give this campaign the kind of social media impact it needed, Walmart partnered with a number of social media influencers to launch a widespread campaign on Instagram. Some of the influencers of this campaign included:
Logan Paul – Instagram star who started off as a Vine star and is now a massive social media influencer with over 10 million Instagram followers.
Liza Koshy – Lifestyle influencer and YouTube star with 11.2 million followers on Instagram.
Rosanna Pansino – YouTube cooking show star with 2.6 million Instagram followers.
Katherine Heigl – Actress, film producer and Instagram star with 1.4 million followers.
Ryan Sheckler: Reality TV start and professional skateboarder with 1.9 million Instagram followers.
Sydney Leroux Dwyer – Soccer Player with 1.1 million Instagram followers.
Jordan Fisher – Actor, singer and songwriter with 1.1 million Instagram followers.
All of these 7 influencers posted sponsored content on their Instagram  announcing that for every like, share or #FightHunger comment on their post, Walmart will donate $0.90 to Feeding America. The influencers created plenty of traction among their own followers, resulting in a 23% engagement rate and raised $1.5 million for Feeding America.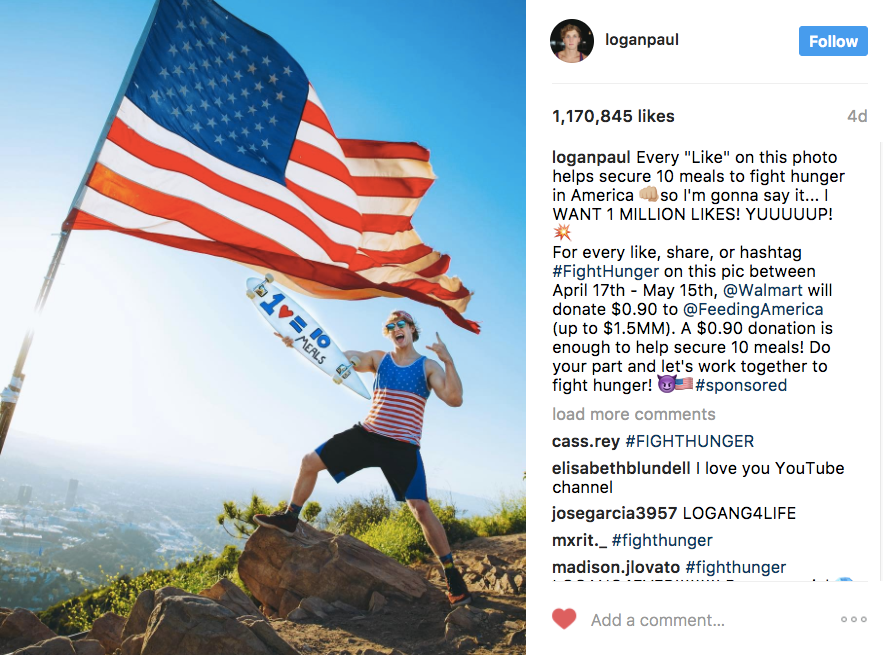 ---
3. Subaru's #Meet An Owner
When Subaru wanted to create some buzz around their new Imprezza, they used a series of videos made with social influencers, collaborating with 20 social media influencers and called it the Meet An Owner campaign. Collectively, the campaign generated over 2.5 million views and 1.9 million likes, with an average engagement rate of 9%. Through the hashtag #MeetAnOwner, Subaru positioned itself as a car fit for adventurous, young and outgoing individuals who identify with a good life. The campaign greatly bolstered Subaru's positive brand sentiment and appealed to a wide and eager audience.
Three of their main social media influencers were Zach King, Devin Super Tramp and Shonduras.
Zach King, the famous digital magician, created two Instagram videos in which he is doing what he does best – digital magic. He replaced a cardboard Subaru with a real Subaru in one video and it resonated deeply with his fanbase, while clearly imprinting a positive image of Subaru in their minds and generating over 1.6 million likes and 11% engagement.  The fact that Subaru gave King the creative freedom to post a video his audience would enjoy, made a huge difference in the traction the videos received.
Devin Graham, the stuntman better known as Devin Super Tramp created a video of himself and his team slip-sliding off of a 500-foot cliff. The video as in Devin's signature high-energy style with stunning visuals, great music and of course, plenty of high-adrenaline jumps, while a Subaru makes several subtle appearance throughout the video, clearly making its presence felt without making the video feel like branded content. Devin thanked Subaru in the description and shared his longtime association with the car. The subtlety of the campaign is what adds authenticity to the brand.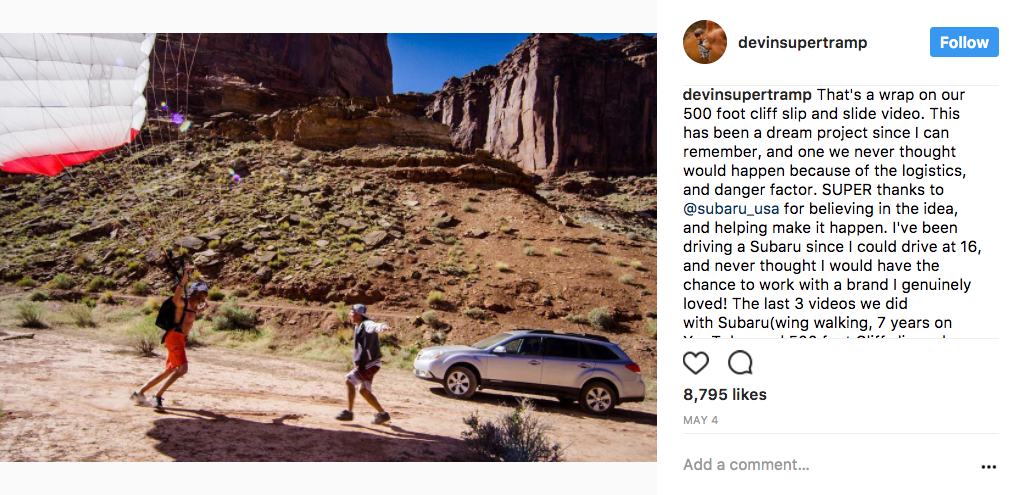 Shaun Todd McBride, also known as Shonduras, is an influencer famous for his intriguing Snapchat stories. He created a YouTube campaign and 4 Instagram posts called "Our cool Subaru car and cool things we do with it".  Some super entertaining videos, drawings and doodles featuring Subaru made the campaign a hit with millions of Shonduras fans.
In short, Subaru's #MeetAnOwner campaign clearly positioned Subaru as a desirable object among tens of millions of people just because their influencers thought it was cool to be an owner.
---
4. Target
Talking of Zach King, we can't not mention Target and their influencer marketing campaign. In fact, target has been at the forefront of influencer market over the last few years, partnering with a number of influencers from time to time, for its different product ranges. One that particularly stood out was their collaboration with, once again, digital magician Zach King and also lifestyle blogger Taza. They were seen shopping Easter stuff at Target. Zack used his signature magic tricks that entertained his audience and there was no mention of Target, but the shopping carts and bags in the background made a clear statement. The videos were hashtagged TargetStyle and brought in over 11% engagement.
Also widely successful were Target's Body Positivity Swimwear Campaign that featured social media influencers flaunting non-conventional body types reinforcing higher inclusivity in fashion, and their collaboration with mommy bloggers for Persil at Target campaign.
---
5. Dunkin Donuts on National Donut Day
While the offer of free donuts is sweet enough to get crowds thronging outside their stores, Dunkin Donuts took things a step ahead when they collaborated with eight influencers across the USA, to spread the word wildly on National Donut Day. The eight influencers who were food bloggers, musicians and foodies, took to Snapchat to post their Dunkin Donuts moments and pictures featuring the special Donut Filter that turns your face into a giant donut. The influencers widely promoted the offer that Dunkin Donuts was offering a free donut to everyone visiting their stores. As a result, Dunkin Donuts' Snapchat channel saw more traffic in a day than they usually saw in a month, and as many as 40,000 people engaged with it.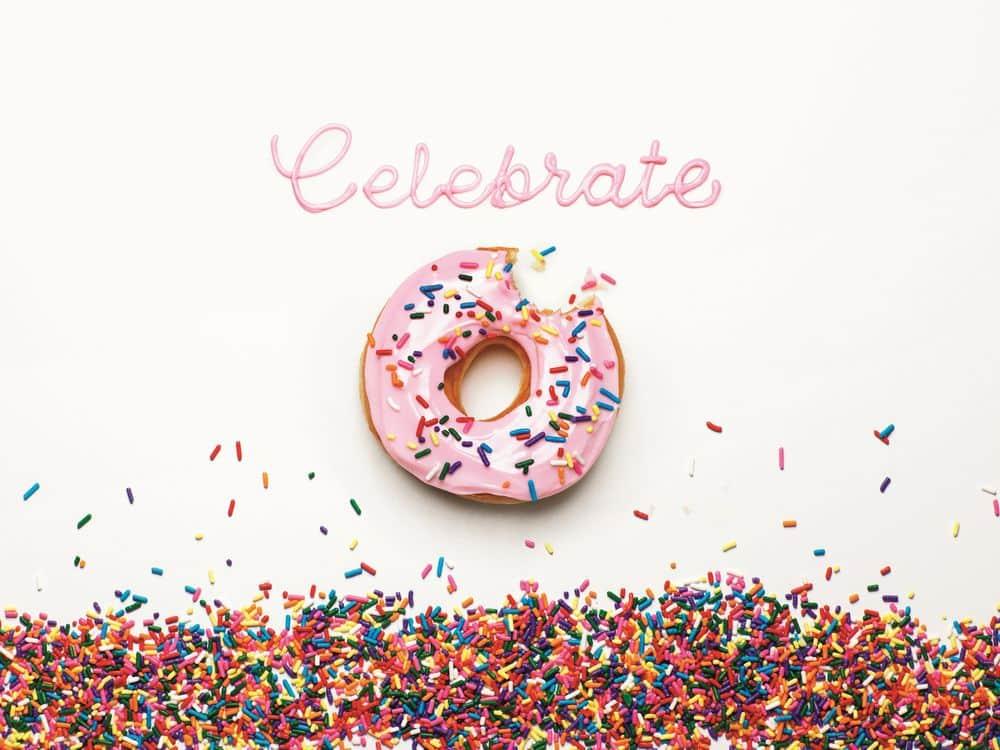 Source: Dunkin Donuts Snapchat
---
6. Sprint's Live Unlimited
When Sprint managed to get Verizon's 'Can you hear me now' guy to switch, sending ripples across the ad world, one could just imagine there were more disruptive ideas coming from the telecom powerhouse. So when they had multiple social media influencers come together to urge people to #LiveUnlimited with Sprint, their influencer marketing touched a new high.
In addition to being super lighthearted and witty, the video is also upbeat and appeals to millennials who don't like to stop. Top influencers like Lele Pons, Gerard Adamps, Prince Royce, Bradley Martyn and Rachel Cook came together in one kicking video, speaking for one brand, but perfectly retaining their unique original charm, making the video appealing to their individual fanbases.
Link to video: https://youtu.be/XcN0yz9xckM 
---
7. American Express's #AmexAmbassadors
Amex is no newbie at influencer marketing. Its campaigns #MyAmex and #YouDoYou have been some great examples of enlisting multiple influencers to create a brand message and amass increased engagement.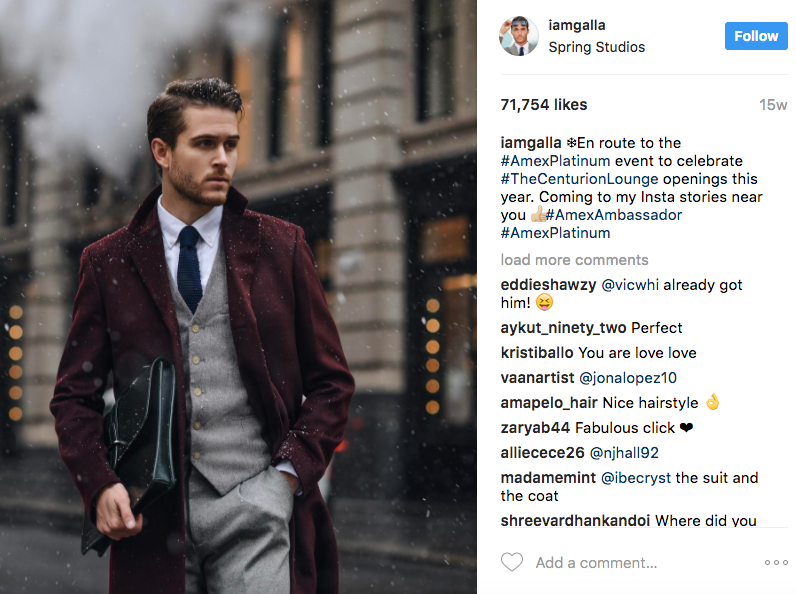 Its latest #AmexAmbassador campaign has been another successful one in the same vein. Amex collaborated with a number of impeccably dressed social media influencers who show off the good life and talk about how Amex makes it possible to have all those good clothes and other stuff, thanks to its many benefits. For instance, fashion blogger Adam Gallagher (@iamgalla) put up a picture of himself in a svelte suit, looking ever so charming. Not only did he thank Amex in the caption but also mentioned that he is headed to the Amex Platinum Event, clearly stating how Amex puts you in great company and creates exciting possibilities. Others like Lisa Ng from HipUrbanGirl, Tyrone Edwards of 1LoveTO and Catriona Smart of Coco and Cowe were some of the other Amex Ambassadors who generated massive social media engagement and made #AmexAmbassadors an out-and-out success.
---
8. Adidas's #MyNeoShoot
Not one to be left behind, Adidas too launched its own influencer campaign which increased the brand's sales by 24.2% between 2015 and 2016. The aim of the campaign was to get the youth involved and create tones of user generated content, making the hashtag viral. People were encouraged to share their own pictures using the hashtag #MyNeoShoot, thus popularizing the new Adidas Neo collection. The winning entry would get a chance to be a model in their next spring campaign.
To kick things off, Adidas collaborated with celebrity influencers like Selena Gomez as well as social media influencers like Iga Wysocka.
As the campaign took wings, the campaign received over 12,000 entries and 71,000 hashtag mentions. The Adidas official Instagram page too garnered 41,000 followers in just one month.
The My Neo Shoot campaign is a major thumbs up to not just influencer marketing but also user generated campaign. By using a mix of celebrity as well as social media influencers made the campaign even more effective.
---
9. Lynda.com
Lynda.com is a leading online learning platform that caters to a wide range of skills and allows users to choose from a fabulous collection of expert-backed courses. In 2015, it was acquired by LinkedIn.
In a bid to make the online learning platform more popular, Lynda.com crafted an influencer marketing strategy wherein they roped in some popular YouTubers like The Fine Brothers, Jacksfilms and Rooster Teeth. Like a seasoned influencer marketer, Lynda.com gave its influencers the creative freedom to come up with content that their audience expects and enjoys, while integrating Lynda.com naturally in the content. As a result, the campaign reached out to over 46 million users and worked wonders to Lynda.com's branding.  Jacksfilms incorporated Lynda.com in his content quite compellingly, by asking his viewers to learn a new skill on Lynda.com and share their results using the #YIAY (Yesterday I Asked You). The results were lauded in a new video, only pushing the message even further.
---
10. Sony Xperia Z5
When Sony Xperia Z5 hit the market with its top of the line camera with 5x zooming power, Sony Mobile France needed to come up with a creative way to promote the premium smartphone. Competing with the heavy advertizing budgets of Samsung and the likes was a tough call, so the company took a more innovative approach. They combined influencer marketing and gamification to draw young photography aficionados.
To  its advantage, Sony realized that Instagram is the prfect place for a photography centered campaign. However, the challenge was, how to set apart the photos taken by Sony Xperia Z5 from all the other quality photographs on Instagram.
Sony created the first ever zoom on Instagram, and developed #InstaZoom. They took high quality photographs all over the world, zoomed into them and cut up the photographs into several unique pieces, and packaged a secret code into the pieces. They then mixed them all up and organized into five layers. They created over a 100 Instagram accounts, all interconnected with tags, and then enlisted over 30 social media influencers to spread the pictures around and encourage users to zoom into the photos and uncover secret codes and surprises.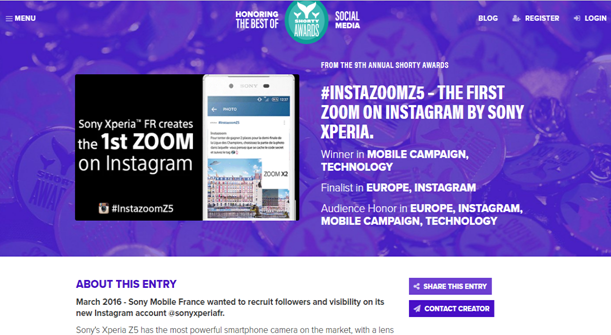 Source: ShortyAwards.com
The campaign not only generated a huge amount of engagement but also won many awards in mobile campaign and technology categories.
---
11. Pepsi Emoji Product-line
When Pepsi bottles began to show up with emojis on them, the idea was to increase sales at Walgreens, and how it worked. To begin with, they created the hashtag #SayItWithPepsi and rolled out the limited edition packaging with over 200 Pepsi emojis, made available only at Walgreens.
They then used influencers to make the campaign a part of the conversation in summer. Some very popular content creators like bloggers and Instagrammers were roped in to share pictures of their fun moments with Pepsi, using the hashtag #SayItWithPepsi. The influencer content, limited edition packaging and the call to action to share their own pictures and say it with Pepsi encouraged over 1,300 users to share their own Pepsi photos. The best performing photos where then syndicated and targeted to the right audience, further increasing engagement.
As a result of this massive influencer campaign Say It With Pepsi, that included primary as well as secondary influencers, with the added benefit of tonnes of user generated content. The campaign scored over 46 million impressions, a content production value of $26,700 and 677% higher mentions of the Pepsi emojis.
(Insert Video Here https://youtu.be/84zNSiWFVt4 )
---
12. Lenovo YOGA 3 Pro and YOGA Tablet 2 Pro
Lenovo has always positioned itself as the brand for young millennials who are constantly working and living better lives. That's what they did when they said – Lenovo, For Those Who Do. With their new product line Lenovo YOGA, they explicitly marketed themselves as a flexible brand with devices that let you accomplish everything and multitask like a pro.
To make the message more effective, Lenovo launched an influencer campaign, partnering with young millennial influencers donning several hats and managing multiple tasks with elan. One such influencer was blogger Kileen, a fashion, beauty and mom blogger. She wrote a blog post 'Keeping Up With The Modern Mom' talking about how Lenovo YOGA helps her handle multiple challenges including raising two kids, cooking healthy meals, working out and even catching up on emails and the day's media while still nursing a baby. The post worked immensely well with busy moms who have almost zero time for themselves.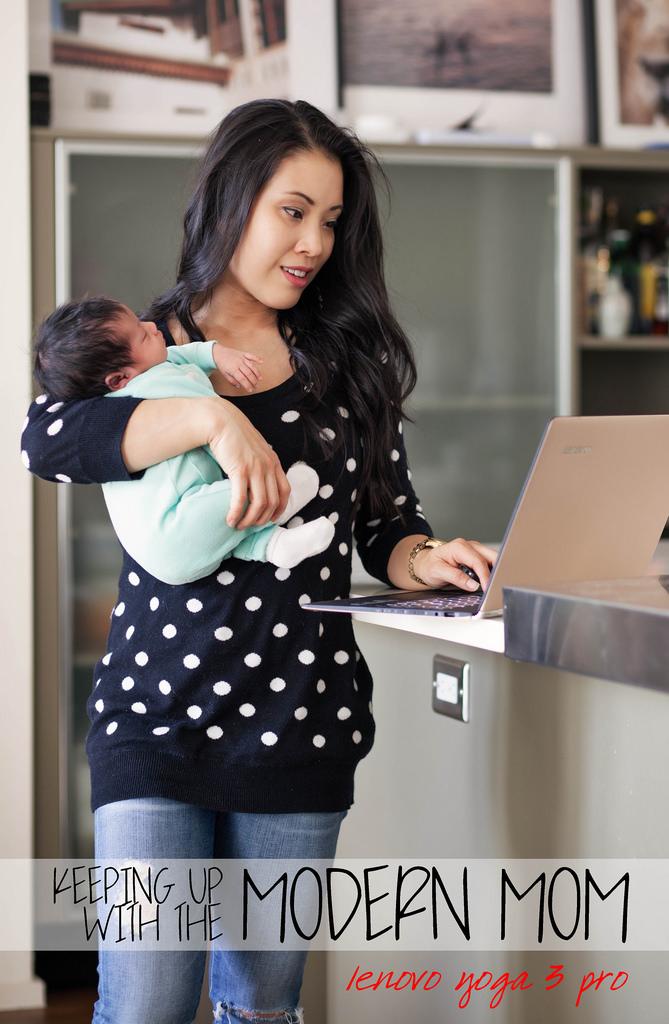 ---
13. BMW's Toad to Coachella
When a brand like BMW jumps on to the influencer marketing bandwagon, you know where the future of advertising is headed. BMW's Road to Coachella campaign in 2017 was so successful that they rode on it once again in May 2018. BMW collaborated with 15 top social media influencers like Kellan Lutz and Dorothy Wang, taking them on a road trip in the BMW i Series electric and hybrid vehicles. They also teamed up with John Gurley, who is a lead singer in the band Portugal which also performed in the BMW music festival.
Altogether, BMW combined the exhileration of a road trip, good music and great company, to establish a strong emotional connection with the youth. The campaign was a speeding success and the image gallery is one to swoon after.
---
Conclusion
Once upon a time, a long long time ago, someone must have come up with the idea of roping in huge celebrities from the movies to say good things about your product, on camera. Thus began the journey of celebrity brand ambassadors and superstar product endorsements. And while those aren't going away any time soon, times are a changing. With social media sprouting up new young sensations everyday and tech-savvy audiences spending more time on smartphones than 70mm screens, this new crop of social celebrities is becoming the new face of digital advertising. The new millennial consumers are smarter than their predecessors and only trust real people with a real message, celebrities who endorse multiple products and change brands often are losing ground with the smarter generation.
Influencers on the other hand are more relatable, more real and earthed, and represent the energy and vibe that millennials and Gen z associate themselves with. They emit honesty and drive positive action. Social media influencer marketing is thus, the brightest new kid on the block and the efficacy of it is here for everyone to see.
The above examples should have probably stirred up your imagination by now. The great thing about influencer marketing is that it is for brands with all kinds of budgets and all kinds of sensibilities. So if you have a favorite YouTuber, Instagrammer  or blogger who you think will appeal to your audience, get creative and go for it today.
---
Author: Almeda Brook 
Almeda Brook is a freelance writer for MoveoApps,her skillfulness is writing about technology, business and digital marketing. Previously, she worked as a Content Marketing Strategist at a software startup. She graduated with honors with a dual degree in Business Administration and Creative Writing.