Facebook's increasing importance as a source of traffic for the ecommerce sector means all businesses should play closer attention to analysing and managing data from the social media giant. That's where Facebook's Pixel comes in, providing valuable tracking information and data that your site can leverage.
---
What is a Facebook Pixel?
A Facebook Pixel is the digital equivalent of the Blue Pill from the Matrix, opening up a whole new world of information for your business. The company describes it as "a piece of code for your website that lets you measure, optimise and build audiences for your advertising campaigns." It works across devices, as people move from laptop to smartphone and builds up key data for you to leverage.
With Shopify a fast-growing force in online retailing, all stores should be taking advantage of this wider view and the data it provides. A business can have up to 10 pixels to use in various web properties, and Shopify can help you make great user of the data it provides. Helping reach, acquire and sell to customers.
At a high level, Facebook Pixel provides information on any action that a prospect or customer takes on the store. This includes products and pages viewed or searched for, information filled in, products added to wishlists, carts or completed sales along with checkout and payment information.
This collection of data brings understanding of your customer's actions and intentions. That helps you craft and refine your advertising and marketing strategy. It can be used to appeal to a "persona" audience that best defines your customer and also to spot and take advantage of trends in sales or where your visitors come from.
---
How To Add a Pixel
Adding a Facebook Pixel to your Shopify store is a simple process. First locate your Facebook Pixel ID, assuming you or someone in the business has already created one. This is found on Facebook Business Manager page. Go to the All Tools menu option and select PIxels from the Measure & Report sub-menu.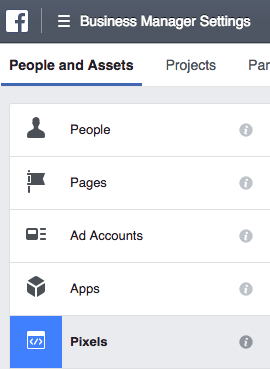 This will reveal your Facebook Pixel ID. If you don't have one, then you will need to create one. A simple enough process following Facebook's instructions. Copy the Pixel ID and head over your Shopify Store. Go to the Preferences section and down the list of options, you can paste it into the Facebook Pixel ID section. To confirm all is well, give it a few minutes to mesh and return to Facebook. The Pixels status item should read Active.
---
Possible Issues with Facebook Pixel
If you don't see the Active notification, or have other issues with the Pixel, there are a range of common problems and solutions. Firstly, the Pixel might already be manually coded into a page on the Shopify Store, check through the pages to make sure the code is not referenced.
Tracking may also be disabled, a simple setting to adjust in Facebook. Visit the Ad Settings page and change the consent options to see interest-based ads from Facebook. If you use Google Chrome as the browser of choice, then there's a useful Facebook Pixel Helper Chrome Extension you can add to troubleshoot issues.
Also, the Facebook Community has a long list of quirks and fixes that will help Shopify users solve most problems.
---
Now We Have It, What Can We Do?
As described, the Facebook Pixel can help your business identify shopper habits. It can help your business serve the most relevant adverts to attract repeat customers, or drive upselling. The first thing to do is let the Pixel work its magic and build up a suitable body of data. Rushing off on just a couple of days data will see you miss on natural or cyclic trends. Facebook recommends you have at least 500 sales per week to create statistically relevant data.
As the information comes in, you can start to build up a better picture of your audience and how they interact with your store. Pixel can help you build up a list of customers and their contact details, making it easier to carry out future marketing campaigns.
You can also segment your customer base through the Custom Audience feature, choosing to find the people who spend the most money or time on your store, or to explore the habits of those who spend just a short period of time before vanishing.
You can also use the Pixel Data to create a "customer persona" someone typical of your audience. Facebook calls them a "Lookalike Audience" for people that are similar to your customer base. These can be the focus of dynamic adverts that you can run to focus specifically on that audience. These might be retargeting adverts to focus on those who abandoned a cart, or purchased one product, but showed interest in several others after that choice.
Finally, you can also do product segmentation, allowing you store to surface particular adverts to the right audience. This might include iPhone accessories to those who shopped on their iPhone or iPad, while Android users would only see Android accessories suitable to their device.
---
Take Advantage of the Pixel's Flexibility
Any marketer or retailer used to the digital service ecosystem will recognise the advantages and user-friendliness of Facebook's Pixel. That's why it is such an important tool in the arsenal of stores, offering flexibility and focus on the key parts of your audience that will help raise the company profile and revenue through their continued purchases.
Facebook can play a wider part in your marketing strategies, integrating tracking with Google Tag Manager, along with other applications, services and stores. The sooner you get it up and running the faster it will be able to boost business and grow sales.
As the need for better targeted advertising in an increasingly crowded digital landscape, Pixels can be the tool you need to improve return on advert spend and give the business greater insight into customers and their activities.
---
Author Bio
Izaak Crook is the Content Marketing Manager at AppInstitute, a SaaS App Builder platform that allows anyone to create their own iOS and Android app without writing a single line of code.