Let's start with statistics. The latest survey shows that 51% of Americans prefer to shop online in 2018. What is more, 96% of Americans have made an online purchase in their life, 80% in the past month.
It's clear as a day: if your business doesn't have a website, you are losing a bunch of customers. Do you have one, but don't focus on its optimization at all? It's almost the same as if it doesn't exist. It's a harsh truth: online business has its own rules, and you have to follow them if you want to keep your head above water.
In this post, I'm going to cover some best SEO practices to run your business online and be ahead of the competition.
#1 Meta tags
Meta tags are signals that help the search engine understand what your page is about. It appears that one of the most common errors among e-commerce sites is duplicate content. Your Title and Description tags must be unique for every page on your site, even for pagination. If you have identical tags on some of your pages, Google won't know what page to show in SERP for one or another query.
If you're not sure how to implement it, learn from your best competitors. Go to their site and check its meta tags. You can do it simply exploring their code. Type Shift+Ctrl+I on the page you want to check and then find Title and Description using Ctrl+F. Another way is to use SEO META in 1 CLICK Chrome extension. Here is what it looks like: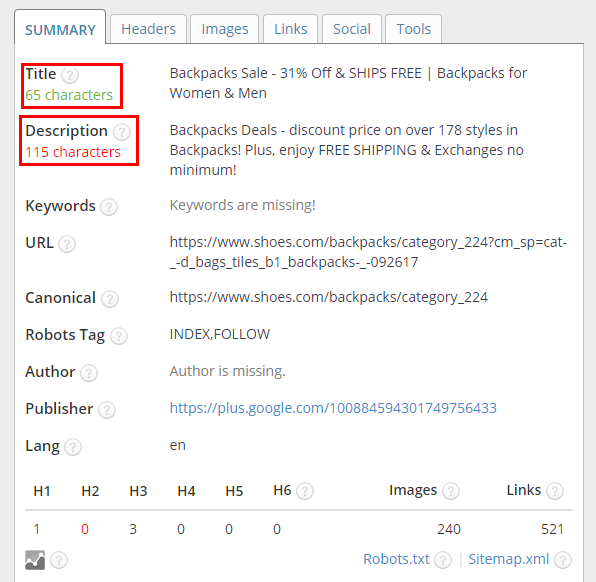 Check how they change descriptions for similar pages and come up with ideas on how to manage your own tags.
Here are few best SEO practices for meta tags:
Use Title and Description on every page of your site;
Include your primary keywords in your tags;
Your primary keyword should be as close as possible to the beginning of the Title and Description;
Your Description should consist of 100-300 characters (250 is optimal);
Your Title should consist of 50-60 characters. If it's longer, Google will cut it off;
H1 should be different from Title.
#2 Keyword research
We all know that keywords are crucial. It's also one of the most important ranking factors. Google relies on them when choosing what page is the most relevant to the user's query. Here are few steps to conduct keyword research:
Set up a brainstorm meeting with your team and come up with the main keywords for your categories. In the very beginning, you can look up to your competitors as it's quite difficult to create a keyword list from scratch.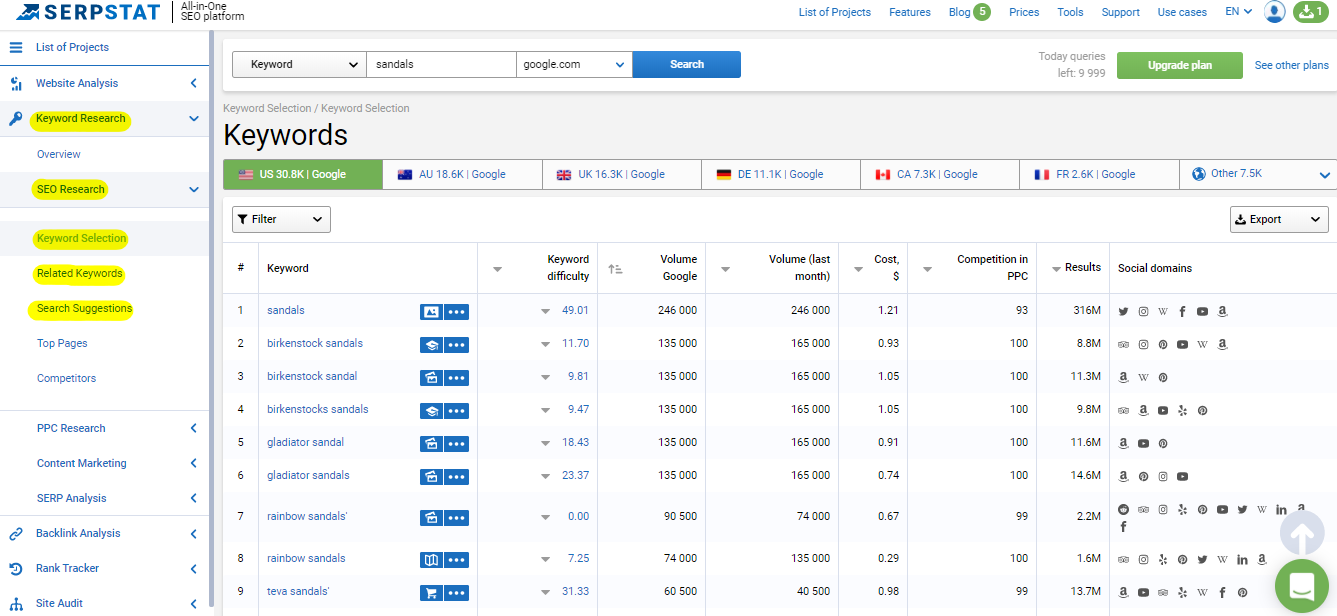 Collect keywords and then break your keywords into groups for your categories. You can implement it manually or use the same tool. Go to Tools section at the bottom of the list of features and launch Keyword Clustering and Text Analytics.
When you have a list of keywords for each category, insert them in:
Title;
Description;
H1 tags;
Image Alt tags;
SEO permalinks;
Product descriptions.
Use LSI keywords in your product descriptions as well. You can find such keywords in Related Keywords, Search Suggestions, and Search questions features.
Keywords are crucial, but it also important not to overdo it. Try to avoid keyword stuffing. Your optimization shouldn't look like this: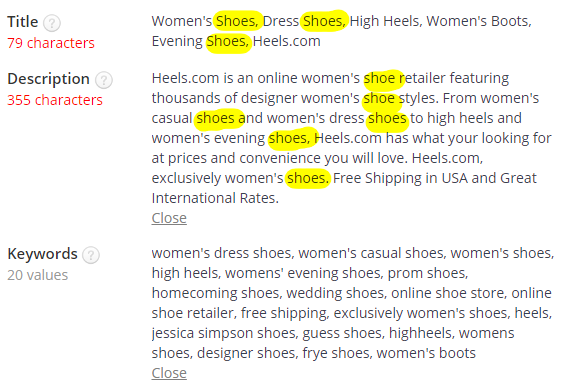 #3 Friendly URLs
Remember about friendly URLs. It's the first thing Google and customers will see, so your links should be well-structured, simple, and clear. Like this:

URLs that contain random symbols and digits may seem unprofessional and alienate clients. Avoid using something like this:

Here are some rules you should keep in mind:
URLs should be short, direct, and easy to remember;
It should make sense;
Include keywords in your links;
Use HTTPS;
Make correct use of canonical tag;
#4 Mobile optimization
This latest study shows that 62% of smartphone users have made a purchase online using their mobile device in the last 6 months. It means that your website should be optimized for mobile phones.
Mobile friendly sites must have:
Fast loading speed. This factor is crucial for mobile optimization as even 5 seconds delay may cause lower revenue. Pay attention to your image optimization, minify CSS, compact your JavaScript code, leverage browser caching, and reduce redirects.
Appropriate site design. Avoid Flash as it may not work on mobile phones, use HTML5 instead; text must be readable via mobile without zooming; pages should be sized to the screen.
Be as brief as possible when creating your Title and Description. You have less screen space so make sure that your title doesn't occupy the entire screen.
Local optimization. People usually Google "restaurants/bookstore/shoe store near me" via mobile phone. So if your business has a local element, make sure you've optimized your website for the local search.
#5 Corporate blog
A blog is no longer an added bonus to your e-commerce store. Every large corporation has a blog, so it's becoming a necessity now. Here is why:
Audience extension. Any extra platform helps you reach a wider audience. A blog is another one promotion tool, and sometimes the most effective one.
For instance, Kissmetrics is a behavioral analytics and engagement platform. They run a well-respected blog that appears to be even more popular than the platform itself. If you type their brand name into Google, it will suggest their blog before anything else.

I guess his "another one promotion tool" turns a lot of readers into their customers.
Corporate image. The main site can be formal, but your blog will show the other side of the company. You can gain your authority, increase brand awareness and audience engagement.
Confidence.The more they know about you, the more they trust. You can use your blog to become closer to your customers.
Feedback. It is the most friendly place to solve problems and discuss ideas.
#6 Alt tags
The Alt tag is an attribute in HTML code that describes the appearance and function of the image. It's used in a variety of ways:
 If the image somehow can't be loaded, Atl text will be displayed in place of the image.
It's important for visually impaired people. A screen reader can describe the image using Alt tags.
Google's crawlers use these tags to understand what's in the image. It means that can use keywords in your Alt tags as well.
Here is what it looks like: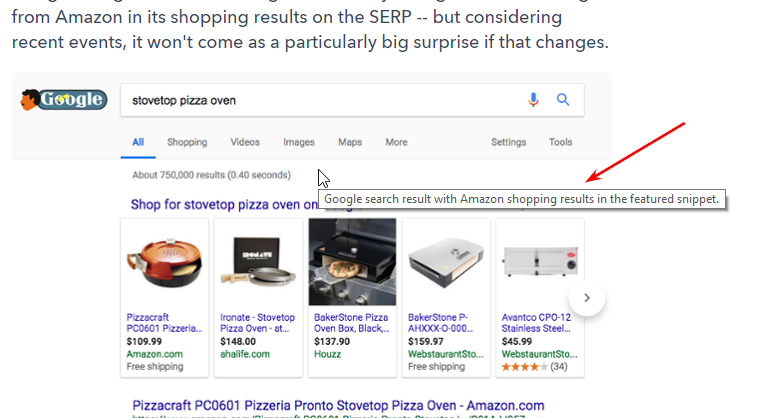 #7 Breadcrumbs
If you're paying attention to user experience, you should create a proper structure and navigation for your website. Here is a good example:


You should have breadcrumbs for each category, subcategory and product page on your site. It helps a user find the right page faster and search crawler index your site and understand the content of the page.
Bonus
Make your logo clickable to take people back to the homepage. Get logo design ideas here.
Final thoughts
Every single point of this list deserves a separate article, so it wasn't my goal to describe each of them in full. My goal was to recall the best SEO practices so that you can check if every one of them is present on your website.
So check it out and remember that there are always a lot of new avenues for improvement!