You're building an email list, frequently contacting your subscribers with relevant, interesting content.
But on its own, email marketing is not enough to generate the number of leads you probably want for your business.
The thing about email marketing is that it shouldn't focus on what content is being sent about. What you should be doing is looking at when to send it.
Send these emails to the wrong people at the wrong time and they will opt out and unsubscribe quicker than it takes to click your fingers.
On the other hand, sending emails to the right people at the right time will earn you long term customers.
This article is going to focus around the ecommerce email templates and campaigns you need to be sending to your subscriber list. This is also applicable to Amazon sellers.
You will see an increase in leads, conversions and sales.
Let's jump right in.
---
Ecommerce email tempalte types
There are many types of e-commerce emails but only a few of them have proven to work for all businesses, regardless of their niche and how unique their product or service is.
These are:
Welcome emails
Trigger emails
Retention emails
We are going to go through the 'buyer's journey' for when to send out each email. We will be covering the very first email to send when a customer joins the company's newsletter to when they become a customer.
The emails we are going to discuss are the following:
Welcome emails
Curation emails
Engagement emails
Referral emails
Order confirmation emails
Upsell emails
Welcome back emails
Survey emails
Saying thank you emails
Let's look at each email in further detail.
---
Welcome Emails
First impressions are important. You have one chance to convince the subscriber not to bin it straight away.
Put it this way; if your introduction doesn't keep them interested, your follow ups definitely won't. This is what makes the welcome email one of, if not, the most important email on this list.
Welcome emails drive more transactions per email than any other form of promotional mailing. We did say they were important.
Every welcome email must thank a visitor for subscribing to your list and lay out what they can expect to come from signing up.
Tell them things like if you're going to send them weekly newsletters or if they are going to receive exclusive offers on new products.
This will define the relationship and prevent subscribers from being taken by surprise by your email content – which can increase spam complaints and unsubscribes. It can also get them excited for what's to come and what value you'll provide them.
When used properly, the welcome email streamlines the sales process.
An important note to make here: your welcome email must be unique to your business. They must also be friendly and seem human, not coming straight off the back of the corporate truck.
"Thanks" is one of the most effective words to use in your emails. Not only does it add a human quality to your email, but it also builds brand loyalty. When subscribers know you appreciate them, they are more likely to have positive feelings toward you and your brand.
The more original the message, the more likely that you'll stand out. The subscriber is going to remember your business and may even share it with friends or colleagues, potentially generating further business.
Also, make the design simple. Don't drown your subscriber with all your latest information.
Make it easy for them to browse your products. You want them to be impressed but not overwhelmed.
This is key to making a good first impression. We've said it cone and we'll say it again; you won't get another chance.
Take the opportunity and leave a lasting impact.
---
Curation Emails
People love curated content. This isn't an opinion, it's the truth. It's just in our nature to want to buy the best. It doesn't matter what the niche is.
Because of this, curation emails are incredibly popular with businesses; sorry, successful businesses.
Curation is effective because it allows recipients to choose what they want to learn more about. They enjoy learning about these topics and sharing with their friends what they have found, all with you not having to guide them.
You can go and spend your time and energy on other aspects of the business.
It's why many online stores show their subscribers their best-selling products before anything else. They realise customers will buy them more than other products they stock.
But there's another reason why it works well:
It allows email marketers to segment recipients based on interest.
There is a great quote from Brian Clark on How to Use Content Curation to Create a Recurring Revenue Business:
"There really is an opportunity here because you can still build an audience as long as you are creating the value. Here you are creating the value by finding the best, eliminating the dreck, and sending that to people."
Copy Blogger have created this brilliant curated email newsletter decision tree to guide you:

Keep creating original content to keep the subscribers curating.
---
Engagement Emails
Engagement emails must be grabbing the prospect's attention. You need to get them to interact with it.
Just think about how many emails people get a day. In fact, to put it into context, the average office worker receives over 100 emails a day.
If you're trying to target people while at work, you can start to see how important visibility becomes. They have enough to deal with as it is.
You need to think about how this email can remind your subscribes of the value you are providing. Remember, they signed up in the first place, so they have an interest in what you offer.
Offer incentives to visit your store or webpage. This can be in the form of a free eBook or even a discount on future products.
This example shows it being done extremely well: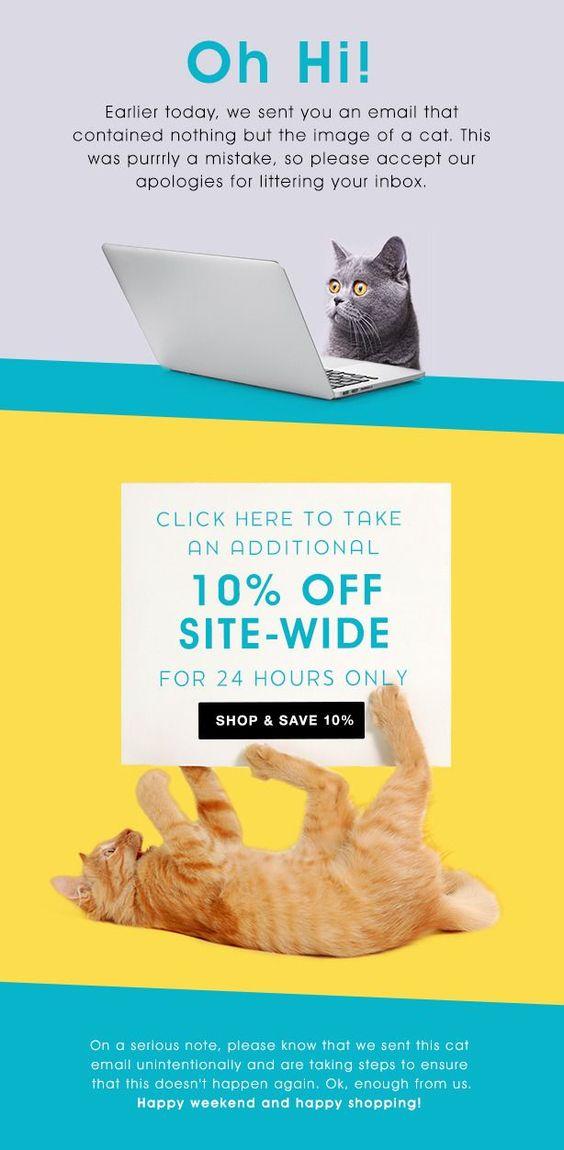 The message is a standard '10% off' but the way it convers it is completely original. Notice how it is also totally relaxed? Engagement campaigns like this above not only encourages engagement; it builds a two-way relationship between the brand and their customers.
Whether you're offering a discount or providing an exclusive service in the engagement email, give the reader a reason to open the email and carry on reading.
Originality is memorable.
---
Referral Emails
Referrals are one of the best lad generation strategies in the marketing game. Some would even say that it's better than the content creation strategy.
In fact, a survey taken by Ogilvy shows that nearly 3/4 people would consider worth of mouth recommendations as the deciding factor before making a purchase.
That is a large amount and makes referral emails a must in your eCommerce email marketing strategies.
To get the most out of your referral emails, you must focus on the subject line.
If customers can't see a reason why they should open this email in the first place, they won't. It'll go straight to the recycle bin.
From here, be simple in your message.
The less effort you ask from a consumer, the more likely they will take action.
Here is an example from Referral Candy (they have a whole other bunch of examples to choose from: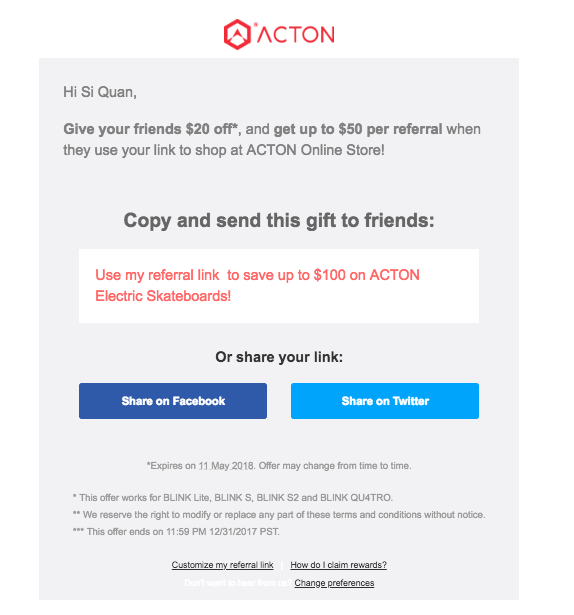 Make the call to action clear and obvious. If you're asking a subscriber to do something, make it really obvious what you want them to do.
Finally, highlight how the offer benefits the subscriber AND the friend. Rewarding both people persuades referrals.
With referral emails, everybody wins!
Now we have covered the welcome emails part, it's time for the next stage.
---
Triggered Emails
These are also known "transactional emails". Trigger emails are sent after a subscriber or customer has taken action.
For example, it could be by them visiting a certain page on the website or even resetting a password.
The main aim of a trigger email is to give the subscriber a push in the right direction; towards becoming a customer.
Experian found some interesting results when it comes to trigger emails:
They saw trigger emails had eight times higher open rates and click-throughs than other emails. Plus, they have the ability to generate as much as six times more revenue!
See this graph to sum up the results: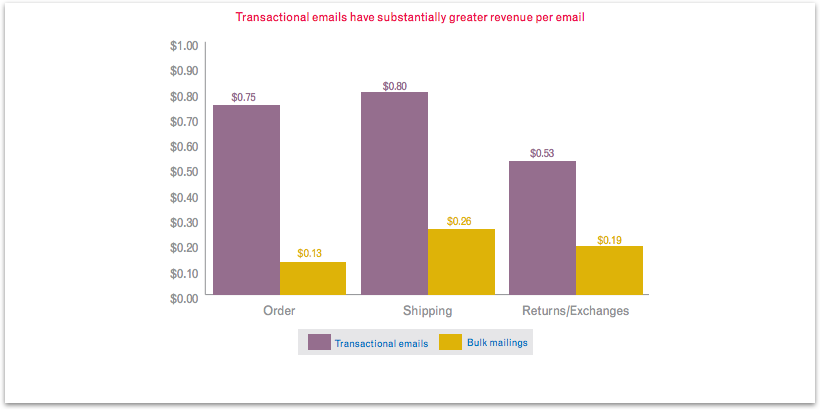 As you can see, trigger emails are incredibly effective. So, with this in mind, here are some of the trigger emails you need to include as part of your marketing strategy.
---
Order Confirmation Emails
Want to see something interesting?
Check out the discovery Conversio made when looking at the impact of sending automatic order confirmation emails.
Bear in mind they looked at 100,000 email receipts.
They found that each order confirmation email that was sent out earned businesses 25 cents extra.
This may not seem like too much, but it can add up. Think about it like this:
For every 10 sales made, auto-confirmation emails generated $2.50, without doing anything.
For every 1,000 sales, order confirmation emails generated a FREE $250.
For those 100,000 receipts, order confirmation emails generated $25,000 of revenue without lifting a finger.
Now we don't know about you, but to us, making $25k by just sending automatic emails sounds incredible.
Ok, so now we know how powerful they are, here's what to include in them:
Once a customer has purchased a product, they will feel a sense of excitement. This stage is going to provide you a great window to tell them more about your business and promote other products.
However, keep in mind, the customer comes first in this email.
Start by thanking them for the order. The impact this had cannot be underestimated.
From here, talk about their order. Keep the email to the following ratio:
80% order information : 20% promotional
Anything more than this and you run the risk of becoming too promotional rather than giving the customer their moment.
This example from Everlane is fantastic: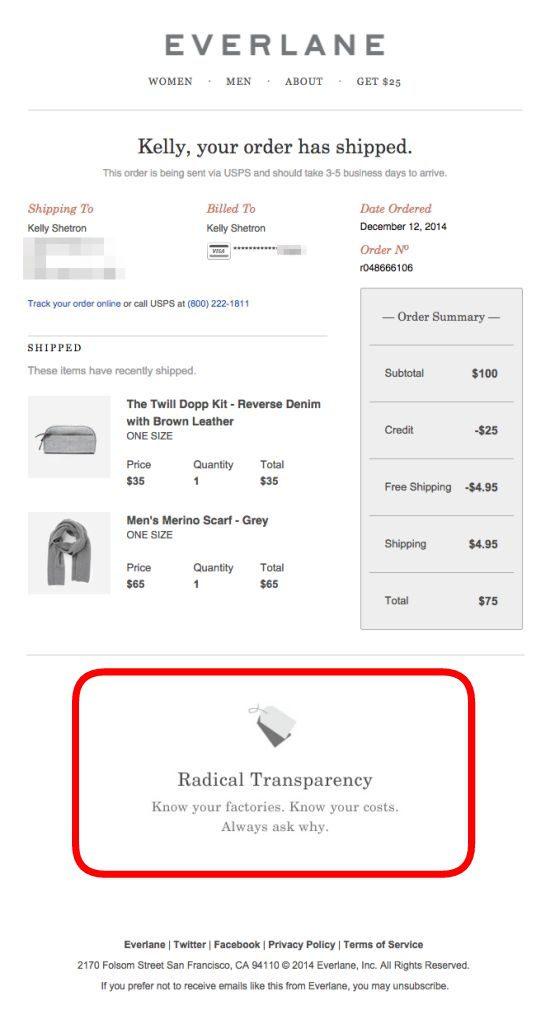 They fill up most of the confirmation with the transaction and the promotional part is subtle enough that it's not a blatant attempt at marketing.
At the end of the day, a confirmation email, in its basic form, is a receipt. However, there is room here to remind customers they chose right by ordering from you.
---
Upsell Emails
If you're not too familiar with upselling, Forbes have done a great job of explaining all about it.
For the purposes of this article, here is a brief explanation about upselling. They define it as:
Upselling encourages a customer to purchase a more expensive model in the same product family, or to augment the original model with additional features.
You may have also heard of the term 'cross-selling'. This differs from upselling in that cross-selling invites customers to buy related products.
The key difference is upselling focuses on higher-end products to make a more profitable sale.
You will have come across this when shopping on retailers like Amazon; at the bottom of the page. they show you items that have been purchased together, attempting to encourage more sales.
It may seem a bit cheeky asking a customer to buy a more expensive product, but it works time and time again.
Sometimes all you have to do is ask.
Great upsell emails have personalised greetings that let the customer know you recognise them. By using their names, you seem less generic and you've gone out your way to produce something with only them in mind.
The items you suggest as part of the upsell should relate as closely to the purchased product as possible.
For example, if your customer buys a power tool, you can try to upsell them a case or tool box for it to be contained in.
Show that you're paying attention to their needs and not just begging for some extra cash.
You may have items that don't have anything related. If this is the case, show products that relate in other ways.
If cross-selling isn't a viable option for your business, you might consider tiered-pricing. Bryan Harris was able to increase revenue for his online business by 25% simply by offering a third tier to his pricing page.
This method works well enough for Virgin Media so it must be doing something right. Here is how they do it: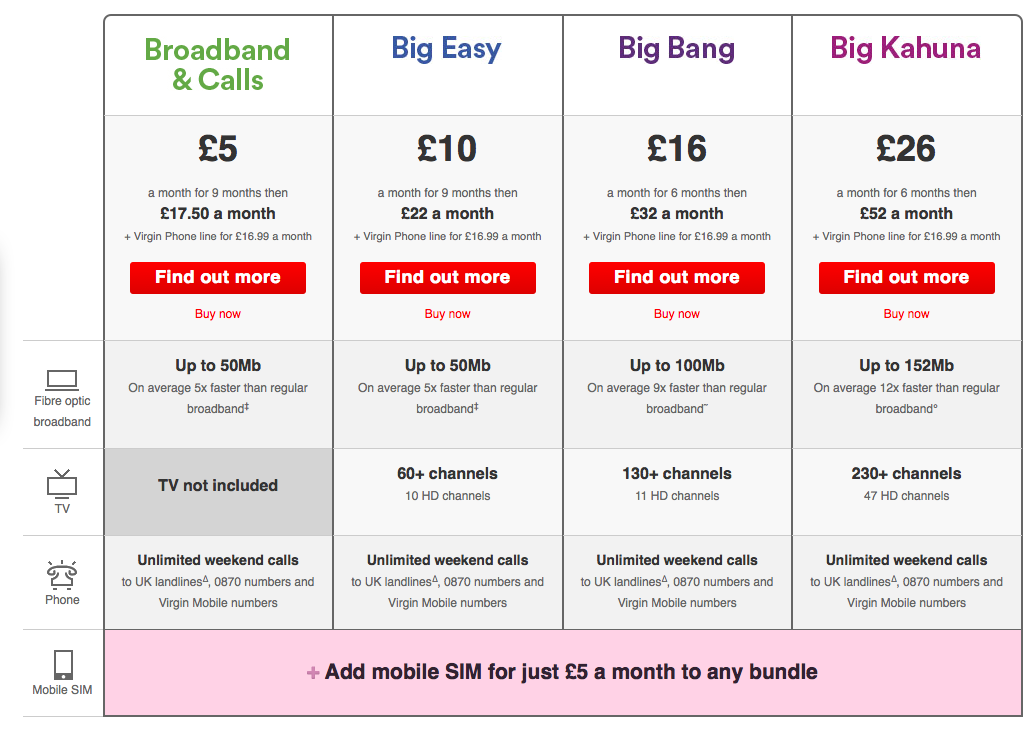 The message they are trying to get across goes along the lines of:
'Hold on, for only an extra £6, I get the channels AND better internet speed? No brainer'
That's what you need to be aiming for.
For a more in depth analysis on upselling, go back to Forbes' article.
---
Retention Emails
Businesses spend a lot more time and money attracting new customers than the amount needed to nurture existing ones.
Customer loyalty is valuable to all businesses and you should be encouraging it through your email marketing programmes.
Remind them that they are important to you.
Here is how you can do that:
Win-back emails
We miss you
Familiar with the following?
You invest a lot time and energy developing the perfect email list, only for them to unsubscribe, taking their business elsewhere at the same time.
We understand where you're coming from.
The most common reasons why people unsubscribe from your email marketing campaigns are:
Their interests have changed
Your emails are going to their junk boxes
Your content is not interesting enough
To prevent these things from happening, you need to get them back onside with a win-back offer.
Check out this email from Kirkland's: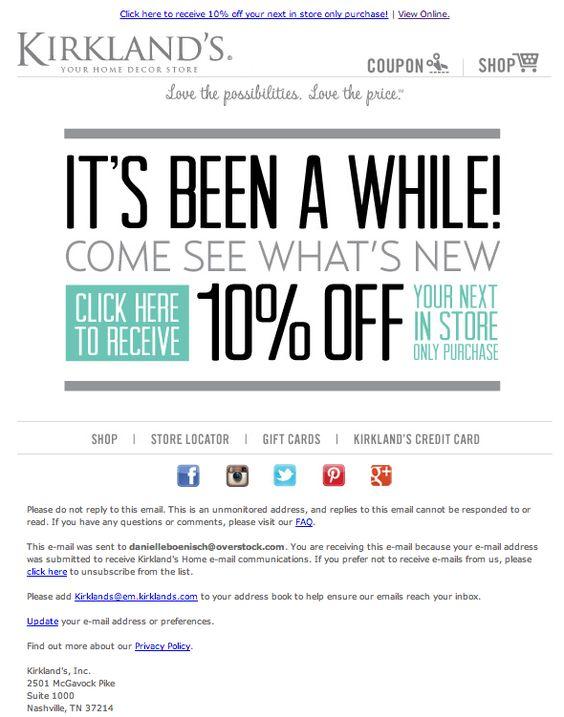 If they still haven't taken you up, send them a follow-up to remind them about your offer. Make this time limited to create a sense of urgency.
You could even make them an even better incentive, like a larger discount; something they won't be able to say no this time around.
Adidas have nailed this: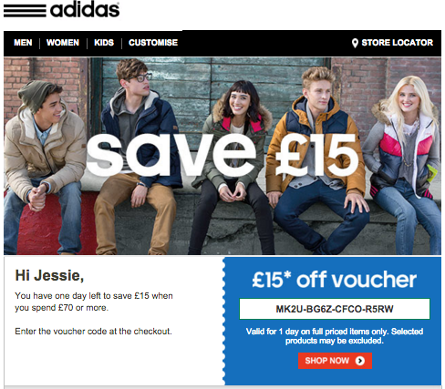 These emails may not work but you are guaranteed to not get them back if you do nothing.
Show that you're still thinking of the customer with win-back emails and you will see repeated business increase.
Side note: stay away from giveaways. Amazon SEO Consultant have done a great job explaining why, particularly for Amazon businesses. Check out the article here for the full message.
---
Survey Emails
The beauty in survey emails is that you get to know directly from customers what they want and what they are looking for.
Without asking them, how else are you going to know? Anything else is just guess work.
Surveys offer more than just getting into thoughts of a customer; you get the opportunity to make progress on your email marketing campaigns.
If you want, you could always throw in a promotional code to incentivise the customer completing the survey.
A quick word on incentivising, though:
There's no one size fits all approach.
You could take the Torrid approach and offer the chance of winning a gift card by completing a survey: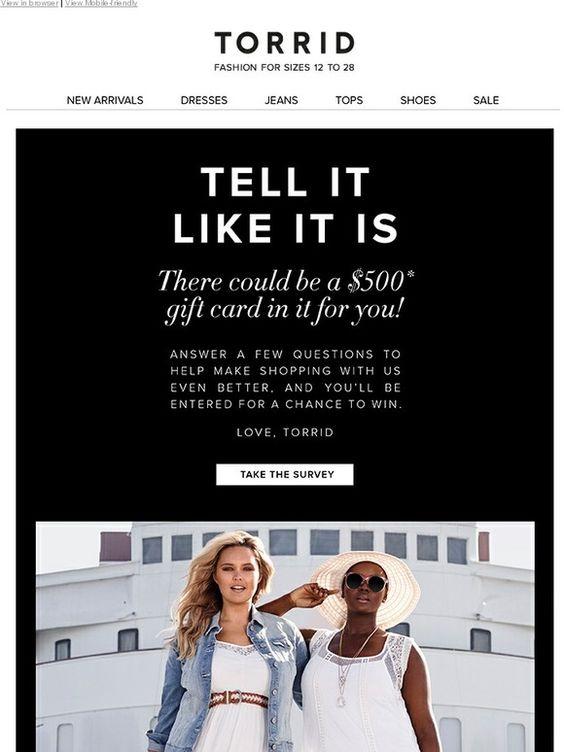 However, people like Ryan Levesque argue that this isn't the best way to do it. He says:
"If you include a free gift for taking the survey, your data will be biased toward people who just want the free thing," writes Levesque in his #1 national bestseller, Ask. "If you do want to offer some individual incentive to increase your survey uptake, that incentive should be a discount off the paid solution to their problem in exchange for their feedback."
Kate Spade seems to have taken this advice with their survey email request; they offer the discount once the survey has been completed.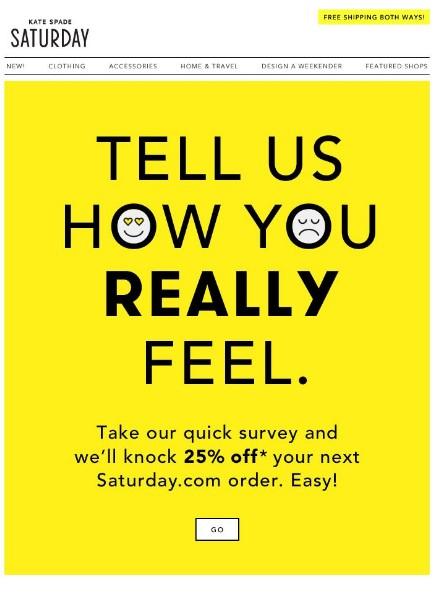 Asking what your customers want has worked for many businesses before and you and will continue to work long after too.
They are a great way to get preferences and feedback directly from the customer.
---
Saying Thank You Emails
Saying thank you is becoming more and more rare. Sometimes people don't even mean it when they say it.
Thanking your audience for their businesses recognises that you know they are the reason you're there in the first place.
It can be easy to get lost in money you make.
Thank your customers and it goes a long way.
You'll develop a great reputation, not to mention the referrals due to great customer service etc.
---
Ecommerce Email Marketing Templates
We started this whole article talking about how email marketing is about the timing of emails.
You noticed a common theme throughout the piece that we have tried to stress is also extremely important:
Being original.
What you are saying is not as important as how you say. Get your message across the right way and conversions will sky rocket from your email marketing.
Become a brand worth recognising and believe us, the time spent getting right is worth it.