In recent years, email subscribers' inboxes have become a lot more interesting.
From interactive emails packed with animated, dynamic content to highly personalized campaigns with the right message at the right moment, it's clear we've entered a new playing field when it comes to email.
Smart tools make designing, building, and sending campaigns simpler and faster than ever before. And resources invested in email pay themselves back– the ROI of email is $44 for every $1 spent.
As a marketer, you want emails that perform. One of the best ways to up your email game is to look at other campaigns and break down which strategies and design elements work well.
Let's take a look at five killer ecommerce email marketing examples to get a taste of the possibilities.
---
1. Rip Curl spotlights new products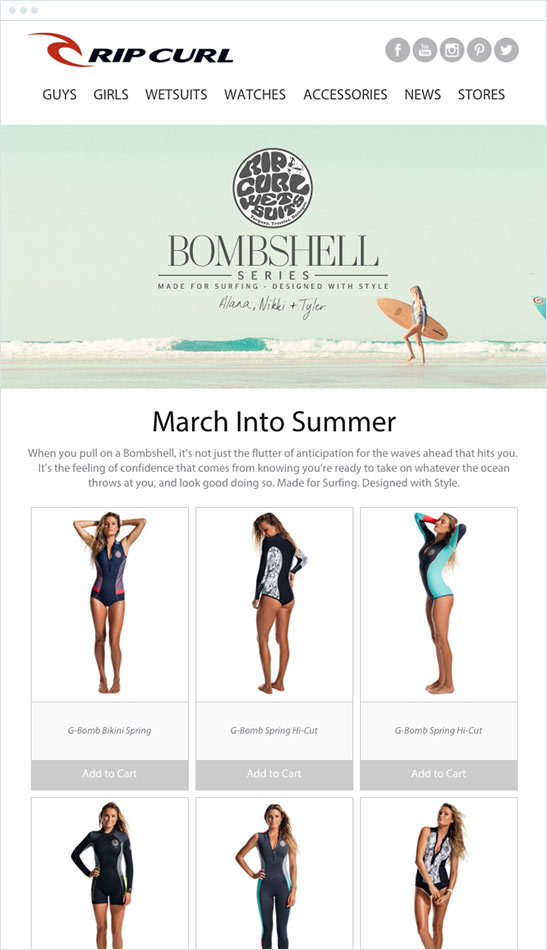 Rip Curl introduced their new line of women's wetsuits with an email campaign that spotlights products.
The bold hero image paired with smart copy and compelling CTAs makes the campaign extremely actionable, and the white background puts all the focus on product images while minimizing distraction.
Plus, having models wear the product in featured photos helps readers picture themselves wearing and using the product in their daily lives.
---
2. Legacybox keeps it simple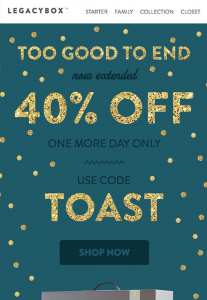 Legacybox, a company that digitizes photos and film, used this well-designed email campaign to promote an extended discount over the holidays. It's simple, to the point, and geared toward driving conversions.
Design-wise, notice that the discount and promo code contrast from the background and the CTA button sits above the fold. As soon as a recipient opens this campaign, they can click and take advantage. There are also top navigational links in case a reader is looking for a specific link to visit beyond the offer.
---
3. BuzzFeed Parents welcomes and educates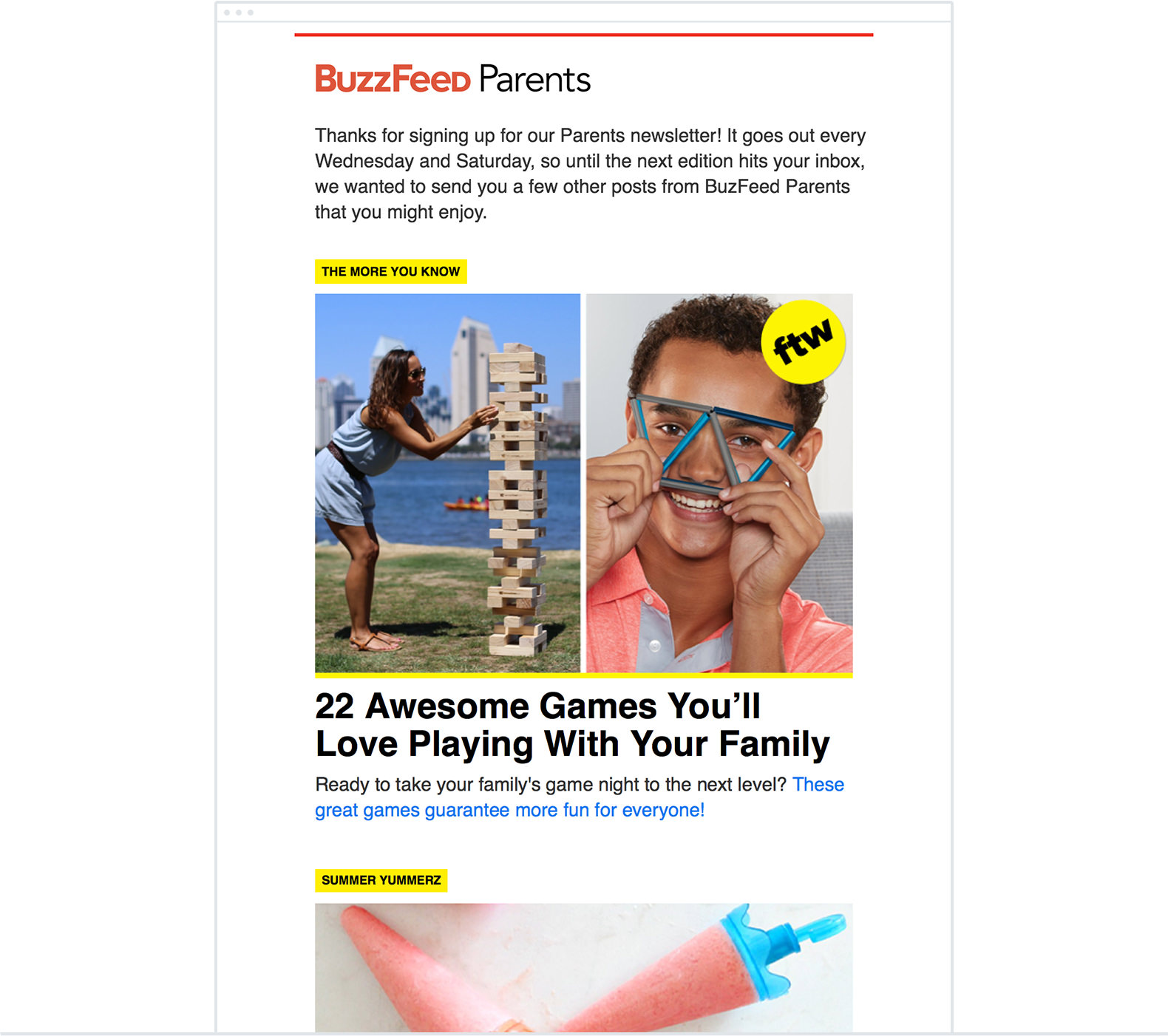 BuzzFeed Parents keeps their welcome email simple and news-oriented. This is a good idea, as it capitalizes on the forward momentum that follows a new email opt-in. After all, research shows that the first 48 hours following sign up are the most engaged timeframe for subscribers. With automation, this email is automatically sent to all new subscribers.
Here's what this email does well:
Clean white background puts all the visual focus on the colorful images that add context to the stories being teased
Yellow accents draw attention to sections
Copy is minimal, so it can be quickly read and consumed
Headline leverages a curiosity gap to drive clicks
Mentions the frequency at which subscribers can expect to get these emails
---
4. Chrome Industries taps into a lifestyle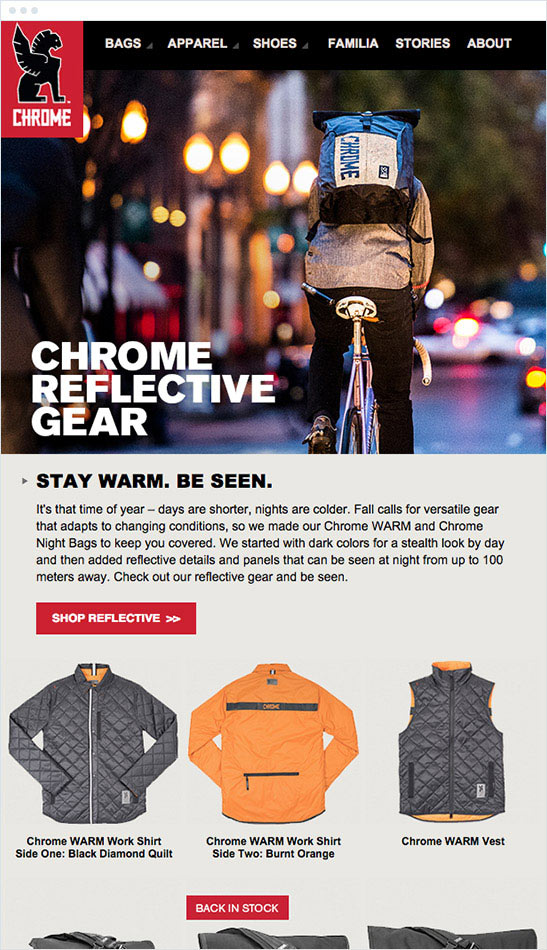 This email from Chrome Industries does a nice job of pairing product images and lifestyle photography to communicate the brand's target look at feel within the email setting.
The bold hero image connects with the city-dwelling demographic who are looking for products that are not only safe, but warm too.
With an ecommerce integration, this content can easily be personalized based on past shopping habits. Paired with red CTA buttons than pop from the page, this campaign is optimized to spur shopping (or at least website visits) from the inbox.
---
5. Global Fund For Women tells a story
Global Fund for Women uses design, color, and photography to build a compelling email campaign for their non-profit. The large hero image at the top of this event email adds visual context to the story that's central to the upcoming event, and bold headlines draw the reader in.
Clean, sans-serif text that stands out from the background makes for easy reading. This is a good example of how story can be a valuable asset in email–even for messages around event promotion.
Key Takeaways and Tips
With these examples as a point of reference, keep these key takeaways in mind as you design your next email campaign:
Use bold images to draw the reader in right away.
Consistent branding, colors, and text makes your design more cohesive.
Always use mobile-friendly templates.
Integrate tools like your CRM and/or e-commerce platform.
Personalize when possible and leverage dynamic content.
Leverage automation for automatically-triggered campaigns.
---
Ecommerce email marketing examples: final thoughts
Not all emails are created equal. As the inbox becomes more competitive, it's up to you to build campaigns that stand out and convert.
Want some more inspiration? Check out this gallery of the 100 best email marketing campaigns for even more ideas to get your wheels turning.