Mobile design began it's development journey in the late 2000's. The iphone and appstore released in 2008 finally created a monetizable market place with the hardware to create interesting and robust apps. Now with such high competition and thousands of apps released daily design has never been more important.
For your app to succeed you need great design and product positioning.
Understanding your niche market

If you don't own a smart phone and spend at least a fair few minutes a day tinkering with mobile apps then designing one is going to be tricky. By using an array of devices, operating system (like iOS or Android) & apps you will learn about design hooks & delightful interactions  (like the add post button on the app path.com) and their importance in succeeding in a crowded space. iOS and the iPhone is your best market to focus on as a newbie, it is the most monetizable and much easier & cheaper to develop for as there are fewer devices. Android monetizes still relatively poorly (as of early 2013) and you will need to optimise for 90+ device / operating system combinations; what a nightmare!
Get Inspired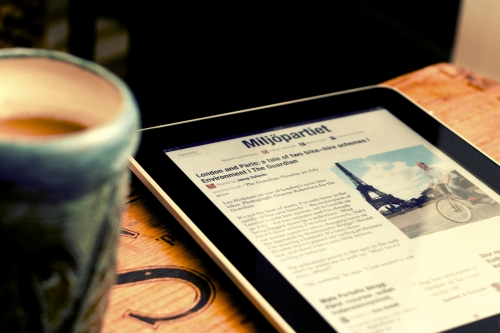 As with all industries the mobile marketplace is rife with innovation and change. Staying up to date on what's vogue in mobile design is a must, so get inspired and see what's trending. Apps like Google currents or Flipboard show a want from users to have simple stripped back design, clean reading experiences and curated content. For more inspiration visit Dribbble (set to search for mobile) or mobile-patterns.com, pttrns.com and for icons iicns.com.
Not only is it important to understand trends but knowing how users are used to doing things when it comes to interaction can greatly reduce the learning curve needed to use your app; making users happy is your top priority.
User Expectations in Mobile Design
Before diving head first into design learn and study existing patterns so you can do this making users happy business. User expectations should play a large role in defining how your content is presented and experienced through your interface. Think of it as a cup of coffee, if the cup were the expected interface to drink the delicious hot liquid then a user presented with a sock or paper plate may not be too impressed; you don't need to reinvent the wheel.
Study various interfaces, menus and ui and use these as a foundation for your design, ask questions like "what are my business goals and how do these translate to the app goals" , "what is the main task or purpose for your app and how would users expect to be able to perform this task" , "what links and menus need to be present on every view throughout the app and therefore easily accesible at all times."
Don't start in photoshop
Start with a cheap and disposable medium, a pencil and paper will do fine. To learn from the best watch 37signals Ryan sketch and talk ui. Get all your views finished and iterate a few times before even thinking about polishing your app into something sexy and sleek. There are many resources online if your not a wiz kid designer, take a look at our recent UI work for LA based startup Fandrop or this great design Dcovery for inspiration or download a ui kit to get your mock ups to the next level before hiring a designer to bring everything together to a professional standard.
Hire the right team
Check this resource out for great teams to hire and help with your build.