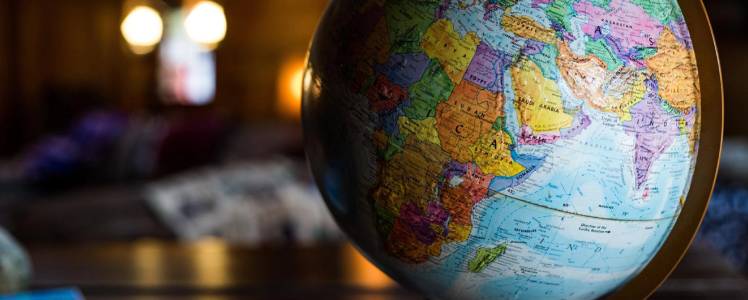 [2020] Best Shopify Translation Apps Reviewed
Ecommerce entrepreneurs all share one thing in common. "How can I sell more?"
Whilst your ecommerce business may be doing well in your home country, there is one guaranteed way to increase your revenue streams – by selling internationally.
One of the key steps in achieving this goal is to translate your website. If you're an ecommerce retailer offering international delivery, then translating your website is an absolute must.
A multilingual website gives your site visitors a localized experience, more value and eases the buying experience for your potential customers.
Although, language is often underestimated when it comes to selling internationally.
But, studies show the opposite. Can't read, won't buy states that 55% of people prefer to purchase in their own language. On top of that 60% of people hardly ever buy on English-only websites if they're not a native speaker.
If you're selling online then it just makes sense to make your ecommerce website multilingual if you hope to appeal to the millions of potential buyers around the world.
---
What are the benefits of selling internationally?

The Internet is bringing the world together and with that comes the inevitable – people are looking to purchase goods outside their home country, otherwise known as cross-border ecommerce.
And this is demonstrated by the size of said market – €881 billion ($994 billion USD) – showcasing an impressive growth within the last 5 years.
Selling internationally has numerous benefits, such as increasing the number of people you can sell to, which in turn helps open up new revenue sources and means you don't have to rely on just one market.
When selling in another country you might also benefit from less competition. If you're selling in a crowded market within your home country, other countries might offer bigger growth opportunities.
You also benefit from a longer lifespan for your products. Selling swimsuits in Europe? Sales will dip in the winter season but your product will be a necessity in countries like Australia or Latin America.
---
How to create a multilingual Shopify store
Luckily for those using Shopify, you don't need to rely on translators or have to create multiple websites to achieve the goal of website translation.
Creating several different websites for each language and using a translator to translate the thousands of product pages you have would not only be time consuming, but costly too.
Shopify users have a number of different multilingual translation apps (all with varying levels of sophistication) to choose from that can be integrated with your store to both translate and display the content of your ecommerce site.
We'll take a look at three different translation solutions that can help you start selling internationally.
---
Weglot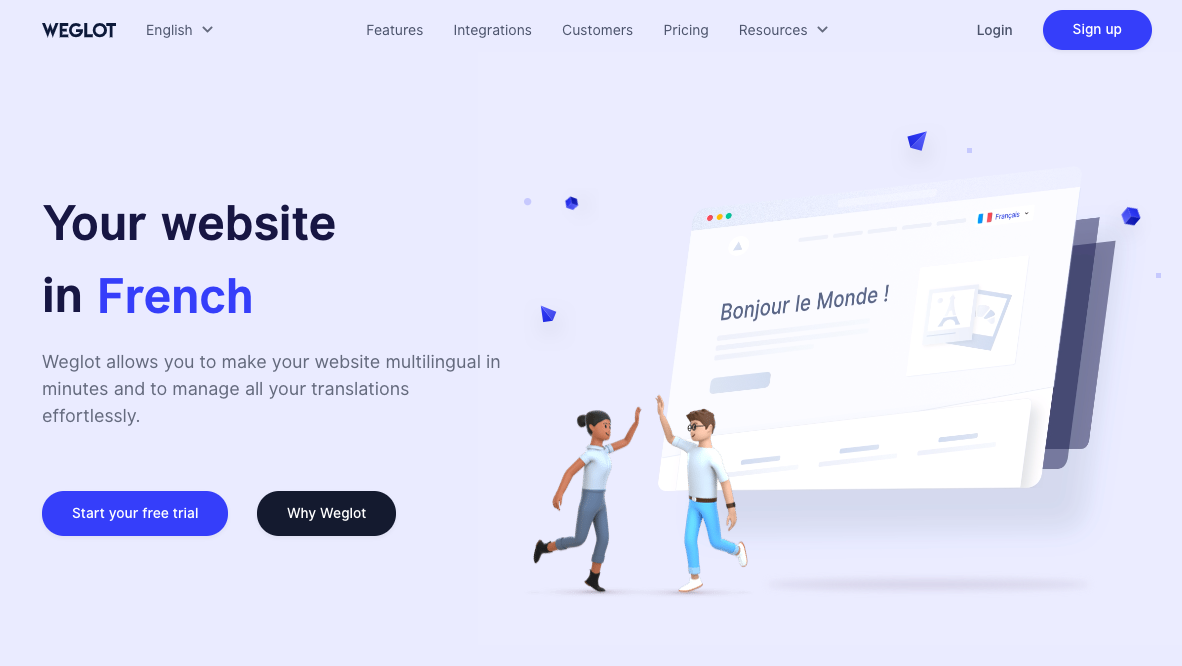 The Weglot Shopify translation app translates and displays the content of your store in just 5 minutes (available on the official Shopify App Store here). No need for code or the help of a developer – Weglot is a simple way to translate the hundreds of pages on your store.
Weglot lets you manage your translations how you want. Choose how you want to translate your store, with the option of automatic translation and the possibility to order professional translations through the Weglot dashboard.
All the content of your Shopify store is detected and translated seamlessly – including everything you've created using other Shopify apps.
The simple setup process requires just a couple of steps. Enter your email to connect your Shopify site to the Weglot platform. Then enter the language your store is currently in, and the language(s) you'd like to translate it to.
Your store will then be fully translated, with a front-end language switcher automatically added for users to change between the language of their choice.
Use Weglot's simplified dashboard to manage, edit or order additional professional translations if required.
Other notable features include:
Multilingual SEO optimized: translated metadata, dedicated URLs

and Hreflang tags automatically implemented so you're searchable in your new markets 

In context editor for those that prefer a more visual approach to managing their translations

Language auto redirection

Customizable

language switcher button without the need for code

Dedicated support service
The translation process also extends to checkout and email translations – including seamless invoicing integration to send documents in the customer's language.
Pricing: Starting from €9.90 month for 1 language and 10,000 words. Free version available for 1 language and 2,000 words. 10-day free trial also available.
---
GTranslate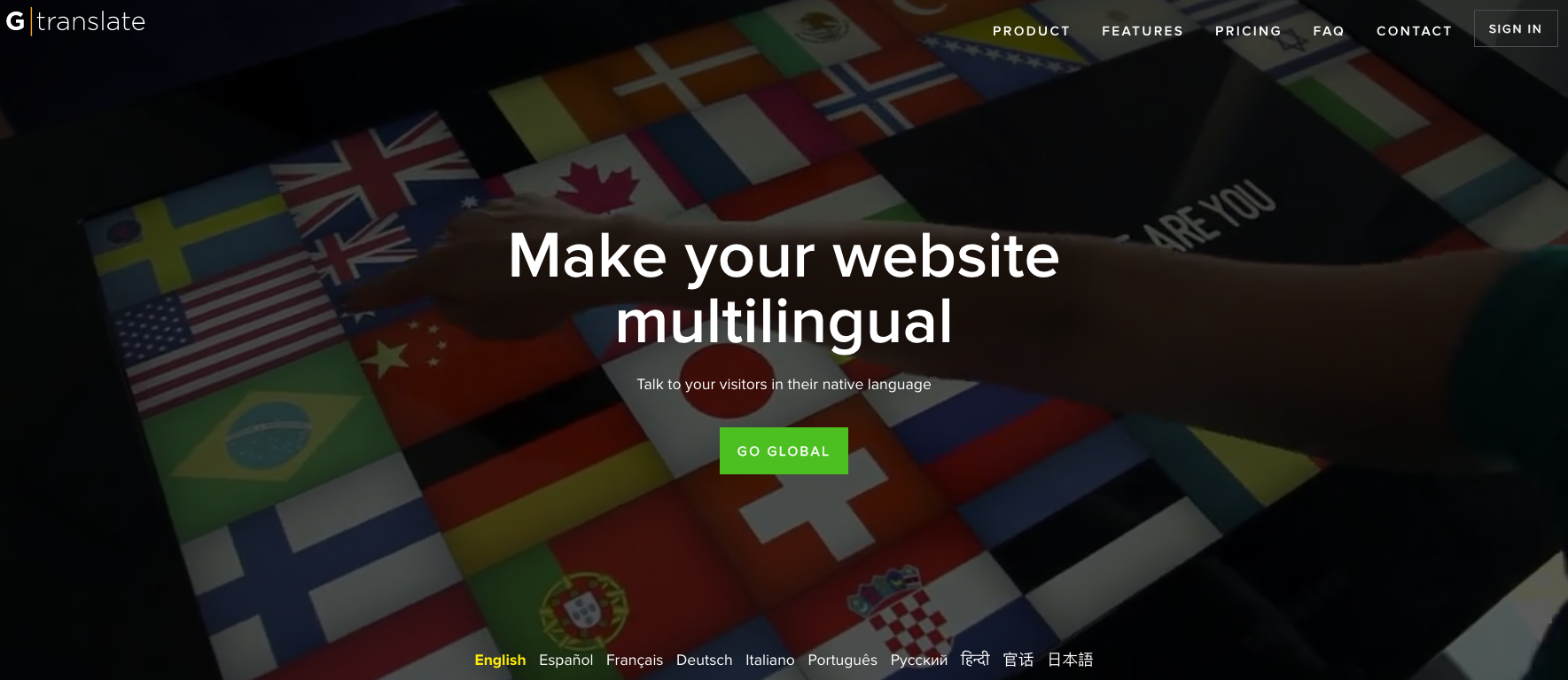 GTranslate leverages Google Translate's automatic translation services to translate and display your Shopify site into more than 100 different languages.
The app's full capabilities are only available by purchasing paid plans. Note, editing translations and multilingual SEO options are not part of the free plan.
Once you've upgraded to the paid version you'll have access to a dashboard where you can manually edit all your automatic translations and track your translation traffic. To manage your translations use GTranslate's in context editor – note that this is the only way to manage translations – there is no translations list view.
If you require more advanced customization of your language switcher you'll need the help of the GTranslate team or some code experience.
Pricing: $7.99 a month for unlimited words and 1 language. Free version available but with limited capabilities.
---
Langify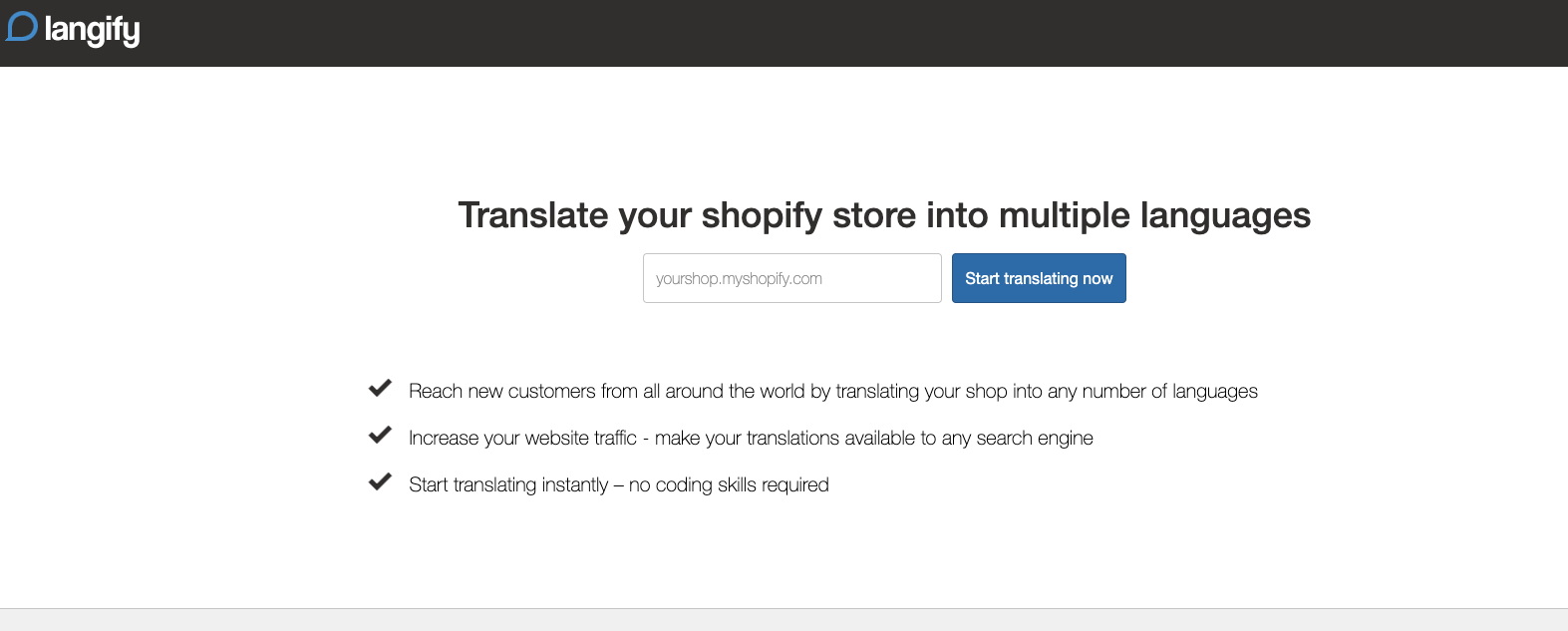 Langify is a translation app that displays the translated content of your Shopify store – without duplicate pages or multiple sites per language. It differs from Weglot and GTranslate as it doesn't actually translate any of the content of your site.
The app requires you to provide the translations from your side. It can mean that the setup process is time consuming and more costly for the average user if you don't speak the language you want to add on your site.
Notable features include automatic language detection – customers will be automatically redirected to their preferred language, and, a new domain for each language, with Hreflang tags and translated metadata.
However, not all of the checkout process can be fully translated such as the product name and customer payment info will remain in the original language, including any notifications.
Pricing: $17.50 a month.
---
How to decide which Shopify translation app is right for your store?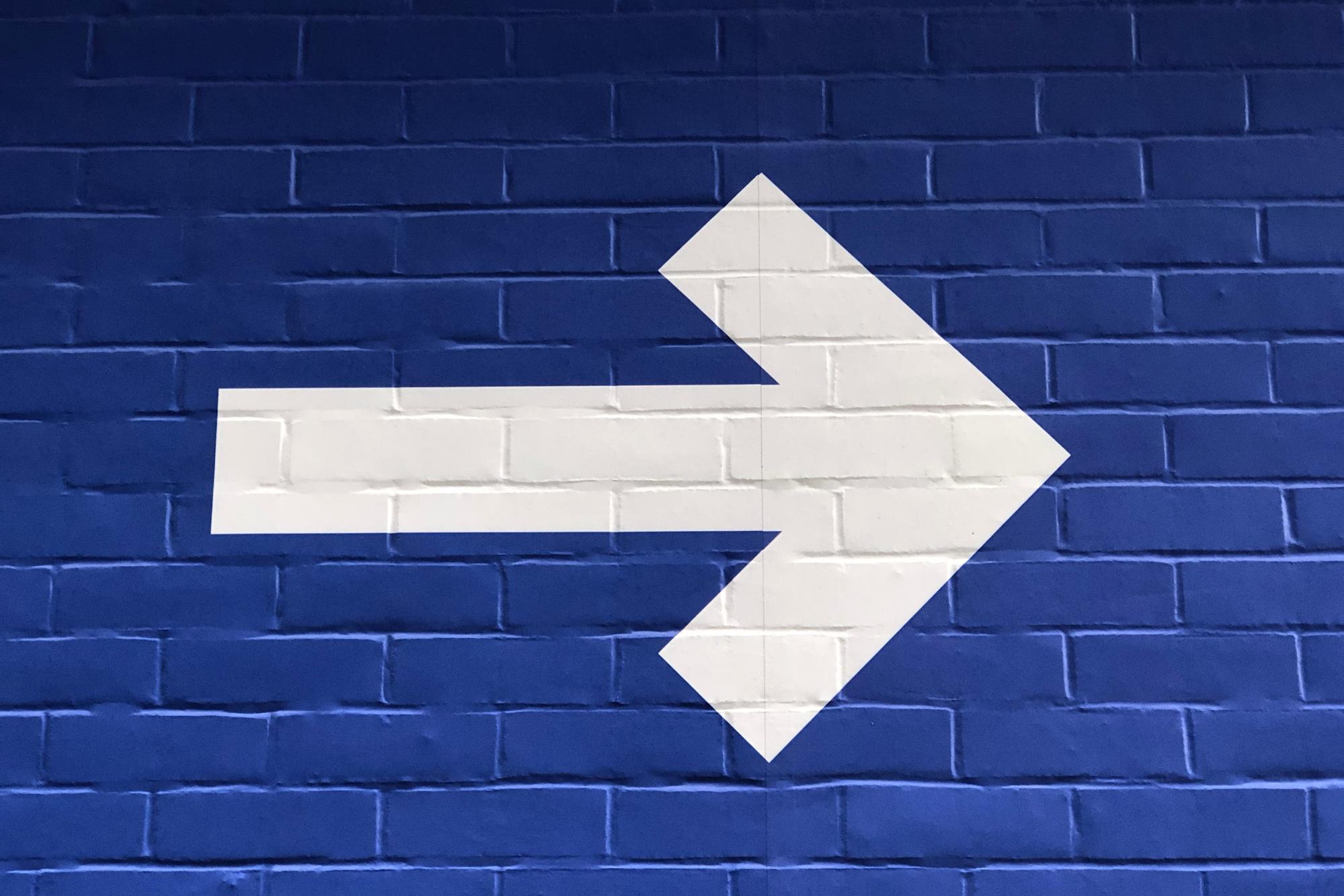 When choosing which Shopify translation app is best for your business there are a number of factors to consider before making your choice.
It's important to choose a translation app that both scales and grows with your store and can translate the full buying process, from product pages, basket to checkout – to ensure your customers have a seamless buying experience.
Other factors include:
---
Supported Languages
Always check what languages are actually available on the app's website and whether they support the language you need. Also good to think about what languages you might want in the future.
---
Machine and Human Translations
Does the app allow you to use both automated and human translation? Automated translation is great for product pages etc. But it can be beneficial to have the option to use professional translators for your homepage and checkout to ensure key pages fit with your  brand messaging.
---
Ease of Use
Naturally you'll want to use a translation app that is user friendly. If you're not a developer, choosing an app that is intuitive, doesn't require any code and is easy to use will be key part of your decision.
---
Customization
Think about how the plugin will affect the design of your site. Is it possible to change the look and position of the front-end language switcher?
---
SEO
It's important that the Shopify translation app you choose also follows Google multilingual SEO best practices.
After all, there's no point translating your website if you then won't appear in searches for your new target markets.
---
Updates and Support
At first it might seem like a daunting process deciding to use a Shopify translation app, so it's important to check if the app you choose has a good support team that are willing to help you if you come into any difficulty.
Use the Weglot 10-day free trial period to test it and see if it fits your needs.