ByCharlotte
After A/B testing websites changes, the big conversion improvements we saw for this client were from adding delivery date estimates to the cart page and improving filtering and sorting on the category pages.
This moved the conversion rate from 1.31% to 1.97%, nearly a 50% lift!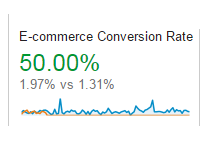 Learn more about our conversion rate optimization services for Shopify stores by clicking the button below.