Email marketing is a powerful way to drive traffic to your Shopify store, build relationships, and generate revenue. Before you can reap the benefits though, you need to choose the right ecommerce email marketing software. With so many options available, it can become overwhelming.
That's why today we've narrowed it down to two, Klaviyo and Mailchimp. They are some of the most popular email marketing apps that seamlessly integrate with Shopify. Ahead we will be discussing the different features, pricing, and quirks that both of them offer.
---
Pricing
Everybody has a budget. Some are bootstrapping, others have plenty of existing capital. Either way, pricing matters when it comes to choosing email marketing tools.
Beginning with Klaviyo, if you have 250 subscribers or less, it's completely free. You can send up to 500 emails which will have Klaviyo branding and a double opt-in requirement. This is great for store owners that would like to test them out without investing. Lets look at what larger lists will cost:
1,000 subscribers: $50/month
2,500 subscribers: $125/month
5,000 subscribers: $200/month
10,000 subscribers: $325/month
50,000 subscribers: $700/month
Mailchimp also offers free use of their email marketing service but up to 2,000 subscribers. That's right. Almost ten times the amount of the free Klaviyo version. You also will be able to send 12,000 emails per month. Right away, Mailchimp wins in terms of their demo.
They have three plans in total to choose from:

Looking into the "Growing Business" plan, you'll be paying $30/month for a 2,500 subscriber list while the same size costs $125/month with Klaviyo.
The "Pro Marketer" plan offers the exact same pricing as the above plan but with an additional $199 added onto the monthly fee. You do receive tons of rich features though which we'll be touching upon in a moment.
---
Make more money from your email list with
done-for-you email marketing services
Get your email automations, newsletters and sales emails written and sent by professionals. Click here to see plans and pricing
---
Customer service
Klaviyo offers email support and live chat if you ever require assistance. For larger customers, dedicated account managers are available. They guide you through processes, lend advice, and help you perform to the best of your ability.
An e-commerce resources page will keep customers up to date on trends and strategies. Klaivyo releases reports and even free e-books to learn from.
Mailchimp on the other hand, only offers support for paying customers. Free accounts will mostly need to learn the software by themselves. However, Mailchimp does have extra resources to take advantage of.
The first is their "Guides" section. Here you will find useful articles on how to grow a brand and improve your email marketing. They also feature case studies of real businesses that you can learn from.
Secondly, Mailchimp has a "Research" section. Their dedicated research team releases data they've collected to help readers become better marketers. You'll find benchmarks, graphs, reports and similar information to learn from here.
---
Features
While the main purpose of these companies is email marketing, their services come packed with several other features.
Mailchimp features
Marketing automation
Their all-around marketing automation will save you time and energy. It enables you to automate tasks and processes to focus on other details.
You can create segments, custom triggers, or use pre-built campaigns. These can all be tailored to achieve any goals from building relationships, promoting products, to welcoming new users.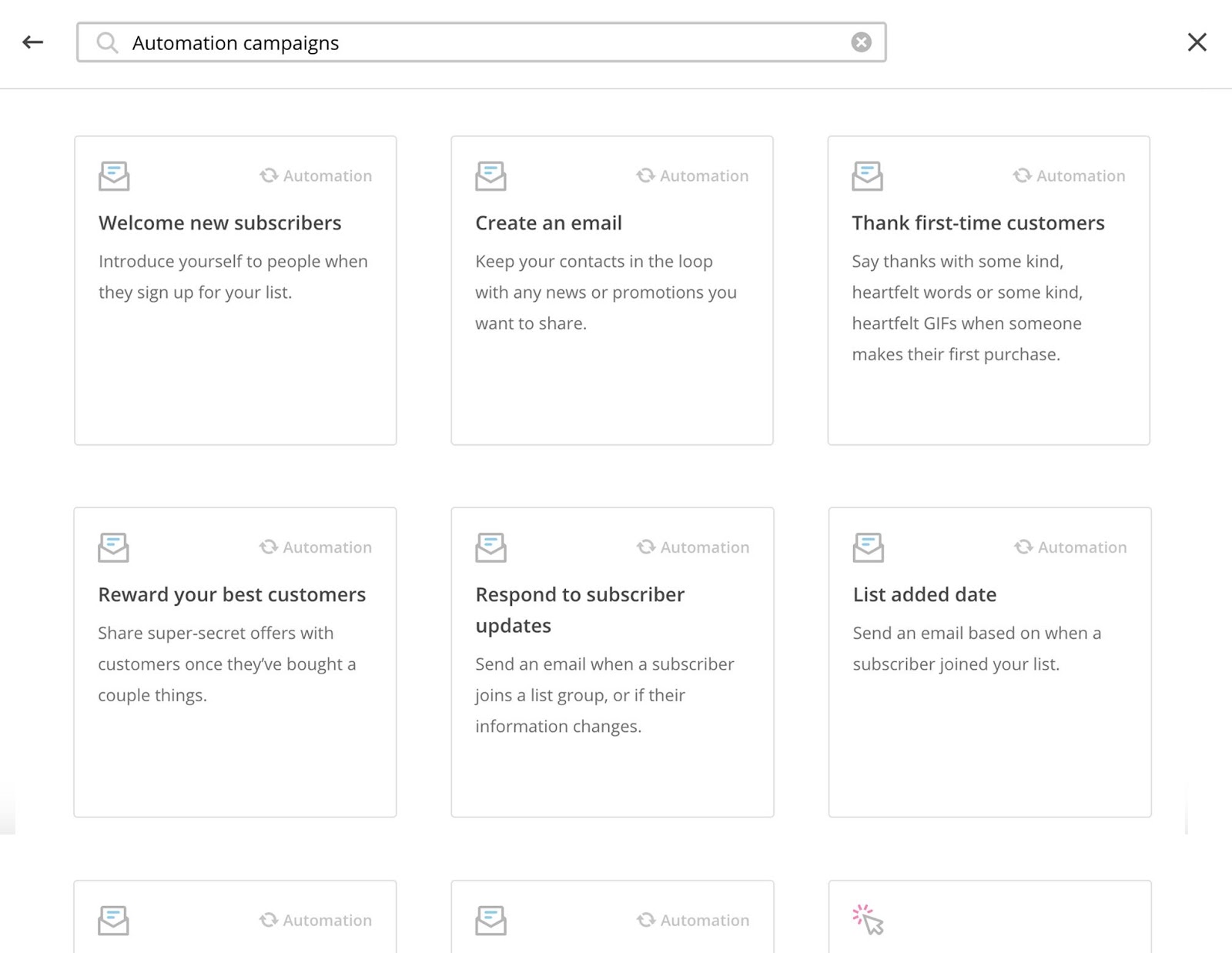 Similarly, you also get a variety of email templates to:
Market your products
Announce important information
Tell a story
Follow up on previous emails
Share resources and knowledge
All of them can be customized with a drag-and-drop editor. It's easy to add images, arrange elements, and craft it perfectly.
With 67% of online shopping carts being abandoned, you'll need a recovery strategy to get back this potential revenue. With Mailchimp, you can remind customers to come back and finish their purchase. It connects directly with Shopify too so their exact cart and total is shown.
Product recommendations can even be featured to upsell upon their return. Either way, Mailchimp makes abandoned cart automation super simple.
Shopify store owners will also love the Google, Facebook, and Instagram ads integration. Mailchimp helps you re-target users whom leave your site to convert them into paying customers. You also receive a $50 Adwords credit to test the waters.
For Facebook, you can create ads right from your Mailchimp dashboard. Use subscriber and purchasing data to target very specific groups. When you're done, ship them out and track its performance.
You can do the exact same thing but with Instagram ads. Create stunning ads that will catch the attention of any user and target them based on real data.
Landing pages
Good visuals are a must in marketing. That's why Mailchimp gives you an intuitive landing page builder to create awesome sales funnels. Customize templates to your liking with buttons, photos, and calls to action.
Showcase your products and syndicate images directly from your online store. Want to promote new discounts you have? No problem, craft a beautiful landing page that can be shared with your audience in a single click.
This will also save you money as you won't have to hire a developer to do the same job. This feature is also great for running giveaways, offering free downloads, and announcing upcoming promotions.
Reports
What good is marketing without collecting data? Mailchimp tracks the performance of your campaigns, emails, and more so you're always in the know.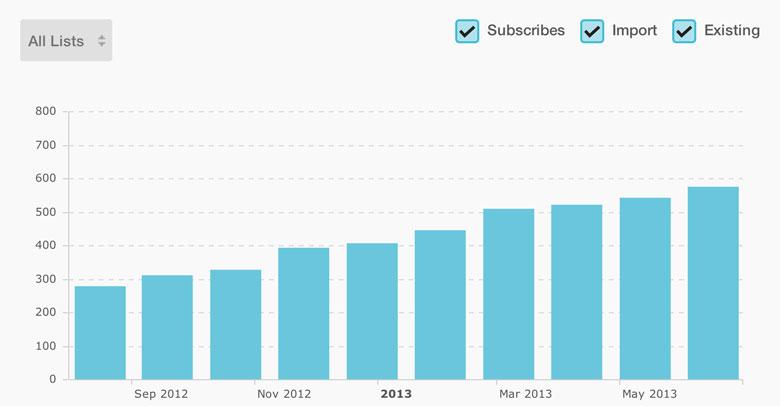 Interactive graphs display the open rate, click through rate, and delivery rate of your emails. This information can be used to optimize your subject lines and email content to improve results. You can also view which emails have bounced, why they did, and which subscriber it was.
If you sell online, you'll love the revenue reporting you can find on the dashboard. This displays what products are the most popular and which subscribers purchase the most. Mailchimp also reveals which locations yield the most clicks, bounces, and unsubscribes.
Discover subscriber behaviour patterns such as what they opened, what they clicked, and other useful metrics. These can be used to further segment your list so you can market to different groups individually.
---
Klaviyo features
Segmentation
Not every subscriber can be marketed to the same. That's why it's crucial that you segment your lists. With Klaviyo, you can target subscribers based on purchase history, email interaction, and other behaviours. This way, you can tailor your emails and campaigns much more accurately to their wants.
Segments will get updated in real time as you acquire new subscribers. Set multiple conditions to make your targeting as niche as possible.
Advanced reporting
Basic metrics like clicks and opens are great. Do you know what's even better? Knowing how much revenue each subscriber generates, what campaigns deliver the best results, and the ROI of every action you take.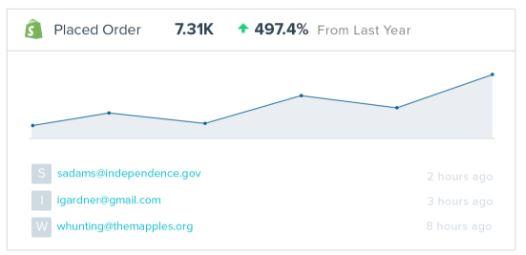 Klaviyo's reporting is completely performance based. On the dashboard, there is a birds eye view of business data. Sales and subscribers gives us an overview of how our business is doing in general. The metrics that are shown can be added or removed depending on what you'd like to view.
Compare current data to previous periods to track trends and growth. With real time activity, you won't have to wait until the next day to see information.
Their reporting overall is much richer than Mailchimp's. Being able to conduct cohort analysis and compare segments are some other traits that make Klaviyo stand out.
Comprehensive integrations
Klaviyo integreates with a ton of different platforms and apps. They use one click integration so you can connect to your favourite tools instantly. This greatly expands the capabilities of their software. You'll be able to track sales, collect checkout data, and more depending on the exact integration.
Data gets automatically synced between Klaviyo and other tools. As a marketer, you need real time data to make better decisions. Forget uploading or organizing data by hand. You'll get it all of the information you need instantly.
If you're a developer or have one on your team, the API will come in handy. It's well documented and helps create custom integrations.
Some of Klaviyo's integrations include:
Ecommerce platforms like Shopify
Payment gateways
POS software
CRM tools
Helpdesk software
Hands off marketing
Similar to Mailchimp, you get a host of tools to automate your marketing tasks. Their drag and drop email designer makes creating beautiful emails a breeze. Choose from different templates and customize them to your liking. They are also mobile responsive which is ideal if you have high mobile traffic.
Set different events and properties to personalize marketing messages. Syndicate relevant products and add dynamic data blocks while designing campaigns. A simple email can be used to generate revenue and so much more.
Klaviyo also integrates with Facebook ads perfectly if you perform PPC campaigns. Target different segments and discover which groups yield the highest ROI.
Bombtech Golf used Klaviyo's email flows and campaigns to generate $2 million in revenue. They are one of many companies that have experienced incredible business results from using them.
---
Klaviyo vs Mailchimp For Shopify
Both of these ecommerce marketing software have their pros and cons.
Mailchimp is better in terms of pricing if you're on a tighter budget. Both offer a demo though so it doesn't hurt to try both. Mailchimp also has more ad integrations if you're running various types of PPC campaigns.
Klaviyo really excels in reporting and integration. You'll have access to extremely detailed data that connects effortlessly with Shopify. It all updates in real time so you're never waiting as well. For those also using helpdesk or CRM tools, you'll appreciate the one click integration.
Beamer is a cool alternative to email marketing for people looking to try more modern modes of customer communication.
For the smaller businesses and those that are newer to email marketing, Mailchimp is a better choice. They are more budget friendly and give you the essentials. Larger companies that require very in-depth reporting and connectivity will be better off with Klaviyo.
---
Carmine Mastropierro is the owner of Mastro Digital, a self published author, and journalist.